Donald Trump's surrogates quickly scrambled to cable news networks Wednesday evening after The New York Times published a bombshell report detailing two women's allegations that Trump sexually assaulted them.
Here are some of the worst ways Team Trump tried to spin or deflect the new firsthand accounts of the GOP nominee's predatory behavior:
He Couldn't Have Gotten Away With It In First Class
One of the women featured in the Times' story is Jessica Leeds, who said Trump groped her from the seat next to hers in first class. But according to Andre Bauer, a CNN commentator and Trump supporter, her story isn't credible because "other people in the cabin would see that."
"If this happened in first class, look, I don't get to sit in first class," Bauer said. "I don't sit there, but I get to walk through there and see what it's like. And if someone was being molested or raped, other people in the cabin would see that. It is open. It is actually closer in the cheap seats where I sit, where you couldn't see it as well. But a big open cockpit you would see something if someone was being mistreated immediately. And to say it now, to tie it in, it's bad politics."
CNN commentator Corey Lewandowski, who was accused of assault by a reporter earlier this year while he worked as Trump's campaign manager, doubted the veracity of Trump groping a woman on a plane like an "octopus."
"Other people would have seen it if an octopus was assaulting," he said on CNN.
Trump campaign spokeswoman Katrina Pierson followed up, claiming the "story did not happen" because planes in the 1980's had fixed seats.
"Guess what? First class seats have fixed arm rests so what I can tell you about her story if she was groped on a plane, it wasn't by Donald Trump, it certainly wasn't in First Class," she said on CNN.
Let's Not Worry Whether Trump Is A 'Good Person'
Liberty University President Jerry Falwell Jr., a prominent evangelical leader, said that the media shouldn't get "bogged down" in whether a candidate for president is a "good person."
"I believe the statement they just released, they absolutely deny the allegations," Falwell said during an interview on CNN, referring to the Trump campaign's claim the Times story is "fiction." "What about the Donald Trump of today? Is he a changed man? I think he is."
The Accusers Didn't Talk About Bill Clinton, So They're Not Credible
Trump campaign surrogate Jeffrey Lord faulted the women who came forward to accuse Trump of sexual assault for engaging in a "double standard" by not bringing up allegations against former President Bill Clinton.
"You can bet Juanita Broaddrick means nothing to her," Lord said on CNN, referring to the woman who has alleged Bill Clinton raped her in 1978. "Why didn't she talk about it? 'If groping me is bad, raping Juanita Broaddrick is not so good.' She didn't go there, did she?"
"There are a lot of double standards here," Lord added. "We need to focus on the issues, what's going on the economy."
This Is Just A Distraction
Trump campaign surrogate Kayleigh McEnany argued the new allegations were a distraction from the real "issues."
"I think he's a changed person and I believe him," McEnany said during an interview on CNN. "It's his word against her word, and I think voters will make up their mind. But I think voters will make up their mind based on the issues, not just he-said, she-said accusations."
The Accusers Waited Too Long To Tell Their Stories
A.J. Delgado, a conservative commentator who joined Trump's campaign in September, told MSNBC'S Chris Hayes the accusers weren't credible because they waited so long to come forward.
"These allegations are decades old," Delgado said. "If somebody actually did that he did that, Chris, any reasonable woman would have come forward and said something."
According to the National Sexual Violence Research Center, sexual abuse very frequently goes unreported. A report released by the group in 2015 says 63 percent of sexual assaults are not reported to police. Survivors of sexual abuse often never come forward with their stories, and if they do, it's not uncommon for them to wait years or decades to do so, the group says.
Delgado's claim is also an odd line of attack for Trump's campaign, which has excavated Juanita Broaddrick's story in recent days. Broaddrick waited more than two decades to accuse Bill Clinton of raping her.
Delgado also accused the Times of making light of sexual assault.
"As a woman, to be frank with you, I'm livid having read this, not only are these accusations simply not credible, but it's disgusting that The New York Times is trivializing sexual assault," Delgado said.
Before You Go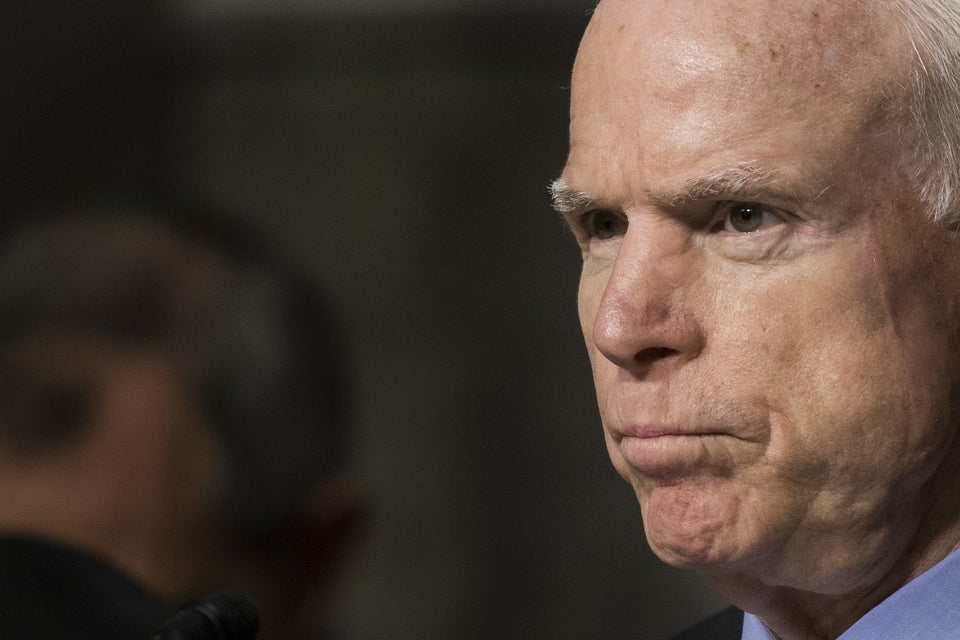 Republicans Who Have Withdrawn Their Support For Donald Trump
Popular in the Community