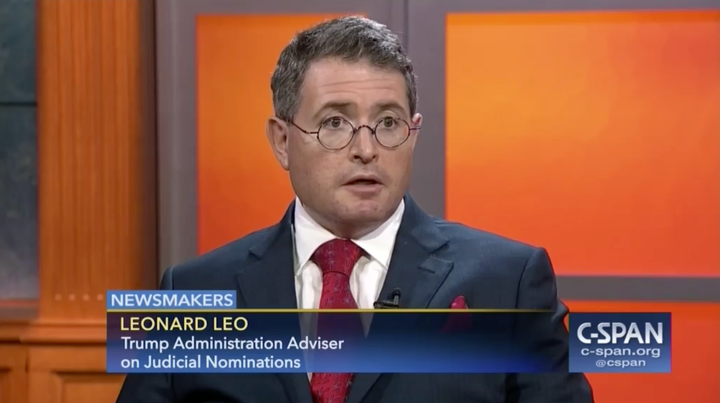 Leonard Leo, a leader of the conservative Federalist Society who is advising President Donald Trump on his Supreme Court pick, said Sunday it's a mystery whether one of the job's finalists would vote to overturn Roe v. Wade.
"Nobody really knows," Leo said on ABC's "This Week." "I think it's a bit of a scare tactic and rank speculation more than anything else."
But Trump himself has said he wants to put people on the court who support overturning the landmark 1973 decision that granted women the constitutional right to have an abortion. And if anyone knows of a potential Supreme Court pick who would support doing this, it's Leo.
He crafted Trump's short list of potential Supreme Court nominees. All but one of the 25 people on the list are members of The Federalist Society, a national organization of conservative lawyers, and there's a clear pattern to judicial nominees being fed by the group: They are young, conservative and have records of being very opposed to abortion rights.
Leo has the powerful track record of helping to pick and confirm three of the court's conservative justices, John Roberts, Samuel Alito and Neil Gorsuch. He's also had a hand in Trump's picks for lower courts; the president has gotten a whopping 21 circuit court judges confirmed since taking office and nearly all were outsourced to The Federalist Society to fill.
It's no secret that Leo's goal is to populate federal courts with judges who oppose abortion rights. And analysts say Trump's latest pick for the court could provide the fifth vote needed to rescind Roe v. Wade.
The president is set to announce his Supreme Court nominee on Monday night. He's reportedly down to four possible picks, all of whom are Federalist Society members: Brett Kavanaugh, Amy Coney Barrett, Raymond Kethledge and Thomas Hardiman.
Sen. Richard Blumenthal (D-Conn.), a member of the Judiciary Committee that will hold the confirmation hearing for Trump's court pick, said Sunday that it's clear to him that Trump wants a justice committed to overturning Roe v. Wade. He called it "extraordinary" that The Federalist Society is playing such a central role in the process.
"I was a law clerk to Justice [Harry] Blackmun. I've argued cases before the Supreme Court," Blumenthal said on "This Week." "I've never seen a president of the United States in effect make himself a puppet of outside groups and choose from a group of right-wing fringe ideologues that are prepared on this list."
Popular in the Community