LAS VEGAS ― Criticized for threatening not to accept the results of a likely election loss, Donald Trump said Thursday that he would not dispute the final tally under one condition ― namely, if he ended up winning.
The remark, delivered the day after a presidential debate in which Trump promised to keep the country "in suspense" on Nov. 8, was largely interpreted as a joke. But what if it's true? What if Trump and his campaign have two separate standards for electoral legitimacy: one for a loss, and one for a win?
The Huffington Post posed the question to a number of Trump surrogates following Wednesday's debate: Would their campaign's skepticism about the election ― and their concerns about rigged voting ― extend to a scenario in which Trump emerged victorious? 
Below are slightly edited transcripts of our exchanges.
Former Arizona Gov. Jan Brewer (R)
Everyone is talking about Donald Trump's refusal to say that he would commit to accepting the results of the election. Do you think that is an appropriate thing for a candidate to say?
Well, I don't think Donald would even have to think about it, because he is going to win in November. I feel very strongly about that. And I think he believes in democracy and the right to change of power.
But he has also said he is not going to necessarily respect the legitimacy of the results. He said he is going to keep people in suspense.
It's because he is entitled to his opinion and he will see. But I do believe, and I know Mr. Trump, that he will do the orderly transfer of power.
Let's say Donald Trump wins the election. Would you accept that outcome?
If he wins? Oh, absolutely.
So why is that outcome fine with you guys, but if he loses, it is something you have to wait and question?
Well, because I'm supporting Mr. Trump. I think that he should win.
But if you have questions about the legitimacy of an election, shouldn't it work both ways?
I don't have a question about it.
Well, we assume that he said it. He said that he is going to keep you in suspense.
So if he loses, you have questions about the legitimacy, but if he wins, you don't have questions about the legitimacy.
[At this point, Brewer moved on and started speaking to another reporter.]
Bruce LeVell, National Diversity Coalition for Trump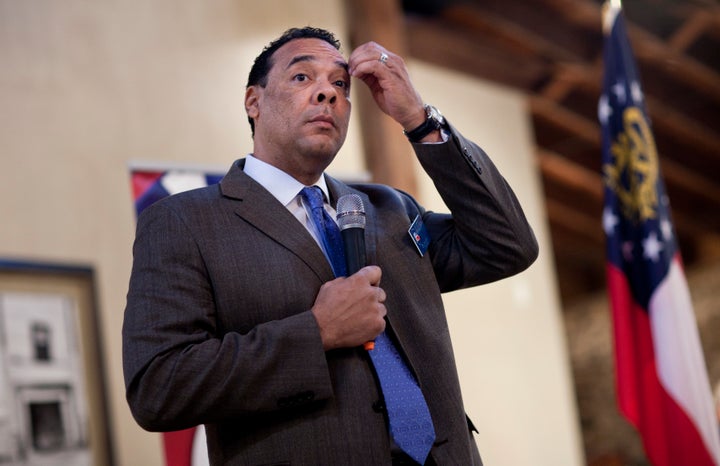 Everyone is talking about the moment where Donald Trump said he would not necessarily accept the legitimacy of the election. Is that an appropriate thing for a nominee to do?
I think it is appropriate considering all the loopholes and inappropriate situations going on across the nation as it relates to the process of voting. I think it is a fair question to bring up.
So if Donald Trump were to win the election on November 8, would you question the legitimacy of that?
He would question the legitimacy of his own win?
He would question the fact that if anything is inappropriate ― no matter if he wins or loses ― has to be brought to the forefront, period. Just because he wins, if something is inappropriate, he is not going to ignore it.
So, on November 8, he could have won 270 electoral votes and he won't necessarily accept the presidency because he wasn't sure it was determinative?
No. He is going to accept the presidency if he wins.
But he won't accept it if Hillary Clinton wins.
If there is something that has an appearance, whether he wins or loses, or has the appearance of improprieties as it relates to an illegal election process, which some of the Wikileaks emails have already proven... that can be brought to the forefront.
So, just so I have this right ― if he wakes up and has 270-plus electoral votes but he has concerns about the legitimacy of the votes, he will not necessarily declare himself the winner of the presidency.
He will accept the office of the presidency. But what I'm telling you, if there is anything illegal going on, whether he wins or loses, that's the candidate that we have. We have a champion candidate who is going to question everything across the board that has been driven through special interest groups, super PACs. It's driven on both sides of the party.
So he will accept the results, but he still might have questions about it?
Well, I don't know. We will have to wait and see.
You see how I'm a little confused here?
Well, I'm sorry you're confused because I can't see the crystal ball. I can't tell you what it is going to be. I'm telling you that Donald Trump is a champion for justice for both sides and all the American people.
Sarah Huckabee, a top Trump campaign strategist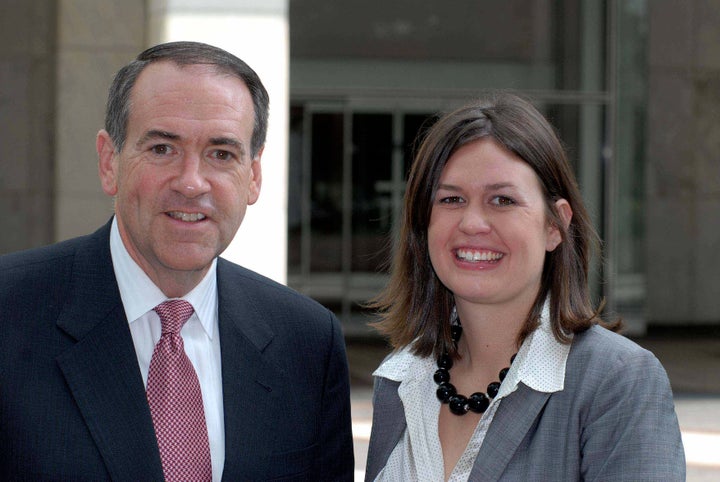 When will he accept the results?
Once that we can determine that it's been a fair election and those results have been certified and verified.
You seem to be more moderate in your answer than the candidate was tonight. He said we are going to keep the suspense. People are interpreting it as him saying he might fight the election results.
I don't think that was his point. I think, again, that his point is we want to ensure that the results are very fair, that the election process is not a rigged system, and that we have certified and verified results. Most election results are not certified on the night of the election.
Fair enough. Let's say, theoretically, he emerges with more than 270 electoral votes on election night, but it is close and he needs to certify the results. Would you wait?
Well, it's not rigged on our side, so we will be fine... [pause]... I'm kidding. That was a joke.
Ha, OK. But what happens? Do you wait to declare victory at that point so you can certify the results?
I think that, again, the results on both sides have to be certified and verified. But I think that Donald Trump is going to win decisively and it is really not going to matter.
So if she wins decisively…
That's not going to happen. Let's not talk theoretical things that aren't going to take place.
You just did it by talking about a Trump decisive win!
Yeah. But I have better intel than you.
Sen. Jeff Sessions (R-Ala.)
OTHER REPORTER: Would he not have put things to rest today by saying, "Yes, I would accept the outcome of the election?"
SESSIONS: Well, I think he said what he meant, which was that he would keep his options open. Didn't he say that? I think that it is unlikely that we will have the kind of serious fraud in this election that would result in an Al Gore challenge to the election like we had in 2000. Nobody, I think, would suggest that that was improper, and we could have that this time.
HUFFPOST: One last question [Sessions begins scampering away] ― if Donald Trump were to win the election, would you hold off on declaring him a winner because you are worried about fraud there?
SESSIONS: Well, I ― that would be the decision of the losing party to decide whether or not they felt like it wasn't fair.
Katrina Pierson, campaign spokeswoman
So let's say he were to come out victorious on election night, but it is really close. Would he wait before declaring victory in that scenario?
Well, again, Mr. Trump has said he is going to make that decision on election night.
OK. But if you should hold off on declaring victory if Hillary is ahead, should it work the other way, where he should hold off on declaring victory if he were ahead?
You know what? I can give you my interpretation or thoughts of what he might do...
...but at the end of the day, he is going to make that decision.
But what are your interpretation and thoughts?
Well, I think he is going to make the decision when that day comes. I can't predict how he is going to handle that situation.
But you said you could give me your interpretation about what he might do. So, what is it?
Right. What I'm saying is, Mr. Trump is going to make that decision when the day comes. But what is really important is the fact that Hillary Clinton did not deny what is in the Wikileaks documents, which is what we should be discussing right now.
Dr. Ben Carson, former Republican presidential candidate
HUFFPOST: What happens if Donald Trump wins on election night, but it is pretty close and there is some confusion about whether he is the victor? Does he then take his time and not declare victory because he wants to make sure it is legitimate?
CARSON: I guess we will all have to wait and see...
OTHER REPORTER: I missed the question on him not accepting the results. What do you think of that?
CARSON: He didn't say he wouldn't accept [the election results]. He is saying he will evaluate it at the time.
OTHER REPORTER: Is that worrisome to you?
CARSON: That's not worrisome to me. If Hillary said it, that wouldn't be worrisome to you. You know. It is who is saying it that makes it worrisome.
OTHER REPORTER: Does that mean he is thinking it might be close?
CARSON: He is saying, obviously, if there is some kind of obvious fraud going on, he is going to say something about it.
HUFFPOST: And that standard holds even if Hillary wins too.
CARSON: Of course. Of course.
REAL LIFE. REAL NEWS. REAL VOICES.
Help us tell more of the stories that matter from voices that too often remain unheard.