WASHINGTON – President Donald Trump's White House is turning its fire on a favorite Republican villain as it tries to deflect attention from his campaign's contacts with the foreign power that worked to get him elected.
Susan Rice, the Obama administration's national security adviser, became a GOP scapegoat for her initial explanation for the 2012 terrorist attack on the U.S. diplomatic outpost in Benghazi, Libya. Now, she has again become the go-to culprit for her possible role in "unmasking" the names of Trump associates in intelligence reports during the final weeks of President Barack Obama's tenure. 
"The more we find out about this, the more we learn that there was clearly something there," White House press secretary Sean Spicer said Tuesday. "There is a civil liberties component to this that should be very troubling."
Rice, in an interview with MSNBC, denied leaking classified information, but said it was part of her job to find out the names of Americans who were speaking with agents of foreign governments that may have interfered in the November election. The names of Americans appearing in those reports are redacted and referenced with codes. Top national security officials are permitted to ask intelligence agencies to provide the names, should they deem it important.
"Imagine if we saw something of grave significance that involved Russia, or China, or anybody else, interfering in our political process," Rice said. "For us not to try to understand it would be dereliction of duty."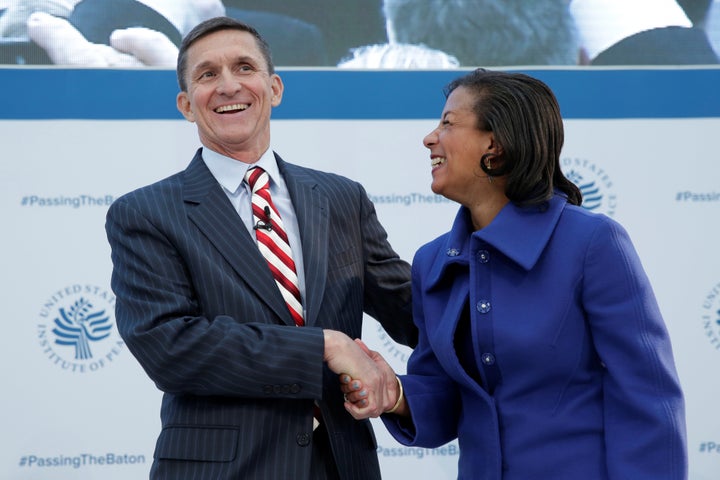 Rice was Obama's ambassador to the United Nations in 2012, when four Americans, including the U.S. ambassador to Libya, were killed in Benghazi. In the days afterward, the Obama administration and Rice attributed the attack to protests over a YouTube video that mocked Islam.
The administration corrected this account to call it a planned, coordinated terrorist attack, but Republican outrage over Rice's erroneous "talking points" remained a favorite GOP attack line for years. Obama had wanted to appoint Rice secretary of state for his second term, but she wound up withdrawing her name when it became clear that Senate Republicans would not support her nomination. That post went to Massachusetts Sen. John Kerry, and Obama instead made Rice his national security adviser, a job that does not require Senate confirmation.
It was in her final weeks in that role that Rice, according to a report published by Bloomberg, asked intelligence agencies to "unmask" the names of Americans appearing in surveillance reports of foreign agents.
Spicer asserted on Tuesday, without offering evidence: "There is no value in this intelligence. Why was somebody unmasked if that was the case?"
When pressed how he knew that Rice, as the sitting national security adviser, did not have good reason to ask for unmasking, Spicer conceded that he did not know.
"It depends on the purpose of why they were asking and what they were trying to accomplish," Spicer said.
By the time of the election, U.S. intelligence agencies believed that Russia not only had been meddling in the campaign, but was actively trying to help Trump win.
"From basically August through the end of the administration, we were hearing more and more, getting more and more information, about Russian interference in our electoral process. It was of grave concern to all of us in the national security team of the president, and the president himself," Rice said.
"A hostile government inserted itself in our election process in a significant way, and doing so with biased intent," she added. "It's important that the American people understand this, and it's important that we improve our defenses against this kind of effort in the future. Because if we don't, we should well assume that they will continue to try to do so."
Calling all HuffPost superfans!
Sign up for membership to become a founding member and help shape HuffPost's next chapter
BEFORE YOU GO