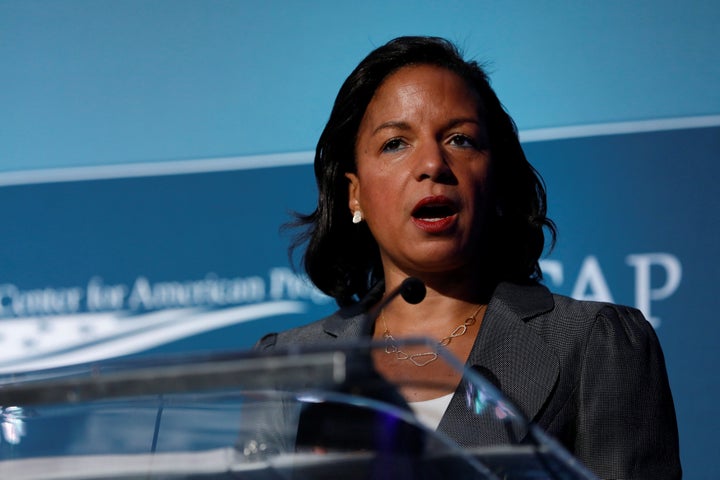 WASHINGTON ― As President Donald Trump's White House struggled with accusations of racism over his attacks on African-American former aide Omarosa Manigault Newman, on Wednesday he announced security clearance reviews of a number of vocal critics ― and Susan Rice, who is also African-American.
Rice, who served as former President Barack Obama's ambassador to the United Nations and later as his national security adviser, has kept a relatively low profile since Trump has taken office.
Despite this, she was included on a list of names Trump is reviewing to see whether they will continue to have the ability to receive classified information. High-ranking intelligence, military and diplomatic officials are generally permitted to hold onto their security clearances after they leave their jobs so that they can be brought in to offer their expertise later.
White House press secretary Sarah Huckabee Sanders ― who appeared to crack a smile as she read the list of names after some journalists in the briefing room began laughing ― did not respond to a HuffPost query as to why Rice was included on Trump's list.
"She's a convenient target for something that has nothing to do with what she's said," said Ned Price, a former CIA analyst and National Security Council spokesman under Obama.
Trump's erratic behavior and warm words for Russian leader Vladimir Putin, whose agents interfered in the 2016 election to help the Republican, have turned many former foreign policy officials against him, from both Republican and Democratic administrations.
The only official to lose his clearance Wednesday, former CIA Director John Brennan, had on Tuesday night criticized Trump on an MSNBC show and said that Trump was "dangerous to our nation."
After Trump's announcement, Brennan wrote on Twitter: "This action is part of a broader effort by Mr. Trump to suppress freedom of speech & punish critics. It should gravely worry all Americans, including intelligence professionals, about the cost of speaking out. My principles are worth far more than clearances. I will not relent."
The others on Trump's list: James Clapper, James Comey, Michael Hayden, Sally Yates, Susan Rice, Andrew McCabe, Peter Strzok, Lisa Page and Bruce Ohr.
Clapper was the director of national intelligence under Obama; Comey was the FBI director in charge of the investigation into whether Trump's campaign conspired with Russia to help him win; Hayden led the National Security Agency under Obama, Yates was the deputy attorney general who notified the White House that Trump's first national security adviser had lied to the FBI about his contacts with Russia; McCabe, Strzok and Page are former FBI employees involved with the Russia probe (Strzok and Page sent each other text messages disparaging Trump in the course of a romantic relationship); and Ohr is a current FBI official whom Trump doesn't like because his wife works for an opposition research firm that worked for Trump's Democratic opponent, Hillary Clinton.
Of those, Clapper and Hayden have, like Brennan, been forceful in their criticism of Trump's actions and demeanor since taking office, with frequent television appearances. Rice has remained much lower key, typically expressing her opposition to his foreign policy moves in op-eds, rather than on TV. For the second term of Obama's administration, though, she was a favorite GOP villain in Republicans' investigation of the 2012 terrorist attack in Benghazi, Libya.
Trump first broached the idea of punishing Brennan and the others in late July. In fact, the first version of his statement released to the media Wednesday was dated July 26, 2018. Minutes later, a second version of the letter was released, identical except for the deletion of the date.
The episode added to the sense that Trump's actions Wednesday were mainly designed to distract from his attacks against Manigault Newman, whose new book calls Trump unfit for the presidency.
Trump has called her a "crazed, crying lowlife" and "a dog" in statements on Twitter earlier this week. His White House has had difficulties with questions of whether Trump has any high-ranking African-Americans in his White House.
Popular in the Community