Tell us how you really feel.
During Donald Trump's visit to the Philippines on Sunday, protesters in Manila expressed their distinct lack of support for the U.S. president by burning a large effigy of his likeness.
To make their point really clear, the artists behind the Trump effigy fashioned it like a swastika. Each of Trump's four rotating arms held an object — a gun, a missile, a sack of cash and an excavator — according to Newsweek.
The group behind the creation, Manila-based UgatLahi Artist Collective, unveiled it at a rally during Trump's meeting with the Association of Southeast Asian Nations, according to The Hill.
The 13-foot-tall model featured a smaller effigy of Filipino president Rodrigo Duterte cowering behind the Trump figure.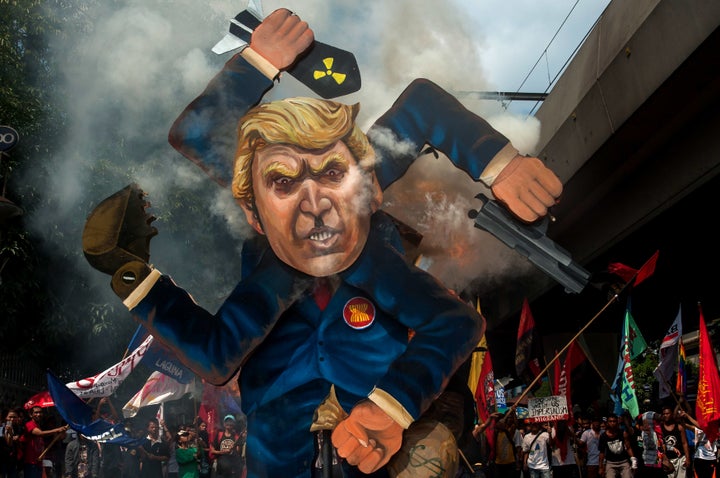 The protest was organized by a left-wing Filipino movement known as Bagong Alyansang Makabayan (BAYAN), or "New Patriotic Alliance" in English.
BAYAN posted a message on the group's Facebook page from its secretary general, Renato M. Reyes, Jr., declaring Trump to be "the biggest threat to peace."
"Trump is bad news for Filipinos here and in the US. Today we give him a fiery welcome befitting his status enemy of Filipino the people," Reyes added.
Reyes told EuroNews that the swastika effigy was erected for a specific reason.
"This is a meeting between two presidents with a very bad, fascist mindset, and that is why we use the Trump fascist spinner with the swastika depicting the fascist orientation of the Trump regime," he said.
The complete post appears below:
Protesters tried to push toward the venue where Trump and Duterte were meeting with other leaders attending the Association of Southeast Asian Nations, but were blasted by water cannons and pushed back by riot police, according to the the U.K.'s Express newspaper.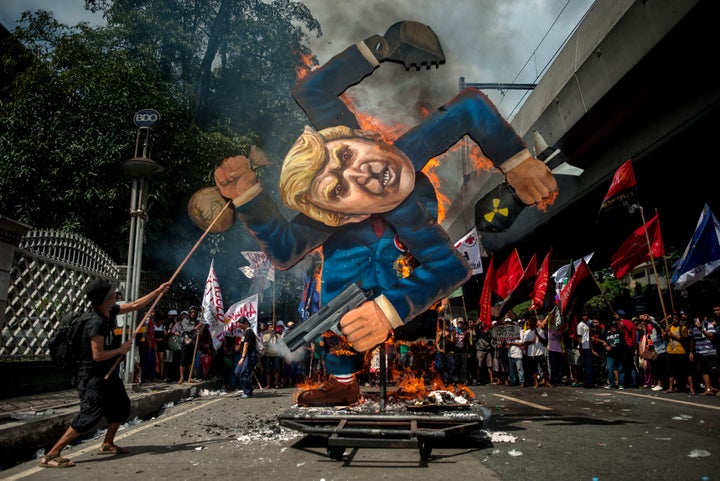 Trump spent Monday heaping praise on Duterte while shutting down reporters who tried to press the leaders on human rights abuses in The Philippines.
Phelim Kine, deputy director for Human Rights Watch in Asia, isn't surprised.
"Trump has a well-documented affinity for strongman leaders who abuse the rights of their people and he has, over the months, expressed and made several references to how he supports what Duterte is doing in the Philippines," Kine told HuffPost.
Before You Go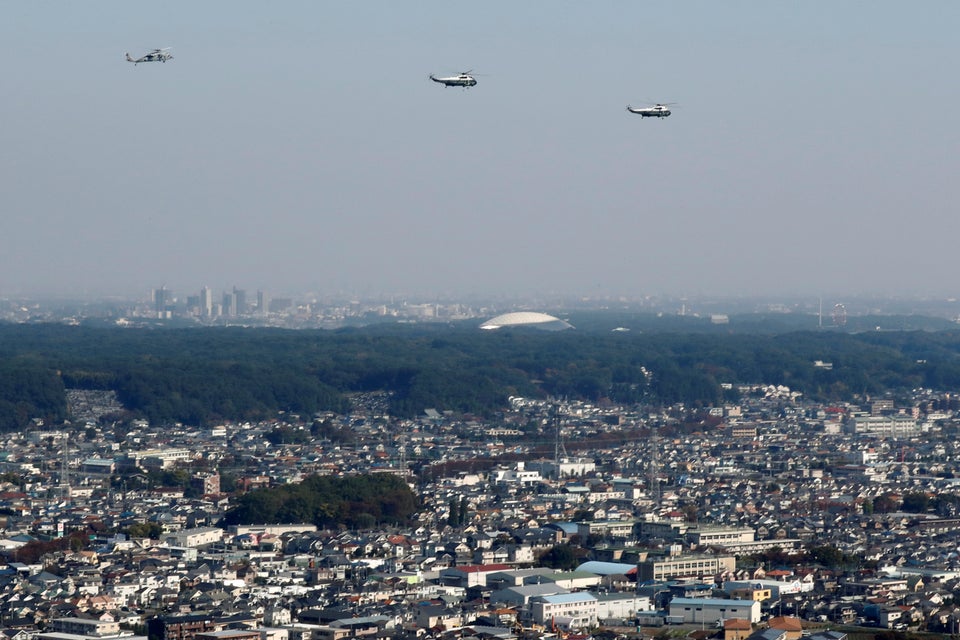 Trump Travels Through Asia
Popular in the Community