Among those opposed to bombing Syria was Sen. Rand Paul (R-Ky.), an outspoken opponent of intervention abroad.
Rep. Tulsi Gabbard (D-Hawaii), who met with Syrian President Bashar Assad in January, said Trump "acted recklessly."
"It angers and saddens me that President Trump has taken the advice of war hawks and escalated our illegal regime change war to overthrow the Syrian government," Gabbard said in a statement. "This escalation is short-sighted and will lead to more dead civilians, more refugees, the strengthening of al-Qaeda and other terrorists, and a possible nuclear war between the United States and Russia."
Rep. Ro Khanna (D-Calif.) also questioned the intentions of the strike.
As did Rep. Ruben Gallego (D-Ariz.).
Rep. Seth Moulton (D-Mass.) pointed out that while Trump said his strike was motivated by civilian casualties in a Syrian chemical attack this week, he's also pushed for banning Syrian refugees from entering the U.S.
Rep. Bonnie Watson Coleman (D-N.J.) also called out Trump's hypocrisy:
Most critics, however, seemed more concerned with the process Trump employed to carry out the strikes, and not the attacks themselves.
Rep. Barbara Lee (D-Calif.), who was the lone member of Congress to vote against the 2001 Authorization for Use of Military Force, the sweeping war justification still in use today, described the strike as an "act of war."
"Assad is a brutal dictator who must be held accountable for his actions," said Sen. Tim Kaine (D-Va.), who was Hillary Clinton's running mate in the 2016 election. "But President Trump has launched a military strike against Syria without a vote of Congress. The Constitution says war must be declared by Congress. I voted for military action against Syria in 2013 when Donald Trump was advocating that America turn its back on Assad's atrocities. Congress will work with the President, but his failure to seek Congressional approval is unlawful."
Sen. Chris Coons (D-Del.), a member of the Foreign Relations Committee, said he was "encouraged" by Trump's strike against the Assad regime, but "gravely concerned that the United States is engaging further militarily in Syria without a well-thought-out, comprehensive plan."
"Frankly, the President's actions today generate more questions than answers," Coons added.
"The question now is what the consequences and reactions will be, and what are the President's strategic and long-range goals and plans with respect to U.S. involvement in Syria?" said Sen. Jack Reed (D-R.I.), the top Democrat on the Senate Armed Services Committee. "The Administration is also going to have to set out the legal justification for tonight's action and any future military operations against the Assad regime as part of its consultations with Congress."
Rep. Joaquin Castro (D-Texas) also pointed to the role of Congress.
Rep. Thomas Massie (R-Ky.) highlighted a 2013 tweet by Trump.
Rep. Justin Amash (R-Mich.), also raised concerns over the lack of congressional authorization:
"Unlike the previous administration, President Trump confronted a pivotal moment in Syria and took action. For that, he deserves the support of the American people," McCain and Graham said in a joint statement.
But other Republicans offered concern about the authorization issue.
Sen. Bob Corker (R-Tenn.), chairman of the Senate Committee on Foreign Relations, said he supported the strike, but asked that the administration communicate more with Congress on future actions.
"As we move forward, it will be important for the administration to engage with Congress and clearly communicate its full strategy to the American people," Corker said.
"Assad was warned, repeatedly, by the U.S. and the U.N. that the intentional targeting of innocent men, women and children is intolerable," said House Foreign Affairs Committee Chairman Ed Royce (R-Calif.). "Now Assad has been caught red-handed carrying out another abhorrent chemical attack, and the administration has taken a measured response. Moving ahead, the administration must work with Congress and lay out clear policy goals for Syria and the region."
Some key Democrats, including Senate Minority Leader Chuck Schumer (N.Y.), offered remarks strikingly similar to their GOP colleagues. They praised the decision to strike, but said any further action must be brought before Congress.
"Making sure Assad knows that when he commits such despicable atrocities he will pay a price is the right thing to do," Schumer said. "It is incumbent on the Trump administration to come up with a strategy and consult with Congress before implementing it."
Sen. Dick Durbin (D-Ill.) suggested the public should be consulted if Trump plans to escalate military involvement.
Sen. Ben Cardin (D-Md.), the top Democrat on the Senate Foreign Relations Committee, praised the attack as "a clear signal that the United States will stand up for internationally accepted norms and rules against the use of chemical weapons."
"However, and I cannot emphasize this enough, any longer-term or larger military operation in Syria by the Trump administration will need to be done in consultation with the Congress," Cardin said.
Sen. Bill Nelson (D-Fla.) tweeted his support.
Before You Go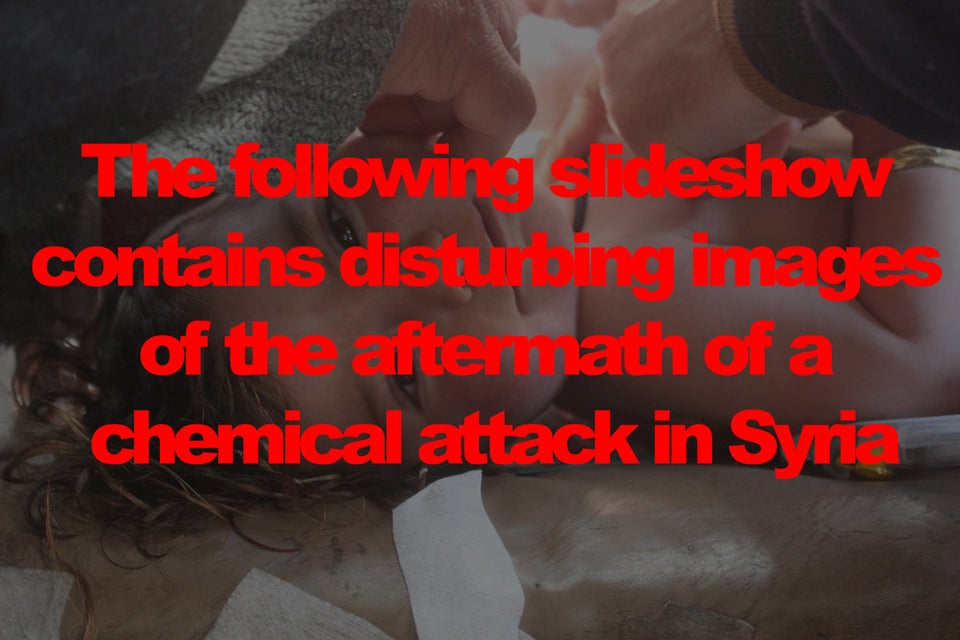 Dozens Dead After Gas Attack In Rebel-Held Syrian Town
Popular in the Community