WASHINGTON ― The White House on Thursday appeared to concede that President Donald Trump issued a baseless statement about "tapes" of a conversation with his just-fired FBI Director James Comey in order to impugn his credibility.
"I think it was more about raising the question of doubt in general," said deputy press secretary Sarah Sanders, responding to a question about why Trump had sent out a tweet positing the existence of such tapes before conceding Thursday that he was unaware of any recordings.
Sanders did not respond to a HuffPost query asking for a clarification of her answer.
The top Democrat on the House Intelligence Committee questioned whether Trump was trying to stop Comey from talking.
"If the president's statement is accurate, it of course raises as many questions as it answers, the most significant being: If the president had no tapes, why did he suggest otherwise?" said California Rep. Adam Schiff. "Did he seek to mislead the public? Was he trying to intimidate or silence James Comey? And if so, did he take other steps to discourage potential witnesses from speaking out?"
Sanders' extraordinary admission came at the very end of a 20-minute off-camera press briefing that began shortly after Trump sent off a pair of tweets that ended 41 days of drama that he himself had created.
"With all of the recently reported electronic surveillance, intercepts, unmasking and illegal leaking of information, I have no idea … whether there are 'tapes' or recordings of my conversations with James Comey, but I did not make, and do not have, any such recordings," Trump wrote Thursday afternoon.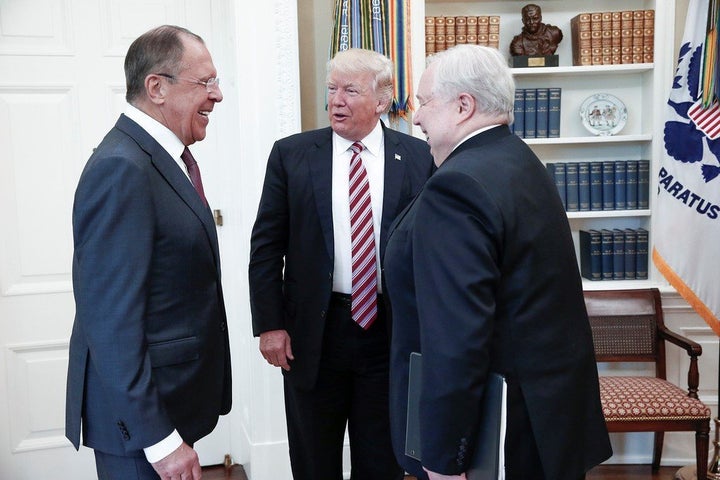 On May 12, three days after Trump fired Comey, Trump tweeted: "James Comey better hope that there are no 'tapes' of our conversations before he starts leaking to the press!"
Based on that tweet, Schiff's committee demanded that Trump turn over any such tapes and set a Friday deadline.
Comey had been leading the FBI investigation into Russia's meddling in the 2016 presidential election with the goal of helping Trump win, and whether Trump's campaign colluded with Russian officials. Trump had asked Comey to drop a related probe into Trump's first national security adviser, Michael Flynn, and his contact with Russians. Comey did not end that investigation, and Trump subsequently fired him.
"Did he seek to mislead the public? Was he trying to intimidate or silence James Comey?

Rep. Adam Schiff, top Democrat on the House Intelligence Committee
Trump's press office initially claimed Trump was merely following the recommendations of Attorney General Jeff Sessions and his top deputy to dismiss Comey. But Trump on May 11 told NBC News that he was going to fire Comey regardless of the Justice Department's recommendation, and added that the Russia investigation played into his thinking. Trump also told Russia's foreign minister and its U.S. ambassador during their May 10 Oval Office visit that Comey's probe was putting "great pressure" on him, and that Comey was a "nut job," according to a New York Times report that the White House has not rebutted.
Nearly six months after U.S. intelligence agencies released a report agreeing that Russia had meddled in the presidential election to help candidate Trump win, President Trump continues to call that conclusion a hoax.
"Former Homeland Security Advisor Jeh Johnson is latest top intelligence official to state there was no grand scheme between Trump & Russia. By the way, if Russia was working so hard on the 2016 Election, it all took place during the Obama Admin. Why didn't they stop them? ...Why did Democratic National Committee turn down the DHS offer to protect against hacks (long prior to election). It's all a big Dem HOAX! ...Why did the DNC REFUSE to turn over its Server to the FBI, and still hasn't? It's all a big Dem scam and excuse for losing the election!" 
This is a commander-in-chief who prizes his own ego over the welfare of our country.

Former CIA analyst Ned Price
That view, though, goes against the consensus view of 16 U.S. intelligence agencies. In a report issued on Jan. 6, The Office of National Intelligence wrote:
"We assess Russian President Vladimir Putin ordered an influence campaign in 2016 aimed at the US presidential election. Russia's goals were to undermine public faith in the US democratic process, denigrate Secretary Clinton, and harm her electability and potential presidency. We further assess Putin and the Russian Government developed a clear preference for President-elect Trump. We have high confidence in these judgments."
One former CIA analyst said Trump's continued disparagement of the intelligence community showed his priorities.
"This is a commander-in-chief who prizes his own ego over the welfare of our country. He said nothing today that he hasn't said in the past — from the multiple times he's rejected the intelligence community's analysis to calling them leakers and even Nazis," said Ned Price, who was the National Security Council's spokesman under former President Barack Obama. "The damage between the intelligence community and this president is irreparable. I have no doubt the intelligence community will remain focused on its core missions, even as the president chooses not to take his seriously."
Sanders, during Thursday's press briefing, pointed out that Trump did concede early in the year "that it probably was Russia" behind the theft of Democratic emails released through WikiLeaks to hurt Democratic nominee Hillary Clinton.
Schiff responded to Trump's Thursday morning tweets with one of his own: "A better question, Mr. President, is why did you encourage them? 'Hey Russians, if you're listening, hack Hillary's emails.' Sound familiar?"
On July 27, 2016, Trump, during a news conference, invited Russia to hack into computer systems to find the emails Clinton had deleted from her private server: "Russia, if you're listening, I hope you're able to find the 30,000 emails that are missing." Trump later said he was joking.
Ironically, Trump's original "tapes" tweet may have caused more trouble for him. Comey testified before the Senate Intelligence Committee this month that when he read Trump's statements, he leaked detailed notes he had taken of his conversations with Trump with the hopes of getting a special counsel to take over the investigation.
On May 17, Deputy Attorney General Rod Rosenstein appointed former FBI director Robert Mueller to handle the Russia probe, which now includes as a component possible obstruction of justice for Trump's firing of Comey.
Sanders, though, said Trump had no regrets about his "tapes" tweet. "I don't think so," she said.
Calling all HuffPost superfans!
Sign up for membership to become a founding member and help shape HuffPost's next chapter
BEFORE YOU GO