WASHINGTON ― President Donald Trump opening a trade war with China may hurt more than American farmers and consumers ― it could seriously hamper his party's efforts to retain a House majority.
China on Wednesday announced a $50 billion list of major U.S. exports ― including soybeans, corn, beef, cars, whiskey, and aircraft ― that it would hit with tariff hikes if the Trump administration goes forward with its plan to raise duties on a similar array of Chinese goods.
The Chinese announcement sent markets spiraling downward around the globe amid rising fears of an impending trade war. It also worried some Republican strategists, who have been hoping that a strengthening economy would buoy GOP chances in the November midterm elections.
"To the extent that Trump's tariffs hurt the economy, that's really bad for Republican candidates," said Alex Conant, a former spokesman for Sen. Marco Rubio's (R-Fla.) 2016 presidential campaign. "If Trump can navigate these trade negotiations in a way that opens new markets, strengthens the U.S. economy and increases American competitiveness, that will be a win for everyone."
Trump appeared to dismiss the potential consequences of a trade war on Wednesday by arguing the U.S. had little to lose, given its trade deficit with China.
"When you're already $500 Billion DOWN, you can't lose!" the president tweeted.
His number was inaccurate, however ― the goods and services trade deficit with China was $337 billion last year.
The White House also sought to calm nervous traders by suggesting the planned tariffs on China were merely part of an opening negotiating tactic.
"I don't think people should overreact right now. This is a negotiation using all the tools," Larry Kudlow, the president's new economic adviser, told reporters on Wednesday.
But officials representing the U.S. farm and consumer technology industries were decidedly less sanguine, warning that tariffs would harm American companies and consumers who rely on low-priced products to run their businesses and budget their households.
"The Trump administration's proposed tariffs and China's announced retaliation will hurt commerce, businesses and consumers," Gary Shapiro, the president and CEO of the Consumer Technology Association, said in a statement.  "The saying, 'When elephants fight, the ground gets trampled,' is a fair description of how everyone loses when two trading partners start fighting."
A trade war between the two countries could especially hurt rural areas of the U.S.― including many places that were key to Trump's election. Iowa, for example, is the largest exporter of pork and corn in the U.S. and the number two exporter of soybeans. Tariffs on those goods could seriously harm the state's agriculture-rich economy, prompting alarm from its GOP-led congressional delegation.
"I have significant apprehension about it," Rep. Steve King (R-Iowa), a key Trump ally, told constituents on Tuesday. "It looks to me like the stage is set for a trade war. We won't probably know the impact of this until we see it in the rearview mirror."
King and other members of his congressional delegation wrote a letter to Trump last month warning about the effects his steel and aluminum tariffs could have on Iowa's farmers and manufacturers.
Tim Allen, who chairs the Republican Party of Sioux County, a major agricultural center in Iowa, said he was concerned about the long-term impact of the tariffs on the state's farmers.
"Hopefully by the time it actually squeezes us we can figure something out," he said.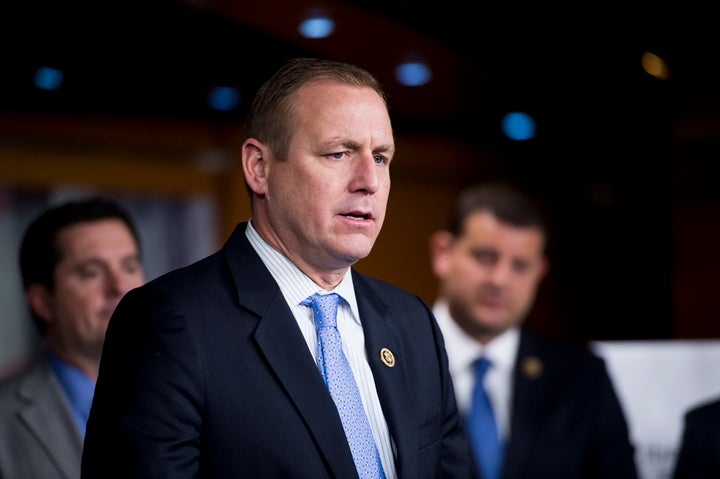 The prospect of a trade war with China has already become an issue in some vulnerable GOP-held House districts. Democrat Michael Eggman, a 53-year-old almond and bee farmer in California's Central Valley running for the third time against Republican Rep. Jeff Denham, is making the fallout from Trump's tariffs a major campaign theme. In response to Trump's tariffs, China has announced a 15-percent tariff on almonds, a major cash crop in the district.
"Denham claims he's a local farmer, but he has uttered not one word of outrage about these tariffs," Eggman said.
Denham did not immediately respond to a HuffPost request for comment on the tariffs and China's retaliation.
With the help of major Republican outside spending, Denham bested Eggman 52 to 48 percent in 2016. This time, the 4-term incumbent has already raised nearly $2 million toward his re-election bid.
Hillary Clinton defeated Trump in the district by 3 percentage points in 2016, making it precisely the kind of seat Democrats need to win to gain a House majority in a year of outsize enthusiasm within party ranks. 
For Eggman, the tariff issue is personal. He decided to sell his 20 acres of almond trees several months ago after years of climate change-driven droughts depleted his income, making it hard for him to justify replacing aging trees. China's tax on almond exports, which he anticipates would make almond farming even less profitable, makes him "glad" he got out of the business.
"As an almond farmer, you have so many things to worry about that you seemingly don't have control over," Eggman said. "But now you also have a president that has such bad foreign policy that he is shooting at the hip to make political points."
Trump's trade actions are likely to aid the GOP in some parts of the country. For instance, miners in northern Minnesota ― a state that Clinton barely won ― hail the president's tariffs on steel and aluminum as a welcome move for domestic manufacturers.
Democratic Rep. Rick Nolan, who narrowly won re-election in a Minnesota Iron Range district in 2016, is retiring this year, giving Republicans a pick-up opportunity.
Some Republicans, meanwhile, discount the effects a trade war may have on their chances to retain the House next year.
"We're going to spend the rest of the year talking about the pocketbook issues that voters care about," said Matt Gorman, a spokesman for the National Republican Congressional Committee. "We're confident that the economic conditions will remain strong and [we're] excited to talk about the policies that have made and will continue to make a difference for the middle class."
Calling all HuffPost superfans!
Sign up for membership to become a founding member and help shape HuffPost's next chapter