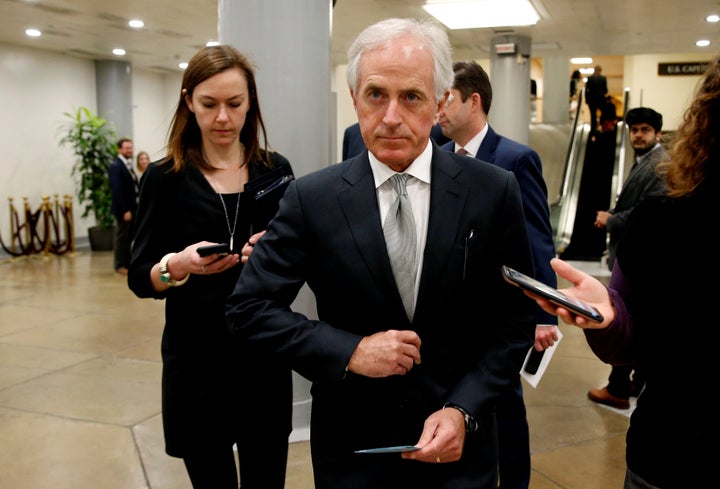 Rather than, say, taking action to protect the investigation into Russia's meddling in the 2016 presidential election, GOP senators are working on a plan this week to curb the president's authority to unilaterally impose tariffs. They argue that Trump's recently announced steel and aluminum tariffs on U.S. allies will hamstring the nation's humming economy and cost Americans jobs.
Proponents of the effort face a big hurdle, however ― convincing GOP leaders to support a measure that would directly challenge Trump on trade and open an intraparty clash just months before the crucial November midterm elections.
Senate Majority Whip John Cornyn (R-Texas), the No. 2 Senate Republican, poured cold water over the prospect of reining in the president's trade powers in interviews on Capitol Hill this week.
"I think that is primarily an executive branch function, and I don't really see Congress passing and getting a presidential signature on something constraining his authority," Cornyn told reporters Monday.
Lawmakers could, of course, override a presidential veto on a potential measure that limited Trump's ability to impose tariffs. But it would require a two-thirds vote in both the House and the Senate ― a gargantuan task in the sharply divided Congress.
Sen. Bob Corker (R-Tenn.), who is spearheading the effort alongside Sen. Pat Toomey (R-Pa.), said he received a "very positive" reaction from members when he brought up the matter during a weekly GOP caucus lunch Tuesday. Vice President Mike Pence, who was also in the room, did not react or make any comment, Corker said.
The retiring Senate Foreign Relations Committee chairman is planning on introducing a bill challenging Trump's tariffs on imports from the European Union, Canada and Mexico. The measure would curtail the president's authority under Section 232 of the Trade Expansion Act of 1962 to levy tariffs based on "national security grounds" ― a provision Trump has invoked several times.
"What this would do is redefine that and say that the president would go through the same steps that he goes through, but at the end of the day, if he decides that he wants to put tariffs in place, Congress would have to approve those," Corker said Tuesday.
Corker declined to say how many senators supported the legislation but said that was working with "a big list" of Republicans and Democrats.
Senate Minority Leader Chuck Schumer (D-N.Y.), a China trade hawk who has openly supported Trump's policies with respect to the communist nation, said Tuesday he was waiting to see the bill before commenting on it.
"I told him to send me the bill," Schumer said during a weekly press briefing. "I haven't seen it yet."
The effort to push back on Trump's tariffs follows sharp criticism and even retaliatory tariffs on U.S. exports from leaders in the European Union, Canada and Mexico on American products from steel to pork and bourbon.
Canadian Prime Minister Justin Trudeau slammed Trump's recent tariffs on imported vehicles over the weekend, stating that he found it "insulting" that his administration views Canada ― a longtime U.S. ally ― as a national security risk.
"The fact that the president has moved forward with these tariffs is not just going to hurt Canadian jobs, it's going to hurt U.S. jobs as well and neither of those things is something Canada wants to see," Trudeau said.
Trump defended his actions on trade Monday, arguing that the U.S. farm industry will benefit overall in the future as a result of his policies.
Corker said he is considering offering his bill as an amendment to the National Defense Authorization Act (NDAA), a defense spending bill Congress must pass each year. Doing so would give it the best opportunity for passage this year, given that Senate Majority Leader Mitch McConnell (R-Ky.) remains opposed to allowing a vote on the trade measure as a standalone bill.
"The NDAA is going to be open, we'll see what amendments are offered," McConnell said Tuesday when asked about the Corker bill.
Other GOP senators, however, seemed more skeptical about the prospect of attaching an unrelated measure to a must-pass defense bill, arguing that such a strategy risked holding up funding for the military.
"I'm not sure the NDAA is the right vehicle," Cornyn said Tuesday. "I don't know how he [Trump] might respond to that, and we really have to pass the NDAA."
Sen. David Perdue (R-Ga.), meanwhile, argued that it would be unwise to limit the president's ability to unilaterally impose tariffs at a time when China is aggressively exerting its influence on the world stage.
"Yes, I agree that the legislative branch gave up a lot of authority in 1962 but the world's different," he said, referring to the Trade Expansion Act. "My first reaction to that is we need to protect the executive branch to move quickly and have flexibility."
Popular in the Community