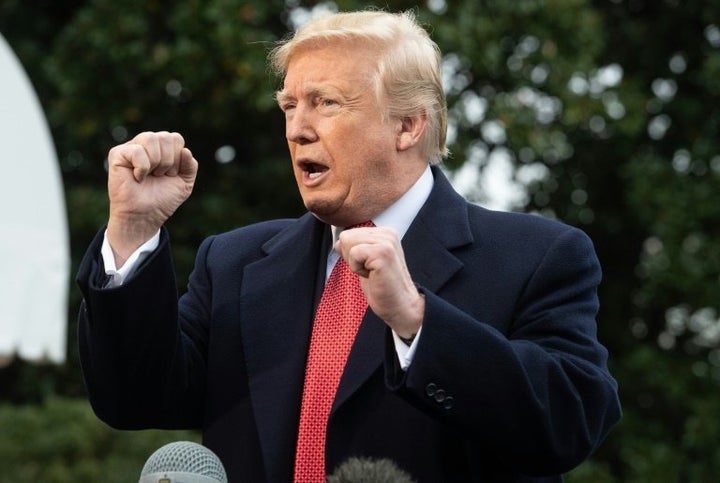 WASHINGTON ― Now that Republicans have lost the House, we can finally bury the mysterious tax cut that President Donald Trump said would pass sometime around Election Day ― a pledge that perplexed virtually everyone else.
Since it seemed unlikely Republicans would keep the House, Brady's condition essentially amounted to an escape from questions about the proposal, which only Trump had talked about but which not even he could explain.
As for whether the tax cut even existed or was simply a political ploy by a president known to make up stuff, Brady insisted on Wednesday that it was based on some vague semblance of reality.
"In truth, we've been working with the president for some time and had developed some good options for him," he told HuffPost.
Trump had said that unlike last year's Tax Cuts and Jobs Act ― which benefited all income groups but especially the wealthy ― the new bill would be just for the middle class. HuffPost asked Brady how that would work, exactly ― would it be a rate reduction? A deduction? A credit? 
"Just generally a focus on middle-class families and workers," Brady said.  
When Trump first mentioned the tax cut, Brady's office referred questions to the White House, but administration aides had nothing to say about it. Pressed for details in the Oval Office by reporters, Trump referred questions to Kevin Hassett, his top economic adviser. But Hassett referred questions back to Trump. No additional details ever emerged.
Brady said he hoped the new Democratic majority in the House would be open to more cuts.
"I've noticed several Democrats are interested in more middle-class cuts as well, so we'll see if we can find some common ground," he said.
REAL LIFE. REAL NEWS. REAL VOICES.
Help us tell more of the stories that matter from voices that too often remain unheard.