If Democrats win control of the House in November they will finally have the votes to force an issue they've been hammering for nearly two years: Making President Donald Trump disclose his tax returns.
Since Trump took office, Democrats have forced 11 votes in the House of Representatives to require that the IRS hand over Trump's returns. These votes all failed because only one member of the Republican majority joined the Democrats in their request. If Democrats win 217 or more seats in the November election ― which they have a 74 percent chance to do, according to the polling aggregation site FiveThirtyEight ― they will have enough votes to get these documents.
"You're damn right" Democrats will vote to get Trump's tax returns if they win a majority in November, said Rep. Bill Pascrell (D-N.J.).
Trump was the first major-party presidential nominee to refuse to disclose his tax returns since Richard Nixon and is the first president to refuse to disclose his tax returns (again, since Nixon). This has left a lot of open questions about to whom he owes debts, to which foreign governments he pays taxes and whether he has any foreign bank accounts. Trump has also refused to divest himself of his multi-billion-dollar real estate business, an unprecedented act in the modern political era. That means he still runs a business whose profits, debts and use of tax loopholes are largely obscured from the general public. There are a lot of unanswered questions about his business including whether his properties are used for money laundering, how he funded the purchase of his Scottish golf course, who was funding the discarded attempt to build a Trump Tower in Azerbaijan and the many shady oligarchs from former Soviet states who invested in his ventures.
"As the smoke continues to build with one revelation after another, there is greater need than ever to see what Trump may be hiding in his personal tax returns, the return information to explain them and those of the 500 business entities, which he controls from here to Azerbaijan," said Rep. Lloyd Doggett (D-Texas).
Rep. David Cicilline (D-R.I.), who is a co-chair of the Democratic Policy and Communications Committee, a messaging body for the party leadership, said, "If Democrats take back the House, I'll fully support efforts to finally make his tax returns public."
But House Republicans have vehemently resisted efforts to force Trump to come clean about his finances. "My belief is that if Congress begins to use its powers to rummage around in the tax returns of the president, what prevents Congress from doing the same to average Americans?" said Rep. Kevin Brady (R-Texas), the chairman of the tax-writing Ways & Means Committee in February 2017.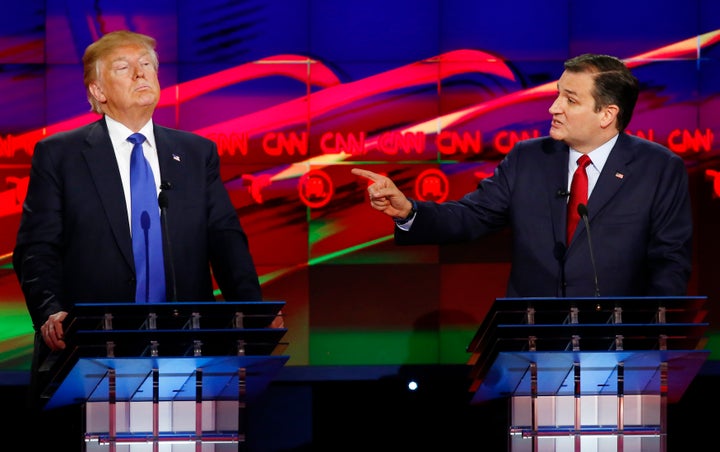 That month, Pascrell first asked Brady to join Democrats in supporting a resolution that would have made the IRS hand over Trump's tax returns to the Ways & Means Committee. Pascrell proposed to use a law passed in the wake of the Teapot Dome Scandal ― which was a scheme by cabinet officials in the 1920s to illegally sell public lands to themselves to drill for oil ― that allows the committee to obtain tax returns of executive branch officials who are under investigation. (The committee used the provision to obtain Nixon's tax returns during the Watergate scandal). Pascrell suggested to then study Trump's returns and determine if any information from them merited public disclosure.
Brady declined to make it a bipartisan effort, but Democrats continued their push. Numerous Democratic Party lawmakers have introduced privileged resolutions on the floor of the House to force votes on the issue since. Rep. Walter Jones (R-N.C.) was the only Republican to ever vote for any of these resolutions. Rep. Mark Sanford (R-S.C.), who lost his Republican Party primary in June after being critical of Trump, voted present on all of the resolutions.
Bills introduced by Democratic lawmakers to require future presidential candidates, including Trump, to disclose their tax returns have gone nowhere in their respective committees.
Pascrell says he's going to keep pressing the issue, whether in the minority or the majority. "We have a right to know if there are any potential conflicts of interest that affect him," Pascrell said.
Popular in the Community