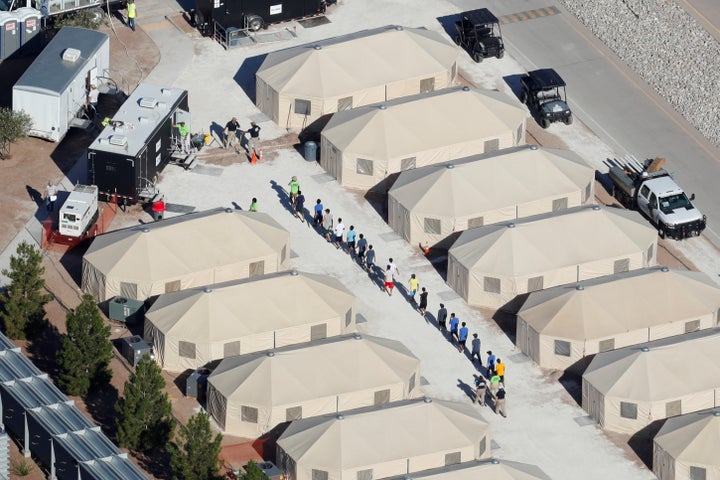 The images of beige tents housing migrant children in a parched strip of Texas drew national outrage earlier this summer as a symbol of the Trump administration's harsh immigration policies. The contract for the temporary facility in Tornillo was set to end Aug. 13, but now the government is planning to continue using it to shelter children for yet another month, according to a spokesperson for the Health and Human Services Administration for Children and Families.
The Tornillo facility, which is currently run by the nonprofit BCFS, has housed hundreds of migrant children who traveled to the U.S. without their parents, as well as a small number of children separated from their families. It opened in June, at the height of the family separation crisis, to free up room for the influx of immigrant children who entered government custody under the Trump administration's zero tolerance policy. 
Tornillo was planned as temporary, but operations were extended from July to at least Aug. 13. Earlier this week, BCFS spokeswoman Krista Piferrer told HuffPost that their tasking was expected to end on that date and any children the Health and Human Services Department's Office of Refugee Resettlement hadn't been able to release to sponsors by then would be transferred to other ORR shelters. But by Friday, the government had announced it was continuing operations for another 30 days, until Sept. 13, using the existing grant.
The HHS spokesperson did not say why the shelter was remaining open but noted that ORR is "continuously monitoring bed capacity available to provide shelter for minors." Back in July, Piferrer told CBS News that the facility was staying open because ORR's other permanent options were too full; the organization had anticipated efforts to reunify separated children with their families would eventually free up space at other shelters.  
The facility, which is located at the Tornillo Land Port of Entry, is a small compound about 30 miles from El Paso, an area that reaches sweltering temperatures in the summer. There are rows of tents set up like barracks; kids sleep in close bunks. Kids do have access to some resources, like phone calls and medical care.
The shelter, which has a capacity of 400, has been housing teenagers, primarily from Central America. BCFS and ORR did not comment on the number of children currently held there, but when state Sen. José Rodríguez, a Democrat from El Paso, visited earlier this summer, the facility housed about 360 minors, including 16 who had been separated from their families, he told HuffPost. 
Rodríguez said children are provided meals, air-conditioned sleeping quarters in tents, some access to mental health services and a makeshift artificial-grass soccer field. But the kids still seem to feel isolated, he noted.  
"You see it in their eyes, you see it in their conversation, and it's not a good thing. It's clearly an inhumane policy to maintain kids in these kinds of shelters," he said. 
Rodríguez said the Tornillo shelter has been open too long and was supposed to have been closed by now. He blamed the "incompetence of the federal bureaucracy" for its continued use. 
The HHS spokesperson said the agency will continue to assess the need for the Tornillo shelter based on the projected need for beds and current capacity of the program. Steven Mickholtzick, director of recruiting for Comprehensive Health Services, a contractor that manages a large shelter in Florida, claimed to ABC-7 that there are plans to dramatically expand Tornillo. A spokesperson for CHS told HuffPost in an email that, "our contractual relationships will not be discussed. No interviews will be given," and referred questions to HHS. 
Bold is theirs. HHS did not comment on CHS's claim, but the HHS spokesperson said no new contracts for operations at Tornillo were awarded.
The practice of using tent compounds to house immigrants is not new; as NBC News pointed out, it occurred under the Obama administration. But the Tornillo shelter spurred a national outcry as a symbol of the Trump administration's draconian immigration policies, particularly its separation of families. Celebrities, including singer Sia and writer Lena Dunham, along with activists and lawmakers traveled to Tornillo to protest the separations.
One BCFS official had previously told reporters that the operation wouldn't have been necessary if not for the family separation policy, calling the practice "an incredibly dumb, stupid decision." 
Veronica Escobar, a Democrat running to represent El Paso in the U.S. Congress, helped lead a march at Tornillo on Father's Day. The march was a way to show "our pain, our horror, our shock, our despair, our anger at the way that our government was treating migrants," she told HuffPost. Detention isn't just inhumane, but very costly, she added, and there are alternatives the government could employ that would "reflect the kind of country we are."
But, "it does not seem that this administration is interested in that."
Calling all HuffPost superfans!
Sign up for membership to become a founding member and help shape HuffPost's next chapter