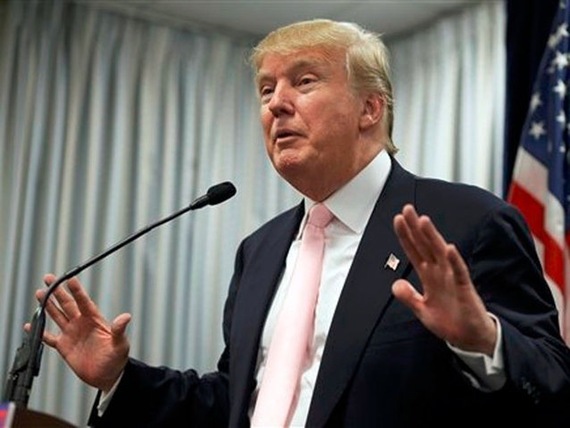 I am the best. This is true because I said so. Even the sentences I write are the best except perhaps for the last one, which a teacher told me ended in a preposition, yet if I construct a sentence then whatever words I use are the best, because I said so and I went to Wharton which only accepts the best smart people.
Teachers are losers anyway. Imagine making less than one hundred thousand dollars a year and all you do is help kids learn? My grandchildren have car seats worth more than 100K. (I didn't spell out the entire word again because so little money doesn't deserve that many letters, not to mention the strain on my keyboard and typist, both of which happen to be the best.)
I don't want stupid people like Charles Krauthammer working for me. I only recruit the best and biggest stars to work for me, like Gary Busey and Gene Simmons, instead of boring dopes like George Will.
I have a history of top people who have been winners on my shows. Remember Omarosa? Of course you do. She's one of my best apprentices. I don't hire stupid people that graduate from law schools, like Megyn Kelly. Dummies like that have opinions and think for themselves and that's a dangerous problem when you're a despot and only want to hear the sound of your own voice.
I will save money when I'm President. Why do we need two Dakotas? It's stupid. I will combine North and South Dakota into one great state. It will be the best state without any stupid people like Jorge Ramos who has written a lot of books but they're probably about drug dealers because some of the titles are Spanish.
I don't like drug dealers and other bad people. I will get rid of them. Even the good ones if they are stupid. I will fix the economy too. I will build a counter featuring my top brand Trump items (did I mention they're the best) in the White House and sell Trump ties, whisky flasks, cuff links and other really great items. Good foreigners, visiting dignitaries and people from Dakota who want to be and own the best will purchase them in such huge numbers that the sales tax alone will balance the national budget.
When I'm president if we go to war it won't be a good war, it will be the best war, because Putin is stupid...
Calling all HuffPost superfans!
Sign up for membership to become a founding member and help shape HuffPost's next chapter