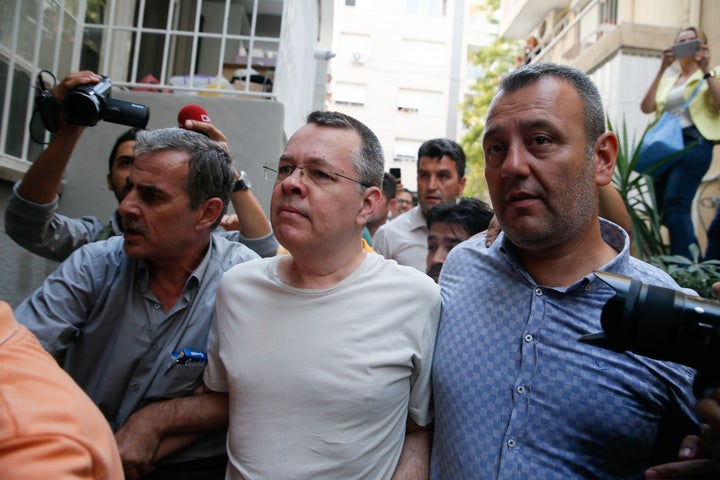 President Donald Trump has threatened to impose "large sanctions" against Turkey for its continued detainment of an American evangelical pastor. 
The threat, delivered on Twitter Thursday morning, was an escalation of the White House's efforts to secure the release of North Carolina pastor Andrew Brunson, who has been detained for 21 months in Turkey on charges of terrorism and espionage.
Trump, tweeting from aboard Air Force One, called Brunson "a great Christian, family man and wonderful human being." 
"He is suffering greatly," the president wrote. "This innocent man of faith should be released immediately!"
Vice President Mike Pence, speaking in Washington, D.C., hours earlier at a conference on religious freedom, made a similar threat of "significant sanctions" against Ankara over the imprisoned pastor. 
"To President [Recep Tayyip] Erdogan and the Turkish government, I have a message on behalf of the president of the United States of America: release Pastor Andrew Brunson now or be prepared to face the consequences," Pence said at the event hosted by the U.S. State Department.
Pence also spoke directly to Brunson's daughter, Jacqueline Furnari, who was in the audience at the religious freedom conference. 
"I promise you, as I told your father yesterday, President Trump and I will continue to fight to secure your father's full release until he is restored to his family and returns to the United States of America."
Turkish Foreign Minister Mevlut Cavusoglu pushed back against the White House's statements on Twitter, saying, "We will never tolerate threats from anybody."
Foreign Ministry spokesman Hami Aksoy told the country's state-run Anadolu news agency that Trump's rhetoric was "unacceptable." He insisted that Brunson's case is under Turkey's jurisdiction as a sovereign state.
"With regard to the Brunson case, necessary information has been provided to our U.S. counterparts on various occasions and it has been clearly expressed that this issue is totally within the competence of the independent Turkish judiciary," Aksoy told the agency.
The threat of sanctions caused a small dip in Turkey's financial markets Thursday morning, Reuters reports.
The administration's move comes one day after a Turkish court allowed Brunson, 50, to be transferred out of jail and into house arrest because of "health problems," according to Anadolu news agency. He was released from a prison in the city of Izmir on Wednesday and ordered to wear an electronic monitoring bracelet while his trial continues. The next hearing in the case is scheduled for October.
Turkish authorities have accused Brunson of being involved with a failed military coup against Erdogan in 2016. Brunson was just one of 20 Americans charged in relation to that coup, The New York Times reports.
The pastor has denied the charges, which could carry a jail sentence of up to 35 years.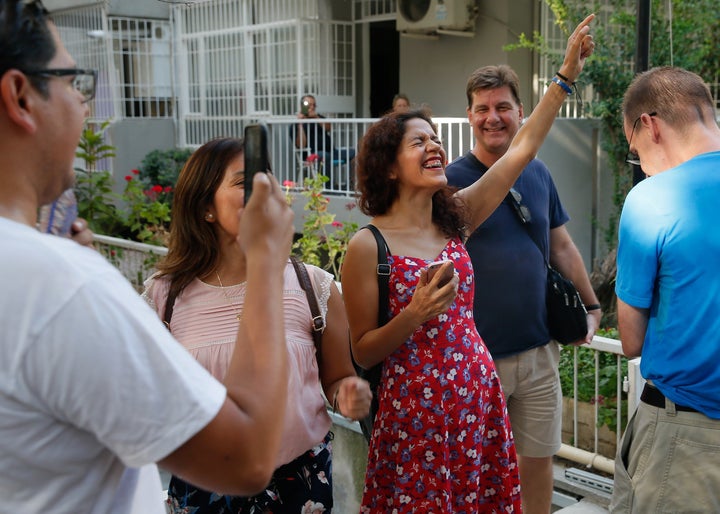 The pastor's detention has caused friction in relations between Ankara and Washington. The two countries, both members of NATO, were already at loggerheads over the Syrian war.
On Wednesday, U.S. Secretary of State Mike Pompeo said he welcomed news of Brunson's release, but that it was "not enough."
"We have seen no credible evidence against Mr. Brunson, and call on Turkish authorities to resolve his case immediately in a transparent and fair manner," Pompeo tweeted.
Brunson's case has received much attention from evangelical Christian leaders, who have been among the president's most reliable supporters. Evangelical Christian groups have been pressuring the White House to take steps to ensure Brunson's release.
Tony Perkins, president of the conservative Family Research Council and a diehard Trump fan, showed support for the White House's actions on Twitter.
"This is a clear, unequivocal message to the tyrants in Turkey," Perkins wrote.
REAL LIFE. REAL NEWS. REAL VOICES.
Help us tell more of the stories that matter from voices that too often remain unheard.
BEFORE YOU GO
PHOTO GALLERY
The World's 50 Most Unusual Churches