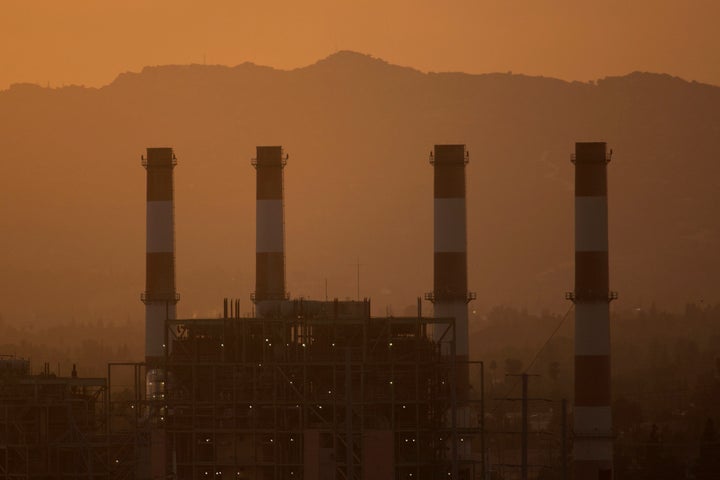 The fate of our planet has considerably worsened in the last 24 hours. Donald Trump has taken his first steps towards unwinding his predecessor Barack Obama's hard-won climate change legacy.
In his inaugural budget on Thursday, the tycoon tweeter proposed slashing the Environmental Protection Agency's budget by some 2.7 billion dollars. Such a move would scrap funding for a string of environmental programs, including Obama's landmark plan to fight climate change by reining in emissions from America's vast fleet of power plants.
"Literally and figuratively, this is a scorched-earth budget that represents an all-out assault on clean air, water, and land," said Gina McCarthy, Obama's last EPA chief. "You can't put 'America First' when you put the health of its people and its country last."
The moves comes three months after scientists confirmed that 2016 was the hottest year on record. That means that 16 out of the 17 warmest years in history have all taken place this century. The World Meteorological Organization described the findings as "very alarming."
"Once again the Trump administration is showing its true colors: talk like a populist but govern like a special interests zealot."
Three years ago, the United Nations warned that world temperatures are poised to rise by more than four degrees Celsius by the end of this century. Such a temperature rise will bring about a mass extinction event, ushering in changes not seen since the last Ice Age.
Any dramatic moves at the EPA will be closely monitored by governments across the globe. Fifteen months ago, nearly 200 nations struck a deal to limit global warming to two degrees Celsius, with further ambitions to keep it below 1.5C.
Hailed as a triumph for mankind, the Paris climate pact was the end product of nearly 20 years of torturous climate talks. In the past, rich and poor nations clashed over who should take the bulk of cuts. But, as the science grew ever more frightening, a global deal was finally sealed.
But, the Trump administration is now threatening to undo all of this progress by reversing Obama's climate commitments. On the campaign trail, the former reality star promised to reduce the EPA to "little tidbits" after slamming the environmental regulator as a "disgrace."
The property tycoon has also described global warming as a hoax cooked up the Chinese to make America less competitive, and has proceeded to fill his administration with one climate change skeptic after another. Although he has not pulled the US out of the Paris pact yet, his recent actions have been far from encouraging.
"You can't drain the swamp and leave all the people in it. So, I guess the first place that comes to mind will be the Environmental Protection Agency," said Mick Mulvaney, the White House budget director who crafted the proposed cuts: "The president wants a smaller EPA. He thinks they overreach, and the budget reflects that."
Mulvaney also confirmed that the Trump administration has no interest in providing any funding to prevent climate change: "We're not spending money on that any more. We consider that to be a waste of your money."
The move sparked uproar from green groups and EPA staff who warned that it will sabotage the enormous improvements made in both water and air quality since President Richard Nixon created the agency in 1970.
Margie Alt, executive director of Environment America, described the budget as "dirty and dangerous", saying that "it fails to protect our health or our planet. It is basically a 'get out of jail free card' for polluters." She called on Congress to "reject this budget."
Any proposed cuts to the federal budget must first get the green light from Congress. Although it takes the White House's wishes into consideration, it is not under any obligation to comply with them.
To win Senate approval, the Trump administration would need at least a handful of Democrats to agree with the plan. But, liberals were quick to excoriate the plan as reckless and irresponsible: "Once again the Trump administration is showing its true colors: talk like a populist but govern like a special interests zealot," said Chuck Schumer, the top Senate Democrat.
Moreover, according to Frank Maisano, an energy specialist at Bracewell & Giuliani, lawmakers would be hamstrung in their ability to slash the EPA budget as the agency is obliged to meet at least 25 environmental laws sanctioned by Congress.
Whatever happens, it is clear that this White House is an anathema to the planet. Despite promising to 'Drain the Swamp' and 'Make America Great Again', Trump is only lining the already deep pockets of the fossil fuel industry whilst condemning future generations to a life of misery and war as they battle it out over dwindling resources of both food and water. The food riots that swept across the globe in 2011 a mere harbinger of far worse to come.
But, it doesn't have to be this bleak. Our children and their children don't have to be punished by such a dystopian fate. If this White House won't stand up for our climate, then we the people, will have to do instead. As Thomas Jefferson once said: "Each generation needs a revolution." And, with a steep temperature rise sitting on our horizon, reining in climate change must be ours. After all, as the abolition of slavery, the US civil rights movement, and universal suffrage all reveal, radical change can happen when brave men and women stand up for what is right.
As Paul Gilding, author of The Great Disruption points out: "We'll be growing up in war. Not a war between civilizations, but a war for civilization. It will take every mother, father and child. But, this could be our finest hour." After all, nothing is more powerful than an idea whose time has come.
REAL LIFE. REAL NEWS. REAL VOICES.
Help us tell more of the stories that matter from voices that too often remain unheard.
BEFORE YOU GO