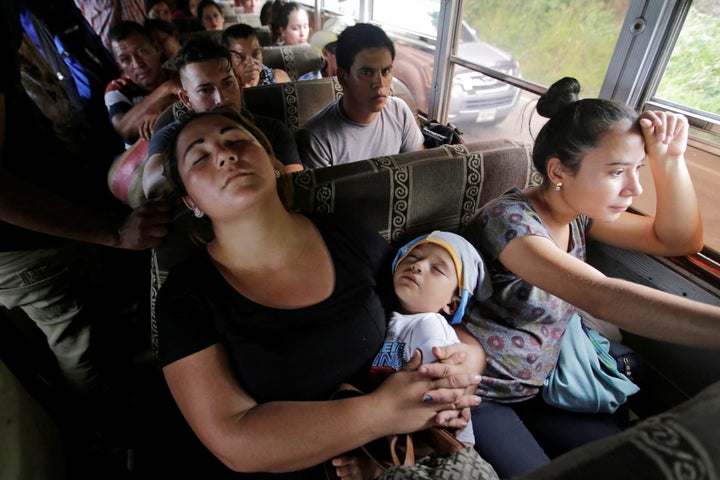 President Donald Trump on Tuesday issued a threat to Honduran President Juan Orlando Hernandez: Somehow recall a mass caravan of mostly Honduran migrants bound for the United States or watch American aid dry up.
Trump said in a morning tweet that his administration "strongly informed" Hernandez that if the migrants are not "stopped and brought back" to the impoverished country, then "no more money or aid will be given to Honduras, effective immediately!"
"We are not criminals — we are migrants," a 21-year-old pregnant woman told The Associated Press as the group reached Guatemala this week, explaining that she feared for her life back home.
The group numbers between 1,000 and 2,000 people, according to reports. Beginning in northern Honduras, they set foot across the southern Guatemalan border over the weekend after initially encountering a police blockade.
Earlier this year, another caravan of migrants made a similar journey from the Mexico-Guatemala border. About 150 of the 1,200 who began the month-long trek arrived at the southern U.S. border in late April, according to The New York Times. Trump repeatedly threatened to deport them.
Pueblo Sin Fronteras, the group that organized the springtime caravan, issued a statement of solidarity with the new group, addressed to the governments and people of Guatemala, Mexico, Honduras and the United States. The group demanded "respect for the international right to migrate and to seek asylum and refuge under domestic and international laws."
"We insist that the governments of the region not use repression, violence or force against the people who are fleeing as part of this mass exodus," Pueblo Sin Fronteras said.
Honduras, like its neighbor El Salvador, is facing a humanitarian crisis. Hernandez claimed another term as president late last year in spite of widespread accusations of election fraud. The Trump administration congratulated Hernandez on his victory in December after a month-long standoff with his opponent, who also claimed to have won the November election.
Popular in the Community