WASHINGTON ― President Donald Trump plans to end an Obama-era program that protects young undocumented immigrants from deportation, according to multiple reports. But the decision wouldn't take effect for six months, raising the prospect that Trump could change his mind or Congress could work on a legislative solution ― and prolonging uncertainty for hundreds of thousands of people protected by the program.
On Sunday, Politico and Reuters reported that Trump plans to eventually terminate the Deferred Action for Childhood Arrivals program, which grants work permits and protections for so-called Dreamers, or undocumented young people brought to the U.S. as children.
There will be a six-month delay to any enforcement of the president's decision, unnamed sources told Politico and Reuters, which would give Trump ample time to reverse his decision or decline to follow through on it. Otherwise, Congress would have to pass legislation during that gap if they want to keep protections for DACA recipients in place. Dreamers might not know for months whether or how their lives could be upended.
The White House is expected to officially announce Trump's decision on Tuesday.
The decision would run against the recommendation of some Republicans, including House Speaker Paul Ryan (R-Wis.), who said Friday that Trump should keep DACA in place while Congress works on a legislative solution.
The program, often referred to as DACA, allows undocumented immigrants who came to the U.S. before they turned 16 to apply for two-year work authorization and reprieve from deportation. Since President Barack Obama created DACA in 2012, nearly 800,000 people have been granted those protections, which meant they could obtain driver's licenses, work legally and live without the imminent threat of being returned to countries they hadn't seen since childhood.
Trump's decision comes ahead of an informal Sept. 5 deadline set by state attorneys general who threatened legal action if the president did not suspend DACA by that time.
But supporters of DACA, including members of Congress and immigrant rights groups, said Trump could have fought for the program in court ― or even waited to see if the states actually followed through on a legal challenge. They made a last-ditch push to persuade him to maintain DACA. Instead, the president's decision could put those hundreds of thousands of Dreamers in limbo.
Trump said repeatedly during his presidential campaign that he would end DACA ― which he argued was unconstitutional ― immediately upon becoming president. But he also spoke often about Dreamers in a vague but positive way, hinting that he favored action to support them. Last December, Trump said he would "work something out" for Dreamers. In February, he said he would "show great heart″ toward them. In April, he said Dreamers should "rest easy" because his focus was deporting criminals.
White House press secretary Sarah Huckabee Sanders said on Thursday ahead of the announcement that Trump "absolutely" stood by his commitment to treat Dreamers with heart.
The president has kept DACA going for months in spite of his previous claims that it was illegal. From January through March, during most of which he was president, U.S. Citizenship and Immigration Services approved nearly 125,000 people for DACA, most of them for renewal.
DACA recipients have not been entirely safe, however, under the Trump administration. Immigrant rights advocates said there has been an uptick in the detention of Dreamers since the president took over and began an expansion of deportation efforts.
Without DACA, all Dreamers would be at risk of deportation. Trump officials have said no individuals are exempt from removal, and have sought to deport people who merely cross their paths even if they haven't otherwise committed a crime. Trump wants to deport more undocumented immigrants, and more DACA recipients will likely be among them.
There could also be major economic implications. If DACA recipients are unable to renew their work permits, nearly 700,000 people who are currently employed would exit the workforce. An average of 1,400 people would lose work authorization each business day and more than 6,000 could be fired in the first week alone, according to a recent report by FWD.us and the Center for American Progress, both supporters of the program.
Deporting Dreamers is not a popular move ― even among Republicans and Trump supporters, according to polling. Nearly two-thirds of all Americans support DACA, according to a NBC News/SurveyMonkey poll. That means there is a chance Congress will step in and protect Dreamers, although it's not clear the White House would buy in without major concessions from Democrats on a border wall, immigration enforcement and cuts to legal immigration. Such a deal was reportedly being pushed by top White House officials, but Democrats quickly shot it down at the time, saying Dreamers should not be used as bargaining chips.
The White House has not supported other bipartisan efforts to help Dreamers that don't have additional items attached, such as the stopgap Bridge Act, which would temporarily extend protections, or the Dream Act, which would put them on a path to legal status and potential citizenship.
Congressional Republicans have repeatedly blocked efforts to grant legal protections to Dreamers, but will be under increased pressure to do so after Trump's announcement. Ahead of the decision, some Republican lawmakers said they planned to work on more legislation that focuses on Dreamers.
Sen. Thom Tillis (R-N.C.) intends to introduce what some backers are touting as a conservative version of the Dream Act, called the Recognizing America's Children, or RAC Act, which was already introduced in the House and would grant legal status to a slightly narrower category of young undocumented immigrants who came to the U.S. as children.
Ryan, the House speaker, said Friday he also wants to pass a bill on Dreamers.
"There are people in limbo," Ryan said on WCLO radio in Janesville, Wisconsin. "These are kids that know no other country, who were brought here by their parents and don't know another home, and so I really do believe there needs to be a legislative solution, that's one that we're working on."
Before You Go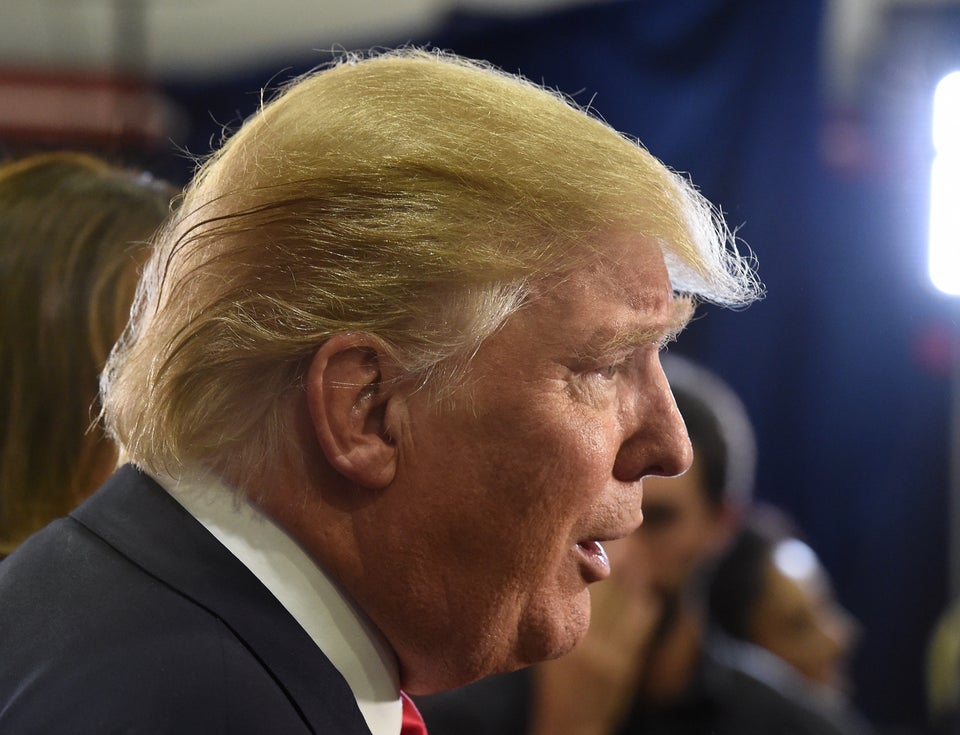 How Donald Trump Talks About Undocumented Immigrants
Popular in the Community