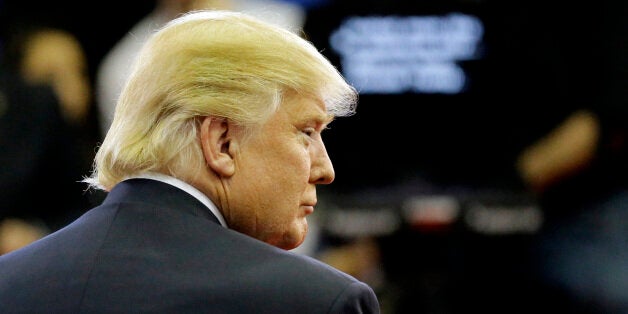 Now that it's inevitable that Donald Trump will become the 45th (and Greatest-Ever) President of the United States (he's told us this many times, so we know it's true) it is very important that he picks a fabulous running mate. Someone who can contribute to a landslide victory this November. Donald wants to win "BIGLY"!
And -- spoiler alert -- this weekend The Donald may be doing in-person vetting in L.A. of such prospective candidates as Vince Vaughn, Lou Ferrigno, Marilyn Manson, Rumer Willis and Michael Jackson's son Prince Jackson!
Now admittedly Rumer (at 27) and Prince (at 19) are both technically a little young for the role according to Clause 5 of Section 1 of the Second Article of the U.S. Constitution -- but as Donald is the world's Greatest-Ever Negotiator that shouldn't present any hurdle)
You see, to really cinch a YOOGE 50-state blow-out it's obvious that he needs to have a fellow celebrity on the ticket. Not a humdrum politician or some loser who understands complex policies or who has experience of running things. No, he needs someone with a very high Q rating. A running mate who can help drive record ratings for his televised coronation at the GOP Convention in July and then for that new TV season in September -- a.k.a the General Election Campaign.
Given how busy his schedule is -- it is natural that he would seek a way to meet and vet multiple Veep candidates in one fell swoop. It's an astute use of his time.

So where better to do it than this weekend in Los Angeles -- where the world's biggest stars are congregating to give out and receive this year's Academy Awards for Best Anything by a White Person.
Now it's rather difficult to do this at the actual awards ceremony because many of the celebrities are preoccupied rehearsing their spontaneity, faking humility and humble-bragging up a storm.
So where will The Donald go? Smart money thinks that he may return to Hollywood's swankiest Oscars Viewing Party -- the fabled Night Of A Hundred Stars at the lavish Beverly Hilton Hotel -- which is always awash with the cream of the TinselTown universe. This year's bash is the 26th edition of the annual shindig created and hosted by super-agent Norby Walters.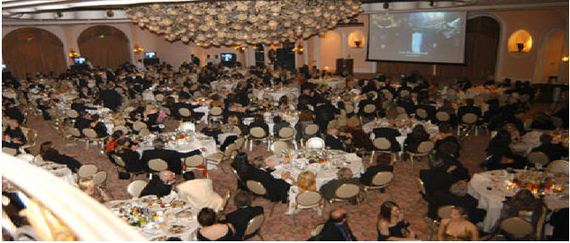 Donald Trump is no stranger to this party. Just 12 years ago -- in 2004 (incidentally the year that Donald Trump was supporting John Kerry for President: "I know him. He's a great guy. He's a very smart guy.") Donald showed up for the party with two gorgeous babes in tow!
One was actress Dominique Swain the very fetching Lolita in Adrian Lyne's steamy 1997 screen adaptation of Nabokov's novel and the other was a young Yugoslavian swimsuit model named Melanija Knavs who 12 months later would become Donald's third First Lady! At that time Donald had been stepping out with the future Melania Trump (and presumably staying in with her too - in his tastefully glittering gilded boudoir at the Freudianly-named Trump Towers) for some six years. But he had not yet decided to swear the irrevocable binding oath to her that he had faithfully sworn in 1977 to Ivana Zelníčková (of Czechoslovakia) and then again equally faithfully in 1993 to Marla Maples (of Cohutta, Georgia). That was all in the glorious faithful future.
But there is no doubt that Donald had a swell time at the lively Oscar party. He was surrounded by Hollywood's elite. And as the bash took place just six weeks after the launch of his first TV series The Apprentice -- this was the perfect place to try and overcome his innate modesty and bashfulness. And overcome he did! He lit up the room -- and party-goers flocked to pay homage and bathe in his ethereal marmalade glow.
Perennial event host Norby Walters with Sheryl Lee Ralph, Jon Voight and Frankie Valli at The Night of a Hundred Stars two years ago
Tongues are wagging that this Sunday night, Donald will accept the invitation he received a few days ago to return as an Honored Guest at this year's party. Close buddy Lou Ferrigno -- whose 2014 appearance on Celebrity Apprentice drew record ratings -- is holding two spaces at his table in case The Donald fires up AirFarce One and jets in.
And what an astonishing array of prospective Vice Presidential talent he will encounter in the International Ballroom of the Beverly Hilton Hotel! The full RSVP listing has yet to be released -- but scrolling through the initial responses, regular attendees and last year's star-studded guest list offers Donald some great choices for his Veep. Just imagine any of these wonderful folks filling the shoes formerly worn by such luminaries as Richard Nixon, Spiro Agnew, Dan Quayle and Dick Cheney!
Vince Vaughn • Lou Ferrigno • Marilyn Manson • Rumer Willis • Prince Jackson • Cloris Leachman • Ryan O'Neal Lee Majors • Hector Alizondo • Laura Dern • Anne Heche A.C. Cowlings • John Heard • Vincent Pastore • Tony Danza • Ed Begley Jr • LeeAnn Rimes • Diane Ladd • Garry Marshall • Richard Dreyfuss • Dolph Lundgren • Tia Carrere • Bryan Cranston • Gloria Allred • Ed Asner • Jason Alexander • Jermaine Jackson • David Hasselhoff • James Cromwell • Michael Chiklis • Traci Lords • Frances Fisher • Judd Nelson • Lou Gossett Jr.• Monty Hall • Harry Hamlin • Marilu Henner • Martin Landau • Richard Lewis • Matthew Modine • Camryn Manheim • Dylan McDermott Kevin Nealon • Kevin Pollak • Stefanie Powers • Michelle Phillips • Lou Diamond Phillips • Fred Savage • Rob Schneider • Mimi Rogers • Jennifer Tilly • Gary Busey • Oksana Grigorieva
The full list goes on and on!
Among the many qualities that Trump cherishes are family values, whereby skills and talents are passed from generation to generation. He is justifiably proud that his own children Donald Jr., Eric, Ivanka, Tiffany and Barron are all following in his footsteps in one way or another. (Even nine-year-old Barron is starting to make his mark as a promising golfer!)
Night of A Hundred Stars Dinner Chairman Norby Walters' event team includes his successful film industry sons Gary Walters and Richard Walters, executive producer and senior music executive respectively for successful films such as the five-nods Oscar-nominated Whiplash, Drive and the Robert Kennedy drama Bobby.
Another member of the festivities' organizational team who could be useful to The Donald's political aspirations is the event's longtime publicist, Hollywood man-about-town Edward Lozzi who earlier in his storied communications career served as a key aide to Marlin Fitzwater -- Press Secretary for George H.W. Bush's administration.
In addition to the impressive array of Hollywood celebrities -- many more than the modest "One Hundred Stars" described in the event's title -- there is another allure to the party -- best conveyed by one of the world's leading feminists, Jimmy Kimmel, who says of the event: "The Night of 100 Stars has the most beautiful girls."
Kimmel is referring to the party's reputation for augmenting its star quotient with a stunning array of feminine pulchritude. Girls -- though some of them are fully-formed women in their late teens -- who in a less enlightened era would have been described by Trump as babelicious babes.
Incidentally, it is not fully appreciated that Trump himself is an ardent feminist. As he wrote in his 2006 book Trump 101: The Way to Success: "Beauty and elegance, whether in a woman, a building, or a work of art, is not just superficial or something pretty to see." Unlike some, he is not a flip-flopper on this topic either. He's always been at the forefront of Women's Rights. As evidenced by this statement to Vanity Fair in 1990: "I would never buy Ivana any decent jewels or pictures. Why give her negotiable assets?"
It is entirely possible that during his first term Trump may arrange for the repeal of the 22nd Amendment that limits a President to only two terms. (This was a device instigated in 1944 by Thomas Dewey as censure of the American people for having the temerity to elect FDR president four times -- thus inflicting economic and social justice on the USA.)
Governor Thomas Dewey - the killjoy architect of the 22nd Amendment that might deprive Americans of enjoying four or five terms of President Donald Trump
Given that we will have become "bigly" addicted to winning -- it will be natural that we by-then 350 million Americans will want at least third and fourth presidential terms of Donald Trump. Eight years just won't be enough for us! But this raises a sensitive but important point.
1944 campaign button promoting the 22nd Amendment (there was apparently insufficient space on the button to explain Lincoln's reluctance to seek a third term...)
By 2024, when Donald is preparing to run for his third term -- his current wife Melania will have crossed a rubicon never experienced in the world of The Donald. He will have a wife who is over the age of 50!
Now Melania may be a stunning model and spokesperson but Donald Trump has always believed in the virtues of renewal. He divorced Ivana after 14 years of marriage when she hit 43. Marla survived just 6 years and her 36th birthday. By November 2024 Trump's third marriage would be in its 20th season and Melania will be a staggering 54 years old! That's Jump The Shark time in the TV world!
And that may cause some in the media to make snide comments about Donald implying that he has lost his touch and ability to attract young women. Fortunately Trump has a philosophy that addresses this problem. As he explained it in a 1991 interview in Esquire: "You know, it doesn't really matter what the media write as long as you've got a young and beautiful piece of ass."
So in addition to lining up some prospective running mates for 2016, this Sunday Donald could also do some preliminary lining up of prospective marital mates for 2024! His fourth term could have the excitement of unveiling his fourth First Lady!
Better still - what an amazing new reality TV show that could be to launch in January 2025!
"Welcome to From First Date To First Lady! in which our beloved President goes on a series of first dates with some of East Europe's most eligible teen models all vying to become America's next First Lady!"
Ratings would go through the roof! It would be YOOGE! It would also make a wonderful movie. All The President's Women. Which would inevitably be nominated for multiple Academy Awards which would be watched at the 53rd annual Night Of A Hundred Stars.... (I think this is where I came in...)
Popular in the Community