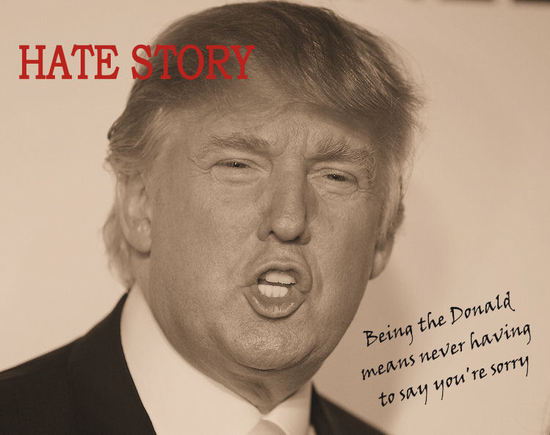 Los Angeles. A source that wishes to remain anonymous has indicated to this reporter that Donald Trump will be starring in a remake of a famous 1970 romance. The original, which is considered one the most tear-producing movies of all time, starred Ali MacGraw and Ryan O'Neal.
The Trump vehicle will have a different name and Mr. Trump will have no co-star. "They're all a bunch of losers," he is quoted as having said when asked about possible female leads. He then started gyrating and making contorted faces to ridicule the alleged disabilities of actresses.
The source also reported that Mr. Trump plans to include in his version of the story a scene in which thousands of American Muslims cheer wildly as they watch the World Trade Center collapse in 2001. The scene will reportedly be filmed on a Hollywood back lot made to look like Jersey City. Another planned scene will have Mr. Trump allowing that a few Mexicans might be good people while he is saying that most of them are rapists.
An unconfirmed report from another source says that the new film's climax will involve a love scene between Mr. Trump and Vladimir Putin.
One critic told me that she anticipates that Hate Story will produce at least as many tears as Love Story did 45 years ago.
{Robert S. McElvaine is completing his first novel, "What It Feels Like ..."}