As Donald Trump prepares to be sworn in as 45th President of the United States, New York is facing a complicated new matrix of risks and danger.
Standing 58 floors tall -- midblock at 5th avenue and 57th Street stands Trump Tower. It is today the residence of President-elect of the United States and his family.
Within hours of his election, the FAA made the airspace within two nautical miles of Trump's building a protected area and has ordered pilots to stay outside the protected airspace. The ban re-routes helicopter tours of the city, limit the work of news helicopters. Drones are also banned.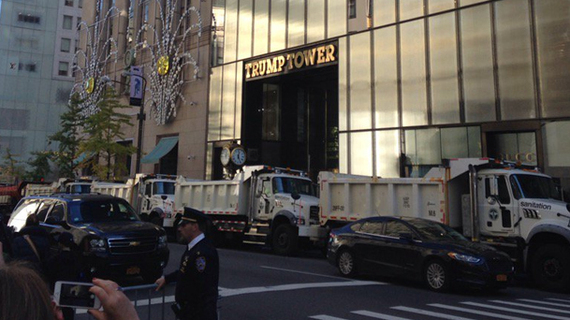 The temporary flight restriction (TFR) are listed on FAA's website as due to "VIP movement." The TFR's are posted until January 21st, 2017, when the Trumps move into the White House. NYPD and Secret Service have coordinated street closings to protect the building's ground level access, with the perimeter being protected by a line of dump trucks filled with sand to prevent terrorist attacks with car bombs and suicide bombers.
Deputy Police Commissioner Stephen Davis told Bloomberg News "We will need to work with the Secret Service to provide security. There's no getting around it. It could be a major inconvenience."
But for New Yorkers who lived through 9/11 -- the questions about safety and security are hardly theoretical.
And as Donald Trump now considers returning to Trump Tower on weekends, essentially using his New York home as the second White House, much as George Bush used his Texas ranch, it raises serious questions for New Yorkers as to the risks it brings.
In Washington DC, the White House is protected by the US Army's "Avenger" system, an air defense system that uses FIM-92 Stinger missiles and a 50 caliber machine gun. At least one Avenger turret overlooks the White House at a nearby building. The Flight Restricted Zone extends 15 miles out from the center of Washington. There are Quick Reaction Alert F-16s at the ready at Andrews AFB, as well as Homeland Security helicopters. There is also the little-known National Advanced Surface To Air Missile System, or NASAMS for short, a product of Kongsberg Defense & Aerospace of Norway.
So the question now facing the Secret Service, NYPD, and military officials is complex. In a post-9/11 world, New York never stopped being a terrorist target. But with Donald Trump as Commander-in -Chief, the power of Trump Tower as both a symbol and target creates real dangers for New Yorkers.
Will New York airspace remain restricted? Will 5th avenue be closed to vehicular traffic? How will tenants, residents, and visitors be impacted at Trump Tower. In order to get zoning variances to build the 58 story building, Trump agreed to allow the atrium to be open to the public. Will those zoning restrictions be lifted?
The question that that Donald Trump must face will involve his personal comfort with his family, and the risks and costs it will have for all New Yorkers if he continues to call Trump Tower his private residence and the second White House.
Calling all HuffPost superfans!
Sign up for membership to become a founding member and help shape HuffPost's next chapter