One man died and six firefighters were injured after a four-alarm fire broke out in an apartment at Trump Tower in New York City on Saturday evening.
The fire started on the 50th floor of the Manhattan building before 6 p.m. ET, fire department officials told NBC New York. Eric Trump, the executive vice president of the Trump Organization, said in a tweet that the fire was in a "residential apartment."
At a press conference, New York Fire Commissioner Dan Nigro described the blaze as "a difficult fire."
"The apartment was quite large and 50 stories up," he said. "The rest of the building had a considerable amount of smoke."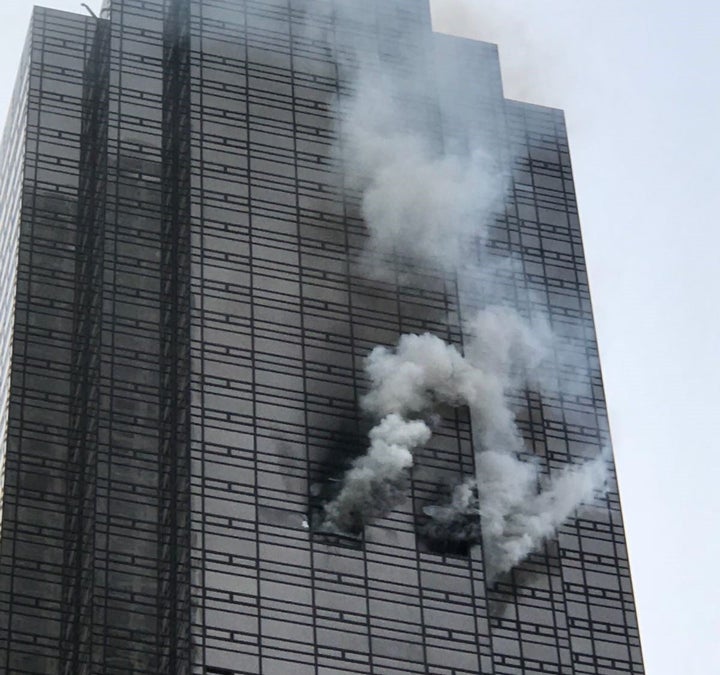 He added that the building's residential floors lack sprinklers. That fire safety fixture was not mandated by the city in residential buildings until 1999. Trump Tower opened in 1983, USA Today reported.
FDNY initially reported that it was responding to a three-alarm fire with no injuries at 6:27 p.m., but upgraded the level to a four-alarm fire 30 minutes later.
Nigro initially said that at least four firefighters sustained injuries: Two had burns and another two had "other types of injuries." FDNY later confirmed with HuffPost that two additional firefighters were injured.
About 200 firefighters and first responders were on the scene.
Authorities identified the deceased as 67-year-old art dealer Todd Brassner, who purchased his 50th-floor apartment in 1996, The Associated Press reported.
"He was a lovely man. He couldn't have been nicer," real-estate broker Dolly Lenz, who sold him the apartment, told the New York Post. "He was soft-spoken but strong-willed and opinionated when he was talking about art. He knew his stuff and he wanted you to know it too. He was very pleasant to be with."
In recent years, Brassner struggled with his health and finances and filed for bankruptcy in 2015. His apartment was listed in the filing as being worth $2.5 million, the Daily News reported.
Fifteen minutes after FDNY's first tweet, President Donald Trump claimed the fire had already been put out and thanked the fire department. Trump also complimented the "well built building." He did not acknowledge the man's death or the firefighters' injuries.
The president was not in the building at the time, but secret services escorted firefighters to his penthouse to investigate the fire.
His son, Eric Trump, also thanked FDNY and the New York Police Department for responding to the incident.
Videos filmed from 5th Avenue, where the building is located, show the fire growing as people watch on from the street.
Brian Lawton, a National Hockey League analyst, tweeted photos and video of the fire. Lawton said the fire "was small and then something happened where the size doubled in seconds!"
That blaze was confined to a cooling tower and was deemed electrical.
This story has been updated with new information about the victim.
Calling all HuffPost superfans!
Sign up for membership to become a founding member and help shape HuffPost's next chapter