NEW YORK ― It's been almost two decades, but Jerome Rose still remembers his one and only brush with Donald Trump like it was yesterday.
A fire in Rose's South Park Tower apartment building had just killed four of his neighbors. He was visiting the owners of the Upper West Side high-rise to invite them to a memorial service for the victims when the phone rang.
"I overheard that Trump was on the line," Rose said recently.
Trump then was one of the most influential voices in the New York City real estate community. The law at the time did not require sprinklers in residential high-rises, and Trump wanted to keep it that way.
"Twenty years later, I'm still angry," said Rose, who at age 79 continues his work as a concert pianist. "He was calling the owners to get them to join with him…. He was lobbying that the law shouldn't be changed. He could not afford to put sprinklers in his Trump Tower."
Trump scored only a partial victory that year. New residential high-rises in New York had to include sprinklers, but older structures ― such as Trump's eponymous Midtown tower ― were not required to go back and install them.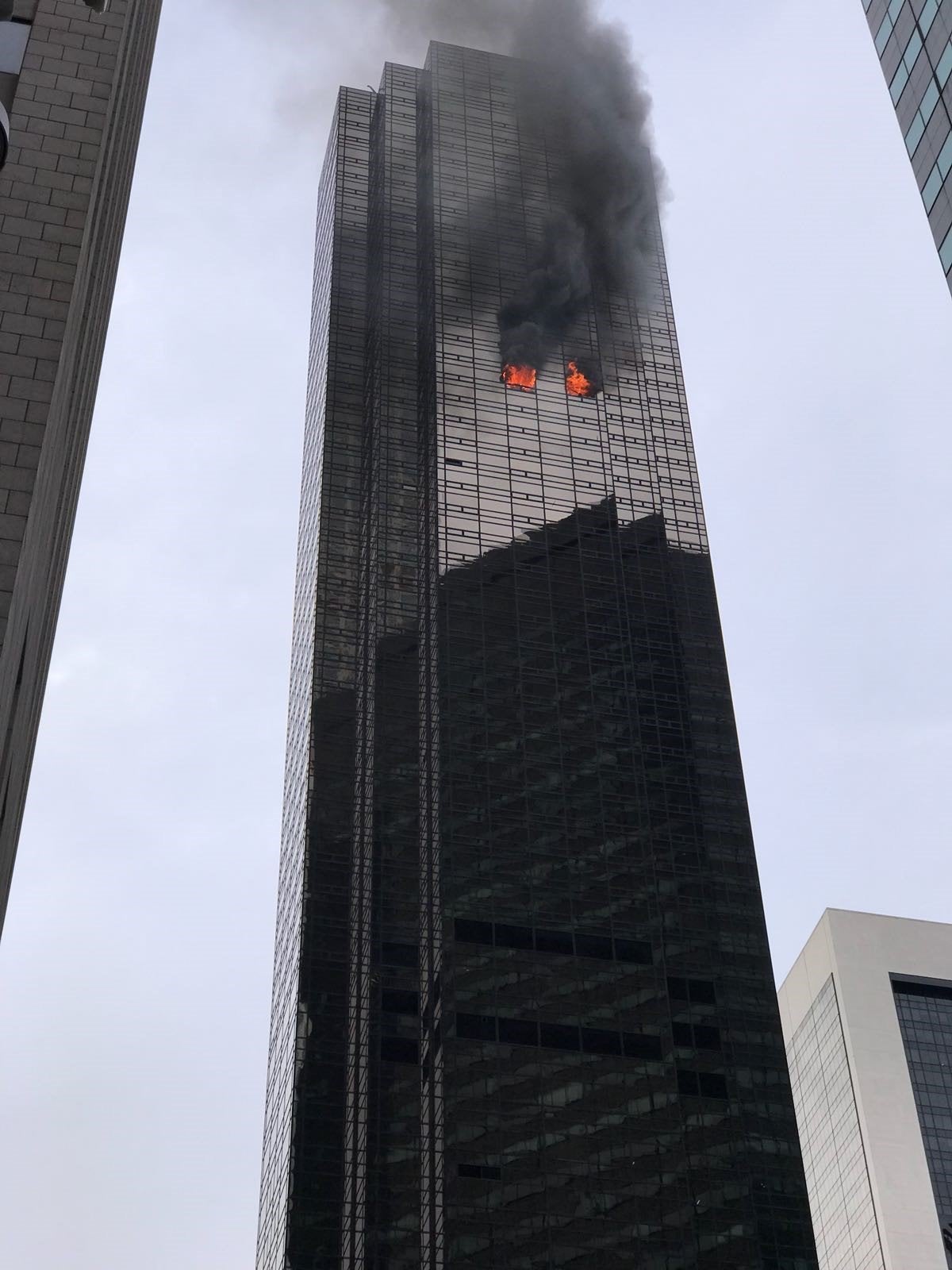 That partial victory in 1999, though, likely sealed the fate of a Trump Tower apartment owner earlier this month. What officials have since determined was an electrical fire caused by overloaded power strips quickly spread throughout Todd Brassner's unit. The 67-year-old was taken to a hospital but died later that night.
Had the unit contained sprinklers, they might well have saved him.
"It's so sad," said his longtime friend Rachael Caine. "Todd could have lived. I don't think he had to die."
Trump, now the nation's president, has had little to say about any of it. He sent out a tweet thanking the firefighters and boasting of his building's design before the fire was even extinguished. He has not commented publicly on it since then.
According to Caine, Brassner never liked Trump and was appalled when he won first the Republican nomination and then the presidency. He had come to hate living in a building with Trump's name on it and the hassle of the protests, the roadblocks, the constant Secret Service presence. He had considered selling and leaving, she said, but couldn't afford to because too many of his neighbors also wanted to dump their units and too few buyers were interested. The result has been a soft market and falling values.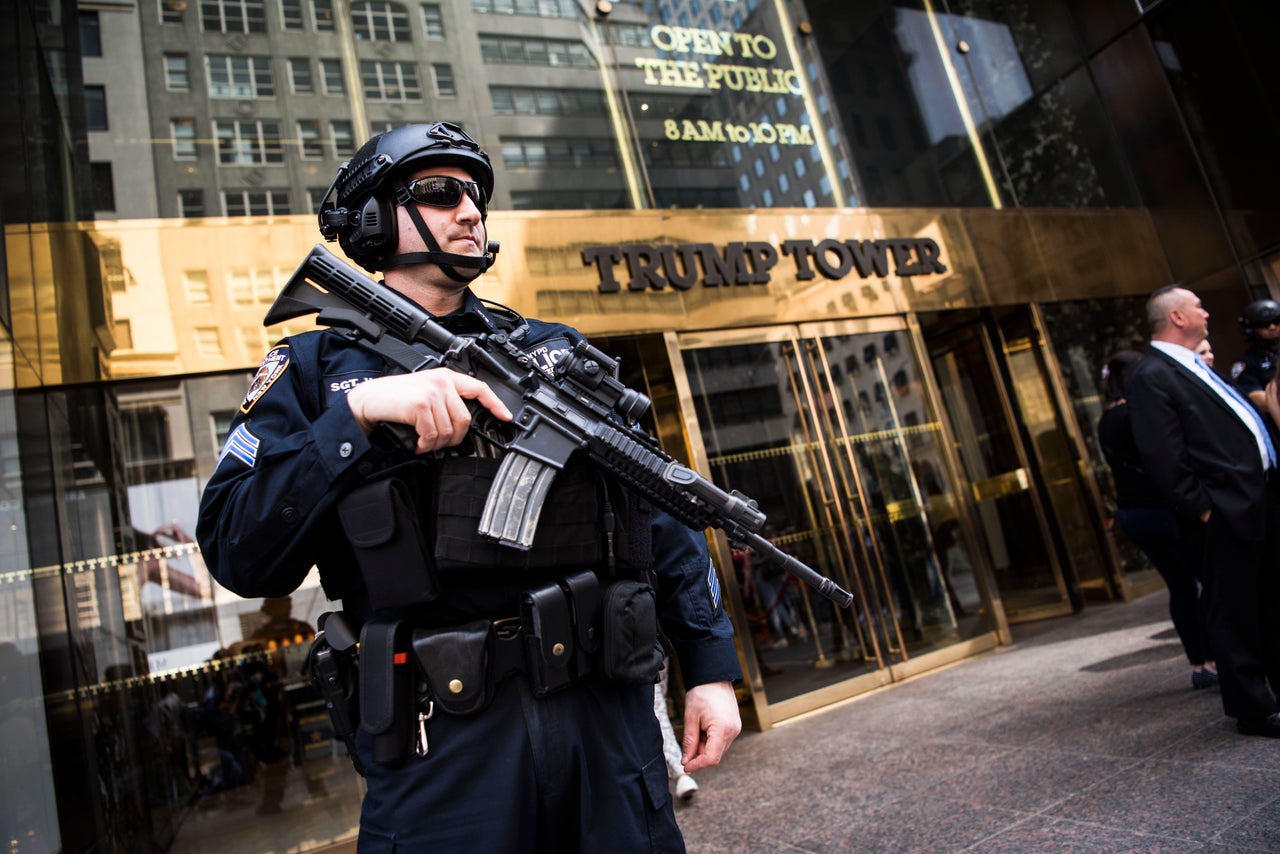 "The number of properties on the market at Trump Tower has doubled in the past year," said Wendy Maitland, a broker of high-end real estate with the firm Brown Harris Stevens.
There are currently 22 on the market, eight with recently reduced prices.
"There are many buyers who just won't go anywhere near it," Maitland said. "I guess they may not want to be associated with the Trump brand."
Meaning that Trump's iconic skyscraper, which served as backdrop and set for the "Apprentice" reality show that made him a household name, has now come to mirror his presidency: its falling real estate values reflecting his falling popularity in Manhattan and beyond.
Trump himself has escaped all of this for the White House. When he does visit his hometown ― as he did last summer for several days ― the roads are closed off for the passage of his motorcade, and he is whisked in and out without delay.
For Brassner, an art dealer and vintage guitar collector who had fallen upon financial and health woes, escape was impossible. His money trap eventually also proved a fire trap.
"It's almost like Todd versus Trump Tower, and being trapped in this horrible life," Caine said. "I can't believe this has happened to him."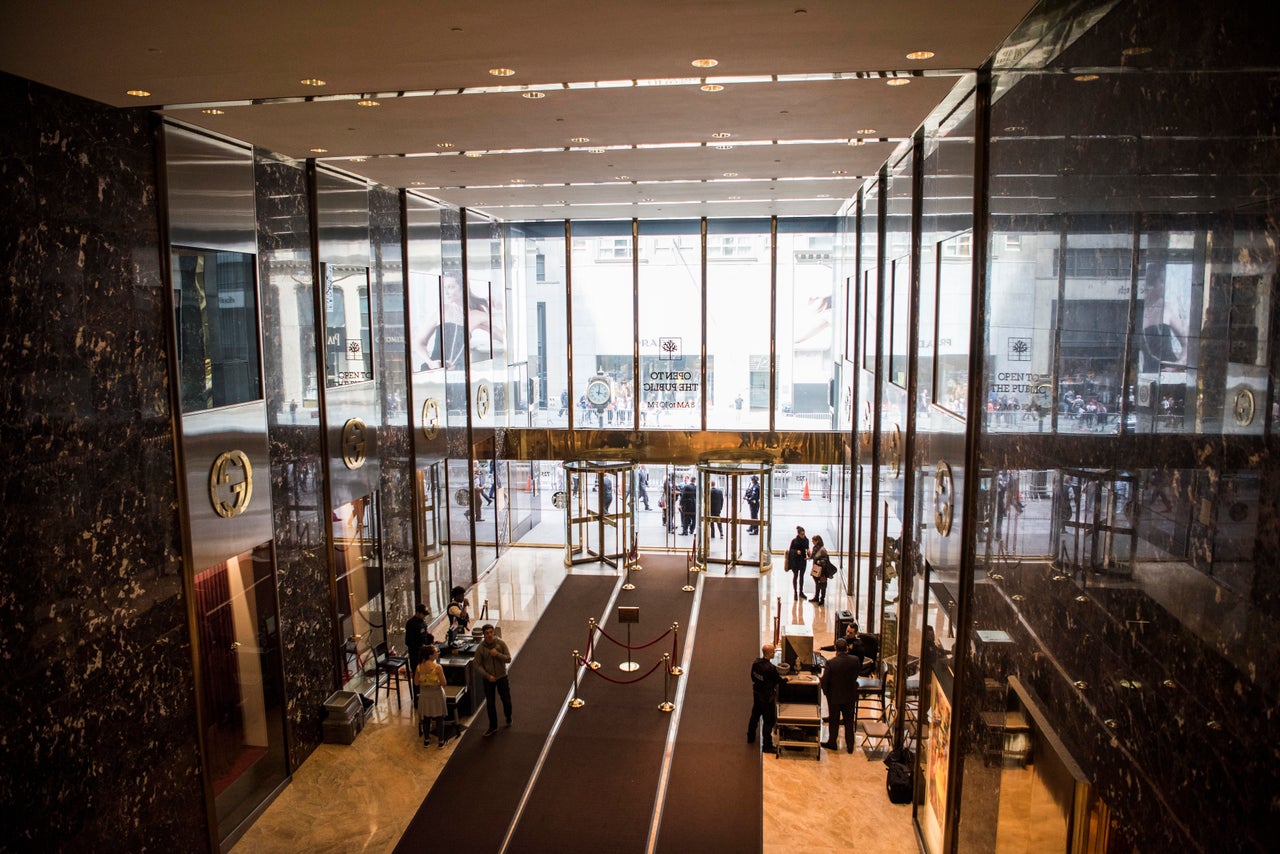 Towering Risks
The public entrance to Trump Tower is right on Fifth Avenue, sandwiched between Tiffany's and Gucci, and it opens onto a five-story atrium. Toward the rear are escalators ― made famous by Trump's presidential candidacy announcement ― that lead up to a Starbucks on the mezzanine level. Tourists from all over the world stream in and out all day, despite the Secret Service screening in the lobby.
Above the public space are 13 floors of offices, including the Trump Organization, the Trump campaign headquarters, a venture capital firm and, taking up the entire ninth floor, the Chinese government through its Industrial and Commercial Bank of China.
The private entrance around the corner on 56 Street, the one used by residents of the apartments that take up floors 19 through 57, exudes a different feel ― more of an old-fashioned hotel. The foyer is dark and leads past a concierge to a bank of high-speed elevators, operated by men in the Trump Tower livery of tailcoats and small white "Trump" buttons on their lapels.
Over the years, the residents have included Johnny Carson, Andrew Lloyd Webber, Michael Jackson and Bruce Willis ― along with an assortment of felons convicted of crimes ranging from bank fraud to illegal gambling.
Of course, like so much else about Trump, his signature building in Manhattan embodies an exaggeration.
While the elevator buttons say his penthouse apartment occupies floors 66, 67 and 68, that is not actually correct. Floors 6 through 13 do not exist in the building. Nor do floors 27, 28 or 29. The unusual numbering was done so Trump could boast that his building is taller than it is. Trump's penthouse triplex, in reality, is on floors 55 through 57.
But whether a building has 68 floors or only 57 makes little difference when a fire is involved. Ladders on firetrucks can reach only the seventh or eighth floor, at most. Beyond that, water to extinguish a blaze needs to come from the building itself, through standpipes that carry hydrant-pressure water to the top floors.
To make use of that water, though, firefighters must climb up stairwells to reach the affected floor and run hoses from there ― all of which can take time when they are laden with air tanks and protective gear.
To keep fires from spreading until firefighters can arrive, and to tamp down toxic smoke and fumes, many cities have long required that residential high-rises have sprinkler systems in the hallways or even the units. New York was not among those cities in December 1998, at the time of the South Park Tower fire. And thanks to the efforts by Trump and his fellow building owners then, residential structures already built or approved by 1999 were not required to be retrofitted with sprinkler systems.
At the time, Trump argued that sprinklers were unattractive and that residents did not like them. Besides, he said, installing them in his building would cost $4 per square foot ― or $6,000 for a 1,500-square-foot apartment.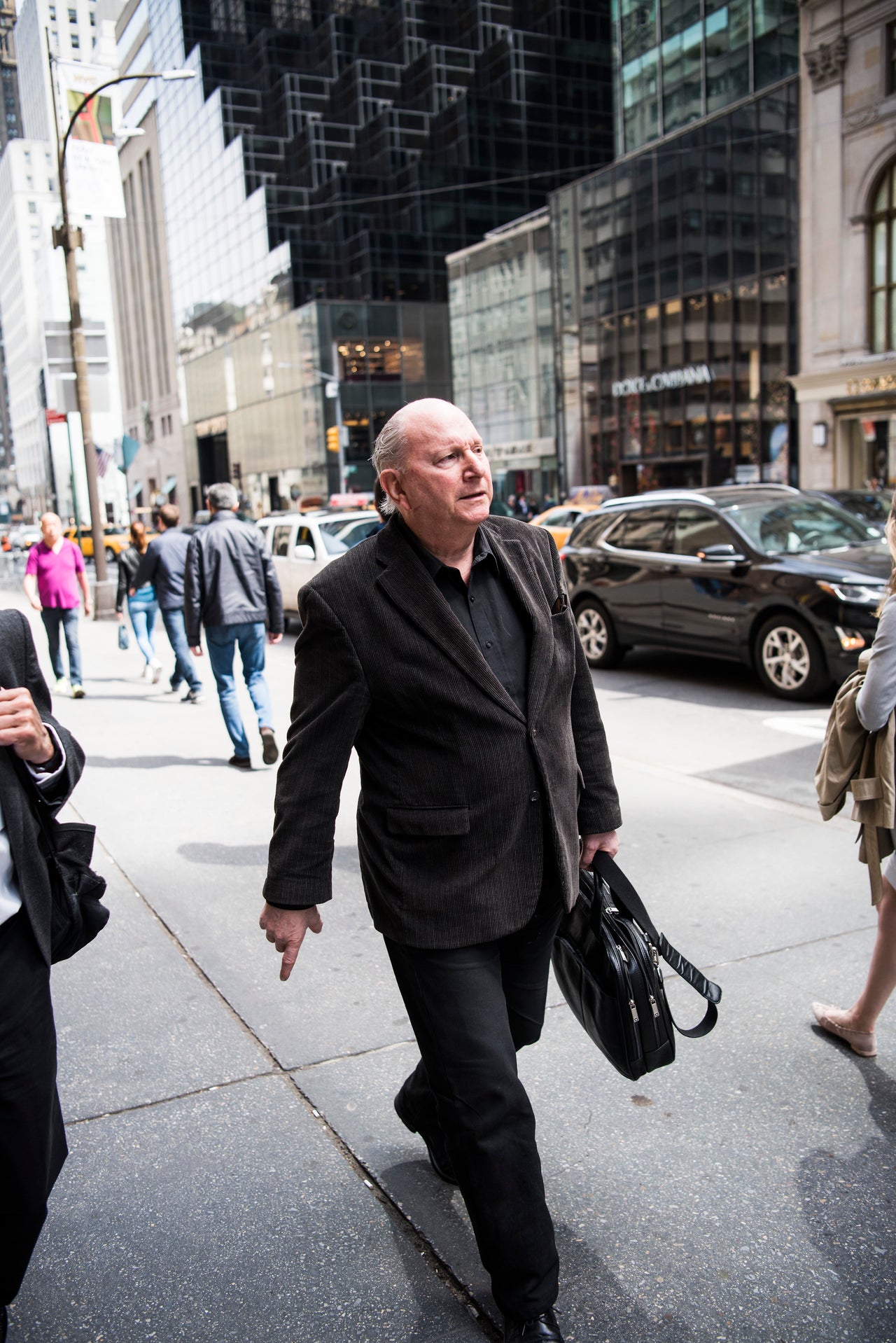 Concert pianist Rose, who moved out of South Park Tower shortly after the fire, became something of a fire sprinkler activist as the city government debated what to do.
"Why is New York the only major city that does not have sprinklers in high-rise apartment buildings?" he asked in testimony to the New York City Housing and Buildings Committee in January 1999. "Why does it take a tragedy to bring this to the public's attention?"
Rose and his allies were not successful. In the end, the new ordinance required sprinklers in all residential high-rise projects going forward but did not require owners of existing structures to go back and install them.
Builders successfully argued that construction standards already made apartments "fireproof" and that fires therefore could not spread into neighboring units or hallways. The city fire department's guidelines continued to advise high-rise residents to "shelter in place" within their units with the doors closed until told to do otherwise by fire personnel.
Effects Of The Fire
That plan was put to the test most recently in the Trump Tower fire, with mixed results.
By the time firefighters got to Brassner's unit, it was engulfed in flames. Six firefighters were treated for injuries they suffered that afternoon.
A resident in an apartment directly below Brassner's reported smoke coming in through his vents and decided to climb down 37 flights of stairs to escape. Another did not realize there was a fire until he received a text from Trump's personal lawyer Michael Cohen, who happened to be a childhood friend.
Joan Sbarro heard sirens blaring for several minutes before deciding to take her dog and head down the stairwell from her apartment seven stories above the fire. She made it down four flights when a Trump Tower maintenance worker helped her down the remaining 41.
"I think it was handled very professionally," said Sbarro, who is 74 and a daughter-in-law of the founders of the Italian food chain. "They saved everybody's life."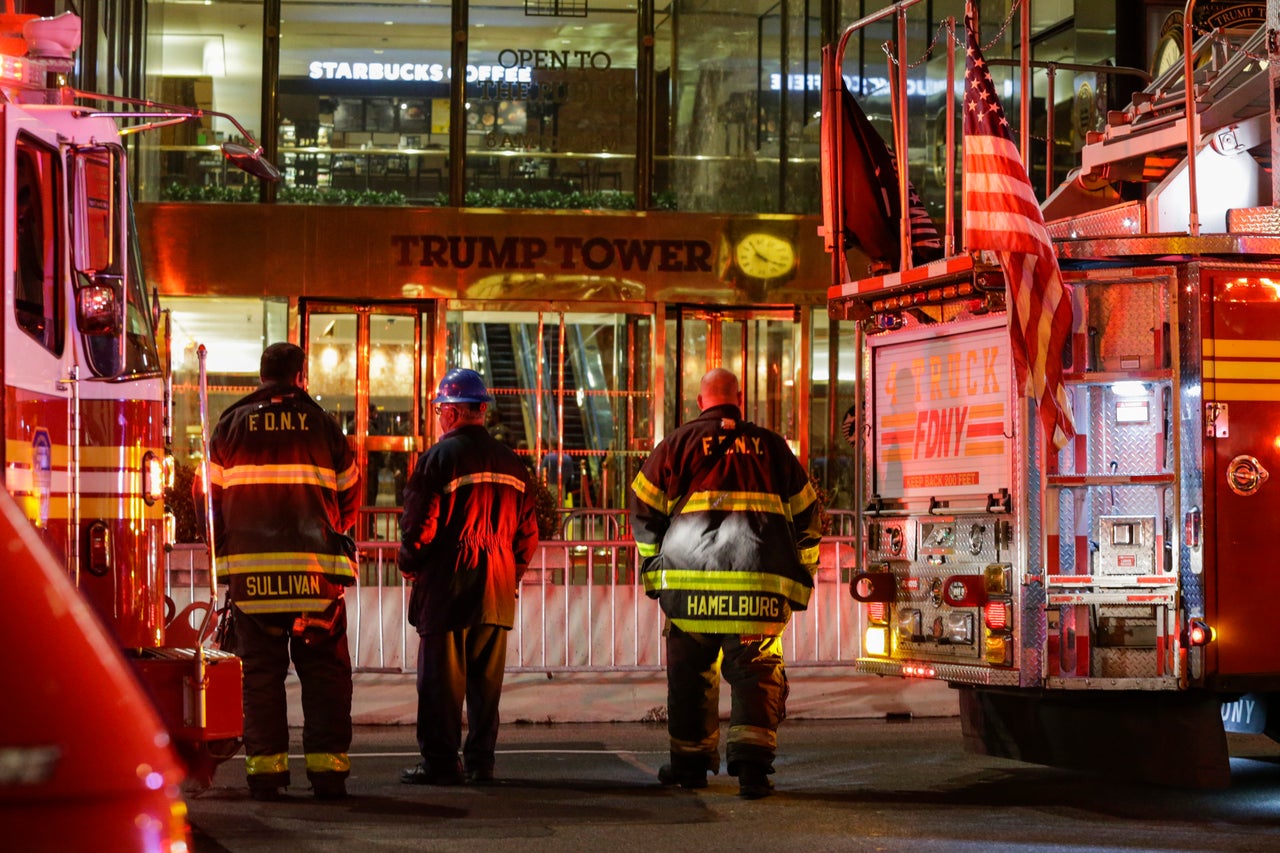 Everybody, that is, except for Brassner.
It was on the "50th floor" (38 stories above street level) that Todd Brassner had lived since 1996. He had been a friend of Andy Warhol and an aficionado of electric guitars. He had bought the 1,100-square-foot apartment in Trump Tower because it was a Manhattan thing to do, said Caine, who met him 15 years ago at a Jimi Hendrix tribute concert where she had been performing.
Brassner had had run-ins with Trump over the years and had never liked him, Caine said, but he became truly unhappy after the election when living there meant navigating a heavily guarded fortress.
Even residents must be swept by Secret Service before entering. If they want to arrive or leave by car, it has to be searched before being permitted to pass a security checkpoint. When Trump is actually staying at his New York City home, security measures become all the more stringent.
"He was so frustrated with the conditions of living there," Caine said.
Many of the building's wealthiest residents have simply taken to spending more of their time in their other homes. "Of course, if you live here, it's a disaster," said Dutch software tycoon Jan Mol, who said he spends most of his time in Amsterdam and London.
For Brassner, who was cashed-strapped and in declining health, there was no second or third home to live in instead, Caine said.
"He was quite depressed about it. And I can understand why," she said.
Not everyone, of course, is unhappy with life at Trump Tower. While some two dozen units are on the market, more than 200 are not.
Sbarro, who has lived in hers since 1990, sees all the extra security measures that have come with the Trump presidency as an added feature for an already wonderful place to live.
"They have taken care of me like at a five-star hotel. A six-star hotel, actually," she said, calling the Secret Service checkpoints and the closed-off roads "a small inconvenience for the amount of security we have. I think it's worth it."
And for those who disagree?
"They don't like it, they can move," she said.
Moving To Safety
Jerome Rose refuses to live in an upper floor again. Today he has a ground-floor unit, right beside the fire exit. He had just finished up an event with several other pianists two Saturdays ago when he turned on the evening news to see images of smoke pouring out Trump Tower windows.
"My wife and I said to each other that night: 'I bet they did not have sprinklers in the Trump Tower,'" Rose said.
He is no longer the sprinkler activist that he was but is still upset that the city has refused to do anything in the intervening years to safeguard residents of older high-rises. "The people who live in these high-rises, like Trump Tower, are not protected at all. Residents should remain in their quote fireproof apartments. And what happens when the smoke is pouring through your vents, under your door? What are you supposed to do? Stay in your apartment? After 9/11, no one will be staying in a high-rise burning building."
Shane Ray, a former firefighter and now the president of the National Fire Sprinkler Association trade group, said sprinklers in Brassner's unit would "absolutely" have saved him. What's more, Trump's complaint two decades ago that sprinklers were ugly is not true today, Ray said. "Our industry has invested a vast amount of resources to make our products aesthetically pleasing while remaining effective. It's all made for the survivability of the occupant."
Sprinklers installed in the commercial floors of Trump Tower, which under New York City code have required them from the time it was built in 1983, reflect this. Rather than the old-fashioned nozzles sticking out of the ceiling, they are metallic disks, flush with the ceiling and barely noticeable.
Brassner's friend Caine said she wonders if Trump appreciates the peril he has left for the residents of his building. "Did he even realize what a truly dangerous place it is?" she said, adding that it bothers her that Trump has not acknowledged Brassner's death.
"He's tweeting all these tweets and not one mention of Todd. Certainly he could make a tweet about Todd, to his friends and family. But of course he didn't. Because he doesn't care about anybody," she said. "I'm just hoping that Todd doesn't just go down as this nameless person who died in the Trump Tower fire."
Rose, who did not know Brassner, said Trump's seeming lack of empathy no longer surprises him. "The psychologists and the psychiatrists will be writing about this man for years. In the end, his character will destroy him."
He said he remembers the day 19 years ago when the police tape came off the burned-out apartment at South Park Tower: "I knocked on the door. The father opened the door ― I'm still tearing up over it ― and he said, "Did you know my daughter?' and he fell in my arms."
Rose said his thoughts immediately turned to Trump and that phone conversation he overheard.
"I thought to myself, you bastard, how much of your fortune would you spend to protect your daughter's life? And, Mr. Trump, don't you think you should retrofit your Trump Tower with sprinklers to protect your family in the future?" Rose said. "And that is the message I would give to Mr. Trump."
Popular in the Community