WASHINGTON ― The Trump administration will leave some Syrians in the U.S. at risk of being deported while their country is still mired in war, but extend temporary protections for several thousand others, the Department of Homeland Security announced Wednesday.
The agency will extend temporary protected status, or TPS, for Syrians for another 18 months, which will allow an estimated 5,800 Syrians to legally continue living and working in the U.S. But Syrians who came to the U.S. after August 2016 will be shut out of the TPS program — despite the ongoing war in Syria and against the urging of human rights organizations, faith leaders and national security experts.
"After carefully considering conditions on the ground, I have determined that it is necessary to extend the Temporary Protected Status designation for Syria, Homeland Security Secretary Kirstjen Nielsen said in a statement. "It is clear that the conditions upon which Syria's designation was based continue to exist, therefore an extension is warranted under the statute. We will continue to determine each country's TPS status on a country-by-country basis."
The decision, which was first reported by The Associated Press, is the latest in a string of moves by President Donald Trump to limit immigration by Syrians and temporary protections for people of all nationalities living in the U.S. without other forms of legal status.
The president has also resisted extending TPS, which is granted to immigrants from countries hit by armed conflict, natural disasters or other urgent problems. Under Trump, DHS already ended TPS for El Salvador, Haiti, Nicaragua and Sudan and gave at least 250,000 nationals of those countries notice they needed to leave the United States. Trump also rescinded the Deferred Action for Childhood Arrivals program, or DACA, which puts 700,000 young undocumented immigrants who came as children at risk of deportation. All told, that's nearly a million people who are set to lose work permits and protections under Trump.
TPS for immigrants from Syria did not suffer the same fate as people from those other nations. The administration extended it for 18 months, which means Syrians who already hold TPS or have resided in the U.S. since at least August 2016 will be able to apply to renew their work permits and protections.
But the administration did not redesignate TPS, which means that people who came more recently are not eligible. This was a shift from the past. Given the ongoing conflict in Syria, the Obama administration both extended and redesignated TPS for people from the country multiple times, under the stance that even those who entered before it was first established in 2012 would also be in danger should they be forced to return.
It's still true now, said Meredith Owen, policy counsel at Church World Service, which works on refugee and immigration issues.
"They're acknowledging that the conditions persist to justify an extension, and yet if they're not going to redesignate, that means that those Syrians in the United States who could potentially benefit from TPS ― if they don't have another way to stabilize their status ― will be deportable back to the ongoing violence, brutality and torture in the seventh year of Syria's civil war," she said.
At least 5.4 million Syrians have fled their native country during the war, and another 6.1 million are displaced within the nation, according to the UNHCR, the United Nations refugee agency. About 465,000 people were killed in the Syrian civil war between 2011 and 2017, according to the Syrian Observatory for Human Rights.
Advocates estimate that an additional 2,000 Syrians came to the U.S. after August 2016, meaning they would have been allowed to apply for TPS had it been redesignated, although there are no official figures. They could have come through various avenues, including as students, tourists or business travelers. If they overstay the visas they used to enter the U.S. and cannot receive TPS, they could be at risk of deportation.
Deportations to Syria are relatively uncommon, but they do happen. Immigration and Customs Enforcement deported two Syrian nationals in the 2017 fiscal year and nine the year before, according to the agency.
Before You Go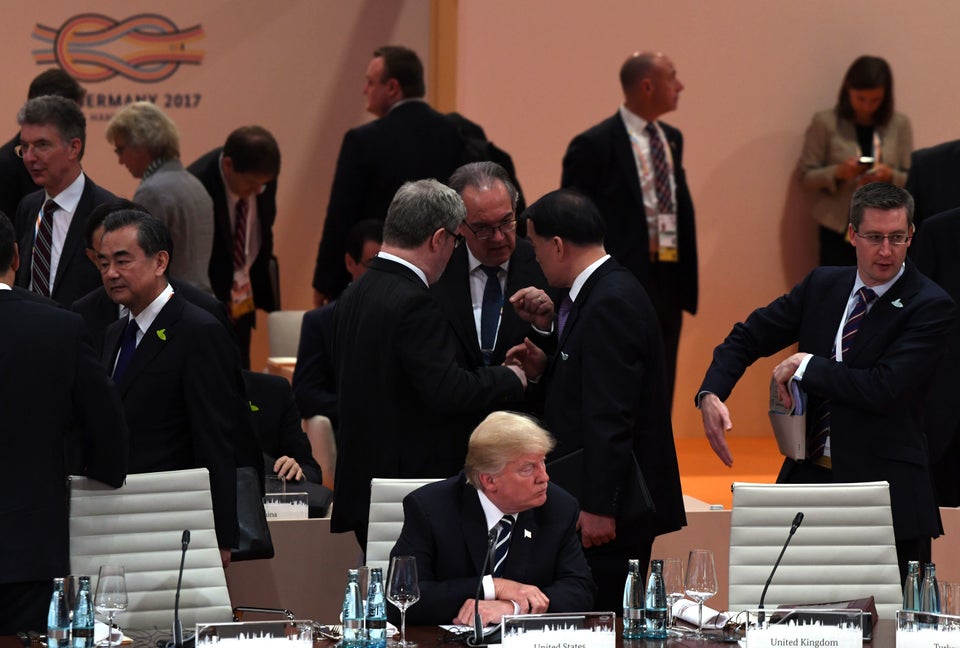 Around The World With Donald Trump
Popular in the Community