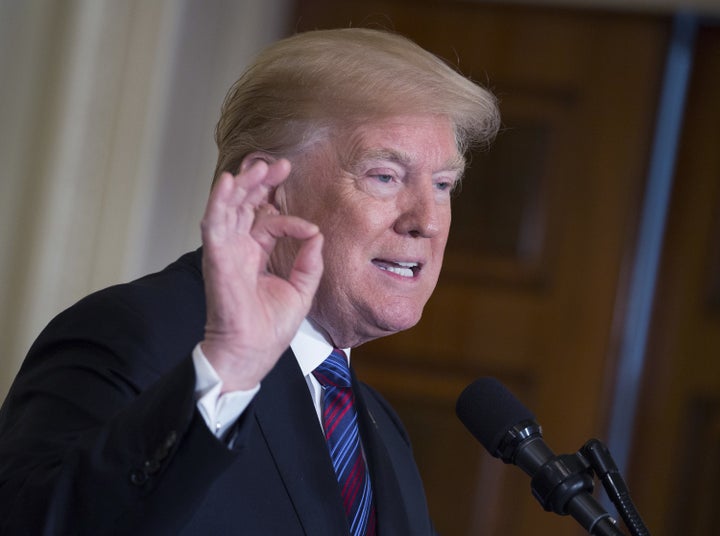 WASHINGTON – President Donald Trump's boast that international trade wars are "good" and "easy to win" is about to be put to the test, with China levying retaliatory tariffs Wednesday on products coming from states key to Trump's unexpected election victory.
Soybeans and corn are among a long list of U.S. exports that would be subject to a 25 percent Chinese import tax. Pork had been on a previous list that was released last month.
All three exports are key to the economy of Iowa, which Trump won by 9 percentage points in 2016 – four years after former President Barack Obama won it by 6 points.
"It feels like we've got a target drawn on Iowa and the upper Midwest," said David Kochel, a longtime Republican consultant from Des Moines. "The futures market today for soybeans is tanking."
A Department of Agriculture map, in fact, shows heavy concentrations of soybean farming in several states Trump won that Obama had previously carried: Ohio, Wisconsin and Michigan, for example, in addition to Iowa.
"So the winnable trade war is really not that winnable," said Monica de Bolle, an economist and trade expert at the Peterson Institute for International Economics, referring to Trump's statement on March 2 declaring that "trade wars are good, and easy to win."
"Example, when we are down $100 billion with a certain country and they get cute, don't trade anymore-we win big. It's easy!" Trump added in the tweet.
De Bolle said she expected a reaction from China to Trump's $50 billion in tariffs against Chinese products announced on Tuesday, just not so fast. "I did expect them to come out with the big guns: Soybeans, aircraft and cars," she said. "Soybeans will hit rural areas very hard ― and China knows what it's doing ... Ginseng from Wisconsin, pork from Iowa and other places, dried fruit and almonds from Trump-voting parts of California."
Trump's own advisers admit privately that the former real estate developer and reality show host does not really understand trade, notwithstanding his decades-old belief that other countries take advantage of the United States because of the "stupid" leaders who came before him.
"We are not in a trade war with China, that war was lost many years ago by the foolish, or incompetent, people who represented the U.S," Trump wrote in a tweet Wednesday morning. "Now we have a Trade Deficit of $500 Billion a year, with Intellectual Property Theft of another $300 Billion. We cannot let this continue!"
He followed that up two hours later with tweet saying, "When you're already $500 Billion DOWN, you can't lose!"
As frequently happens when Trump issues his unscripted remarks, his White House staff was left to deal with the fallout.
Trump's brand-new economic adviser Larry Kudlow had to concede that the meaning behind Trump's morning tweets was not exactly clear to him. He went on to suggest in a Fox Business interview that eventually it would all work out with higher growth for everybody. "I think, that at the end of this whole process, the end of the rainbow, there's a pot of gold," he said.
Trump's commerce secretary, meanwhile, attempted to downplay the negative effects. "This $50 billion that they're talking about amounts to about three-tenths of a percent of our GDP," Wilbur Ross told CNBC. "So it's hardly a life- threatening activity."
At Wednesday's White House press briefing, press secretary Sarah Huckabee Sanders became the first administration official to acknowledge that Americans may suffer financially, at least in the near term.
"We may have a little bit of short-term pain, but we're certainly going to have long-term success," she said, adding that the country was fortunate to have Trump at the helm in the two-month period before tariffs kick in, during which a deal to avert them might be reached. "We're very lucky that we have the best negotiator at the table, in the president."
Republican Iowa Sen. Chuck Grassley said in a statement Wednesday that if Trump's tariffs wind up hurting Iowans, the federal government should make it up to them. "The administration knew that if it imposed tariffs on Chinese goods, China would retaliate against U.S. agriculture," Grassley said. "I warned President Trump as much in a White House meeting in February. Today shows that's exactly what happened."
Kochel said he wants to believe that Sanders is correct and that the tariffs do not actually come to pass. "I find myself hoping that this is a negotiation tactic and doesn't ultimately come to fruition," he said. "Many, many people are saying that nobody wins a trade war ... Should all these tariffs go into effect, it will have a very negative effect on the economy as a whole and the upper Midwest in particular."
Calling all HuffPost superfans!
Sign up for membership to become a founding member and help shape HuffPost's next chapter