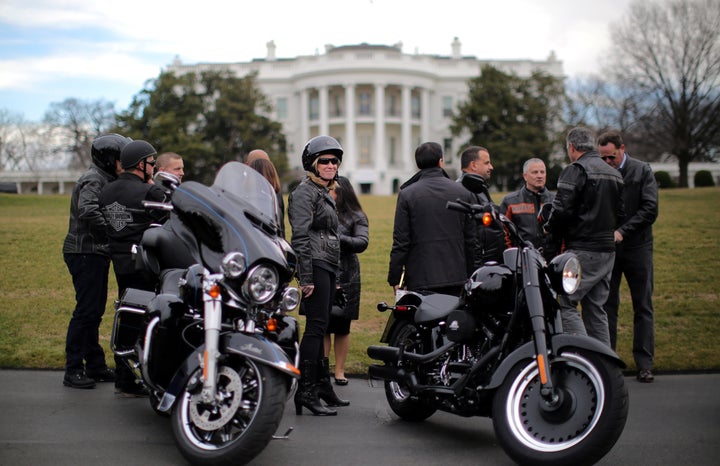 WASHINGTON — A few months before moving into the Oval Office, then-candidate Donald Trump had a glib answer about how he would enforce his trade policies. "It's going to be so easy!" he told a roomful of manufacturers in Dayton, Ohio, adding this reassurance: "We're not going to have trade wars."
Two years later, with those manufacturers seeing Trump's tariffs eat into their profits, with factories in other areas announcing layoffs and even an iconic American motorcycle maker shipping some jobs outside the U.S., neither of Trump's promises that day has held up.
"We're having a trade war with the entire world, on everything," said Monica de Bolle, a senior fellow at the Peterson Institute for International Economics.
Mike Gearhardt, who was a roundtable participant during Trump's Dayton campaign visit, said he could not have anticipated that Trump's "generalities and platitudes" that afternoon would translate into as much as $700,000 in lost profits this year for his employee-owned JBK Manufacturing.
"I do not think anybody expected this to escalate to the level that it's at," he said.
His company makes jet engine parts for aerospace companies and the military, so Trump's 25 percent tariff on foreign steel and 10 percent tax on foreign aluminum have resulted in huge price hikes for JBK's raw materials. Because most of the company's business involves long-term contracts signed years ago, he is stuck delivering products at prices that no longer generate nearly as much profit.
JBK has total revenues of $15 million a year and income of a few million, so Trump's policies are taking real money from his workers' pockets. "We're not a big company. We're 50 employees," he said. "It's a big chunk of our profits."
For all its woes, JBK at least has not been publicly attacked by the president — which is what is happening to Wisconsin-based Harley-Davidson.
That company announced in a Securities and Exchange Commission filing Monday that European Union tariffs retaliating against Trump's tariffs will cost the company as much as $45 million in the second half of 2018 alone. Over the next year and a half, the company wrote, it will move some of its production capacity overseas to avoid tariffs on motorcycles it sells there.
Trump responded to that Tuesday morning with a blistering statement threatening the company with a tax if it failed to do as he wanted. "A Harley-Davidson should never be built in another country-never! Their employees and customers are already very angry at them," he wrote on Twitter. "If they move, watch, it will be the beginning of the end - they surrendered, they quit! The Aura will be gone and they will be taxed like never before!"
Harley-Davidson executives visited the White House days into Trump's administration in 2017, wearing leather jackets on the South Lawn driveway as Trump examined the motorcycles they brought. "Made in America. Harley-Davidson. Made in America," Trump said at that photo opportunity.
White House officials did not respond to HuffPost queries regarding his tax threat. At a briefing Monday, press secretary Sarah Huckabee Sanders said Trump was trying to undo years of trade restrictions imposed on the United States by other countries. "The European Union is trying to punish U.S. workers because they have engaged repeatedly in unfair trade practices, and the president is saying enough is enough," she said.
So far, though, those hurt by Trump's tariffs do not appear to be EU countries but American workers. Mid-Continent Nail, the country's largest nail manufacturer, laid off 60 employees this month and has warned that the entire 500-person factory could shut down by Labor Day. Trump's metal tariffs have driven up its production costs, which in turn drove down demand for its nails.
This, according to economists across the political spectrum, is an obvious and expected result of Trump's tariffs.
Douglas Holtz-Eakin was an economist in the George W. Bush White House, which also imposed steel tariffs in an attempt to protect domestic steelmakers. Holtz-Eakin said those tariffs hurt steel-using manufacturers — which employ many times more people than steelmakers do — hurt the economy generally and ultimately were ruled illegal by the World Trade Organization. "And that will be true today as well," he said. "I'm nervous about the wisdom of this strategy."
Jared Bernstein, a top economic adviser to Joe Biden when he was vice president, said Trump's tariffs reveal a lack of understanding of the modern global economy, which has both mobile capital and mobile production capacity. He said there are things the government can do to help ― retrain workers who lose jobs, introduce apprenticeship programs and ensure a durable safety net, for example.
"There's a lot we can do, but this sure isn't it," he said. "These sweeping tariffs are not examples of that by a long shot."
On the issue of tariffs, though, Trump does not appear to be taking the advice of mainstream economists and is instead relying on his feelings on trade. For decades, he has claimed that the United States is being taken advantage of by other nations.
And in that view, he has the support of at least one participant in that Dayton roundtable two years ago.
"I do believe that the United States has been taken advantage of for a multitude of years," said Al Choiniere, the chief operating officer at Superion Inc.
His company services equipment used by manufacturers, so while it is not affected a great deal by the tariffs, its customers are. "In the short term, it's not going to be good for anybody," he said, but he added that he believes Trump's approach is necessary and will eventually bring a good resolution. "The world needs the United States, and the United States needs the world."
CORRECTION: A previous version of this story indicated Harley Davidson's SEC filing said the company will move some production to Europe. The filing does not specify where the company will shift production, but none of its current overseas plants are in Europe.
Calling all HuffPost superfans!
Sign up for membership to become a founding member and help shape HuffPost's next chapter