President Donald Trump has declared time and again that he wants to see the challengers of his stalled immigration orders in court.
But will the American public get to see him — or at least his lawyers — in court?
Thanks to C-SPAN, the public affairs cable network, anyone with a cable or internet connection will get live access to courtrooms on two coasts as federal judges consider whether to lift a pair of injunctions that last month stopped Trump's retooled travel ban dead in its tracks.
C-SPAN had petitioned both courts to let them broadcast.
The San Francisco-based U.S. Court of Appeals for the 9th Circuit, which has a long and proud tradition of cameras in the courtroom, acceded first. But the bigger surprise came Wednesday, when the 4th Circuit, which doesn't allow cameras at all, nonetheless allowed the network to carry live audio of the proceedings from Richmond.
Terry Murphy, C-SPAN's vice president of programming, said in an interview that scoring that kind of access in a high-profile case "is great for the media and great for transparency."
"I really applaud them for really allowing the American public to hear a case that's going to be argued before them," he said.
Typically you must be a cable subscriber to watch C-SPAN content online, but both circuits' feeds will be "free and in the clear ... as a public service," Howard Mortman, C-SPAN's director of communications, said in an email.
Live audio may not sound as exciting as watching judges grill lawyers, but that's precisely what the public got in February when three judges on the 9th Circuit heard an emergency appeal over Trump's first travel ban on refugees and people from predominantly Muslim countries. The audio was streamed on YouTube from a telephone conference.
By hearing's end, the YouTube feed had registered more than 135,000 listeners, and that's not even counting whoever tuned in on CNN's website, which also carried a live audio feed. Even Trump seems to have caught the CNN stream of that hearing.
"I watched last night in amazement, and I heard things that I couldn't believe," Trump said of the oral arguments in the appeal, which he ended up losing. The judges ruled 3-0 that his first travel ban likely violated the due process rights of Muslim travelers, permanent residents and non-citizens with ties to the U.S.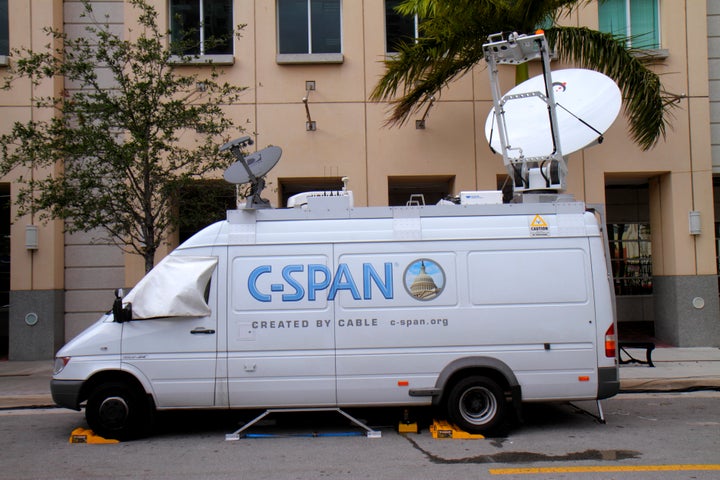 For Michelle Olsen, an attorney who has long advocated for appellate courts to make audio available on their websites, what the 4th Circuit did in allowing C-SPAN to be the go-to outlet for the public and other media organizations is a step in the right direction.
"It's exciting to see other circuits dipping their toes in the water," she said.
Live audio is also way more than what the American public gets with the Supreme Court, which has never allowed such a thing — despite C-SPAN and other organizations' numerous pleas over the years to offer live audio of landmark cases.
It's rare, but the high court may release an audio recording after the fact on the same day — as it did during the first challenge to President Barack Obama's health care law in 2012 and arguments in Obergefell v. Hodges, the 2015 decision that legalized gay marriage nationwide.
Nothing else since. But maybe the interest in the travel ban litigation and the initiative of lower courts may convince the Supreme Court to reconsider.
"I think the next step at the Supreme Court is likely to be with audio — either same day or live streaming, at some point," said Olsen. "I don't see anything close to a consensus for video at the court right now."
"I have a lot of faith in the American public, that they can understand what they're hearing."
The 4th Circuit may have subtly telegraphed to its higher-ups in Washington that it's time to step it up. In its Wednesday order allowing C-SPAN to serve as the live-audio servicer for other media outlets, the court noted the request was made in response to "heightened public scrutiny" — the same phrase the late Chief Justice William Rehnquist used when he signed off on a C-SPAN request to allow it to broadcast oral arguments in the 2000 Bush v. Gore case.
Rehnquist shot down the live-television idea, but he later agreed the audio could be released shortly after the marathon hearing concluded.
(The Supreme Court does post time-delayed audio of every one of its oral arguments, usually two to four days after the hearing has already occurred. Audio for the six cases the court heard this week will be posted sometime Friday afternoon.)
Some think the travel ban cases — which touch on important issues of presidential power, religious discrimination and immigration policy — rise to the same level of public interest and deserve just as much openness from the courts.
"More Americans are going to learn what this case actually is," said Gabe Roth of Fix the Court, an advocacy group that pushes for greater media and public access at the Supreme Court and lower courts. "And the more Americans understand how federal courts work — it would be great if the president did as well — the better it is for our civic health."
But a number of justices still resist the idea of even live or almost-live audio being made available. At a judges' conference last week, Justice Samuel Alito worried that his or his colleagues' words could easily be twisted into sound bites that would then make the evening news.
"The value of oral arguments in the decision-making process would be diminished," Alito said, according to Law360. Other justices, including the late Justice Antonin Scalia, liked to say that the bulk of the Supreme Court's work was too dull for television. Or that broadcasting it all could lead to the "miseducation of the American people."
But those who have been in the public-access game for a long time, like C-SPAN's Murphy, believe that the public comes first.
"I have a lot of faith in the American public, that they can understand what they're hearing," Murphy said. "Or if not, they can find out."
Popular in the Community