WASHINGTON ― Government lawyers trying to defend President Donald Trump's travel ban in court might be excused if they decide they are stuck with the world's worst client.
With the case now before the U.S. Supreme Court, Trump early Monday let loose a string of statements on Twitter, criticizing opponents of his executive order banning travel from six majority-Muslim nations, his own Department of Justice, and the judiciary generally for being "political."
Federal appeals courts have struck down the ban, ruling that statements from Trump and other administration officials showed that the order unconstitutionally targeted Muslims. Trump's latest tirade adds to that body of remarks.
"To the extent that the government has taken a position ... and that position is at odds with what the president has said, it presents a challenge that the Department of Justice will have to deal with," said Alberto Gonzales, who served as President George W. Bush's attorney general a decade ago.
George Washington University law professor Orin Kerr, a former Justice Department prosecutor who has appeared before the Supreme Court, said the tweets make it harder for Trump's lawyers now to argue ― as other White House officials have tried ― that the "travel ban" wasn't really a "travel ban."
"A big question in the case is what the president intends," Kerr said. "It's directly undercutting what his lawyers are trying to say."
Lawyers working to keep the travel ban off the books seemed to agree. The ACLU posted a tweet Monday afternoon: "Yes, we may incorporate @realDonaldTrump's tweets about the ban into our Supreme Court argument."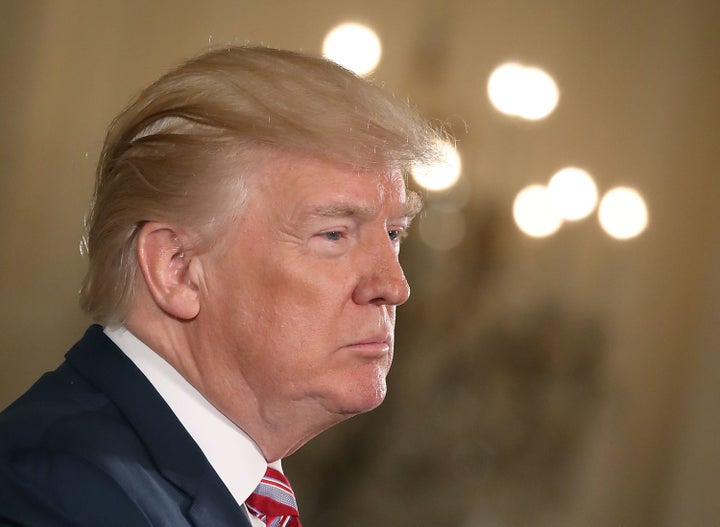 Trump started sharing his thoughts on the matter at 6:25 a.m.
"People, the lawyers and the courts can call it whatever they want, but I am calling it what we need and what it is, a TRAVEL BAN!" Trump wrote in the first of four tweets over 20 minutes. "The Justice Dept. should have stayed with the original Travel Ban, not the watered down, politically correct version they submitted to S.C. The Justice Dept. should ask for an expedited hearing of the watered down Travel Ban before the Supreme Court - & seek much tougher version! In any event we are EXTREME VETTING people coming into the U.S. in order to help keep our country safe. The courts are slow and political!"
Trump continued tweeting Monday night and into Tuesday morning. He sent "That's right, we need a TRAVEL BAN for certain DANGEROUS countries, not some politically correct term that won't help us protect our people!" at 9:20 p.m. And Tuesday morning added: "The FAKE MSM is working so hard trying to get me not to use Social Media. They hate that I can get the honest and unfiltered message out."
"These tweets may make some ppl feel better, but they certainly won't help OSG get 5 votes in SCOTUS, which is what actually matters. Sad," Conway wrote, referring to acronyms for the Office of Solicitor General and the Supreme Court of the United States.
A while later, as buzz spread from his original tweet – including the obvious copying of the Trumpism "Sad" – Conway posted four more threaded tweets: "Just to be clear, and in response to inquiries, I still VERY, VERY STRONGLY support POTUS, his Admin, policies, the executive order and of course, my wonderful wife. Which is why I said what I said this morning. Every sensible lawyer in WHCO [White House Counsel's Office] and every political appointee at DOJ wd agree with me (as some have already told me). The pt cannot be stressed enough that tweets on legal matters seriously undermine Admin agenda and POTUS―and those who support him, as I do, need to reinforce that pt and not be shy about it."
White House spokeswoman Sarah Sanders argued during Monday's daily press briefing that Trump's word choice really did not matter.
"The president isn't concerned with what you call it. He's concerned with national security and protecting people in this country," Sanders said. "He isn't concerned with being politically correct. He's concerned with protecting the American people."
The Justice Department last week requested that the Supreme Court take up the case. The justices have not yet announced whether they will do so.
This article has been updated to include Trump tweets from Monday night and Tuesday morning.
Popular in the Community