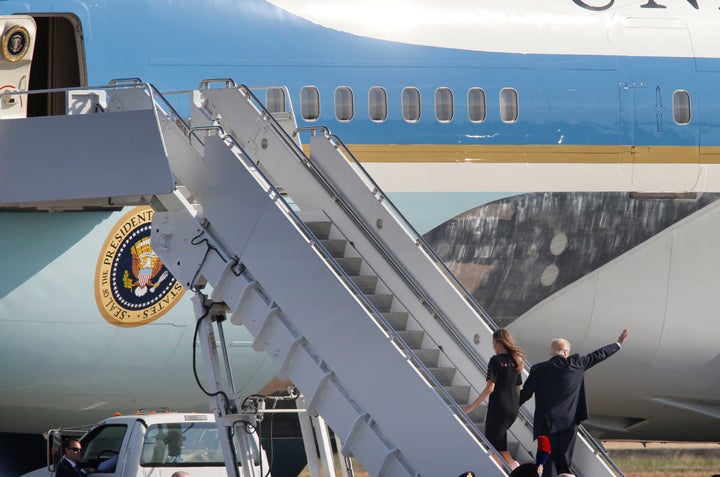 Forty-six percent of Americans approve of Trump's handling of his international trip, the survey finds, and 35 percent disapprove. Another 19 percent aren't sure.
Ninety-three percent of voters who supported Trump in last year's election approve of how he handled the trip, compared to 14 percent of those who supported Hillary Clinton and 39 percent of those who supported a third-party candidate or didn't vote.
Trump declared himself pleased with the trip, announcing Saturday that "I think we hit a home run no matter where we are."
At the unveiling of a memorial at NATO headquarters to the victims of the Sept. 11, 2001, terrorist attacks in New York and Washington, Trump used the occasion to scorch America's military allies for failing to spend as much on defense in recent years as Trump would have wanted. In his view, their failure to do so unfairly burdened U.S. taxpayers ― an opinion other NATO members do not share, a sentiment made clear by their facial expressions as he spoke.

(Trump then generated unflattering headlines for himself by shoving aside the leader of Montenegro, NATO's newest member, so he could take his assigned spot for a group photo, and, later, by reportedly calling Germany "bad" for selling so many cars in the United States.)

Finally, at the G-7 meeting of the world's largest democratically run economies, Trump would not commit to honor the United States' participation in the 2015 agreement to reduce carbon dioxide emissions to slow climate change, which the other six nations badly wanted the world's largest economy to remain part of. Even as Trump deferred a decision on that point, he continued complaints that the United States is running trade deficits with European nations.
The poll was conducted last Wednesday through Friday, partially before the NATO and G-7 meetings.
Few Americans, however, indicated that they think Trump is well-respected abroad. Fifty percent say they don't think leaders of other countries around the world have much respect for Trump, while just 29 percent believe he is internationally respected.
In a March HuffPost/YouGov poll, 55 percent of Americans said that they did not believe Trump was respected abroad, with just 24 percent saying he held international leaders' respect. That survey was taken just after Trump held a tense meeting with German Chancellor Angela Merkel and claimed that British intelligence had helped to wiretap him.
Three-quarters of Americans now say it's somewhat or very important that other leaders respect Trump, with only 12 percent viewing it as mostly unimportant.
Use the widget below to further explore the results of the HuffPost/YouGov survey, using the menu at the top to select survey questions and the buttons at the bottom to filter the data by subgroups:
The HuffPost/YouGov poll consisted of 1,000 completed interviews conducted May 24-26 among U.S. adults, using a sample selected from YouGov's opt-in online panel to match the demographics and other characteristics of the adult U.S. population.
HuffPost has teamed up with YouGov to conduct daily opinion polls.You can learn more about this project and take part in YouGov's nationally representative opinion polling. Data from all HuffPost/YouGov polls can be found here. More details on the polls' methodology are available here.
Most surveys report a margin of error that represents some, but not all, potential survey errors. YouGov's reports include a model-based margin of error, which rests on a specific set of statistical assumptions about the selected sample, rather than the standard methodology for random probability sampling. If these assumptions are wrong, the model-based margin of error may also be inaccurate. Click here for a more detailed explanation of the model-based margin of error.
Calling all HuffPost superfans!
Sign up for membership to become a founding member and help shape HuffPost's next chapter