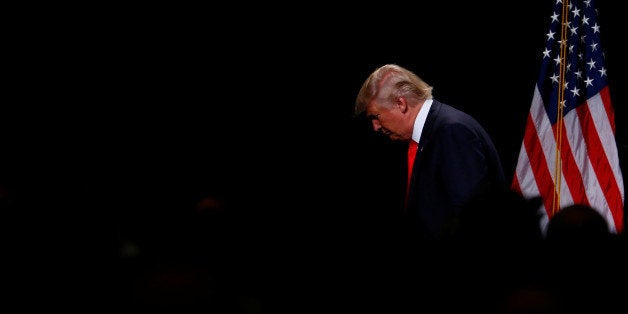 Republican presidential nominee Donald Trump had hoped that Monday would be the day he could reboot his failing campaign. Instead, it would be a day filled with more bad news and further setbacks.
The latest blow came in the form of a Washington Post op-ed piece by respected Republican Senator Susan Collins of Maine. "I will not be voting for Donald Trump for president," she wrote, adding, "Donald Trump does not reflect historical Republican values nor the inclusive approach to governing that is critical to healing the divisions in this country." Senator Collins is the latest in a growing list of Republican elected officials who have said they will not support Trump.
Trump received another devastating blow Monday when 50 former national security officials, who all served under Republican presidents, released a harshly critical signed letter stating that, "(Trump) would be the most reckless president in American history." The officials included Michael Chertoff and Tom Ridge, both former secretaries of homeland security, Michael Hayden, a former director of the CIA and the NSA, and John Negroponte, a former director of national intelligence and deputy secretary of state.
"He appears to lack basic knowledge about and belief in the U.S. Constitution, U.S. laws and institutions, including religious tolerance, freedom of the press and an independent judiciary," the letter says. The officials continued, "he persistently compliments our adversaries and threatens our allies and friends. Unlike previous Presidents who had limited experience in foreign affairs, Mr. Trump has shown no interest in educating himself. He continues to display an alarming ignorance of basic facts of contemporary international politics."
Meanwhile, a Monmouth University national poll released Monday showed that Democratic nominee Hillary Clinton had opened a double-digit lead over Trump. Clinton received support from 46% of those registered voters surveyed compared to Trump's 34%. Even more troubling for Trump was that 67% of the registered voters believe he does not have the right temperament to be president. In contrast, 61% of those surveyed believe Clinton does have the right temperament to serve. To make matters worse for Trump, he has fallen behind in polls in several key battle ground states that he must win if he is to be elected.
Trump had hoped to get his campaign on track with a major economic address in Detroit Monday. Reading from teleprompter, and holding his emotions in check during more than a dozen interruptions from protestors, Trump proposed major tax cuts and huge investments in infrastructure. "My plan will reduce the current number of brackets from 7 to 3, and dramatically streamline the process," he said. "We will work with House Republicans on this plan, using the same brackets they have proposed: 12, 25 and 33 percent. For many American workers, their tax rate would be zero." However, the rich will benefit the most from this plan, and Trump did not explain how he would pay for it. Further, Trump said he would end estate taxes, but that would only benefit a few thousand families with multimillion-dollar estates. And his proposal to allow parents to deduct the average cost of childcare spending from their taxes would most benefit families making more than $75,000 in reportable income.
Trump also promised to lower corporate taxes, and to reduce regulations on corporations, saying, "It is time to remove the anchor that is dragging us down." However, he offered no specifics, and many regulations have been enacted to protect health and safety. He also said he would renegotiate America's trade deals. "I want great trade deals for our country that create more jobs and higher wages for American workers," he said. But many Republicans, including House Speaker Paul Ryan, support trade deals. And in calling for major investments in infrastructure, like roads and airports, he never explained where the billions of dollars needed would come from.
Trump said, "There will be no change under Hillary Clinton--only four more years of Obama." But Trump's "Make America First plan" sounded like a hodgepodge of recycled supply-side GOP economics. Some change! If enacted, his plan would add trillions of dollars to the debt over the next decade. But his plan would sure be great for the Trump family. It would mean lower taxes, less regulation and more construction projects that they could manage.
Trump's campaign is collapsing with just three months to go before Election Day. And he alone can't fix it.
REAL LIFE. REAL NEWS. REAL VOICES.
Help us tell more of the stories that matter from voices that too often remain unheard.