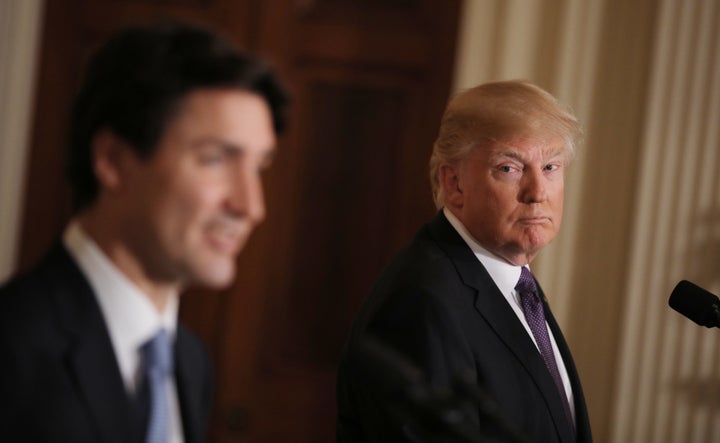 MUNICH ― Canadian Prime Minister Justin Trudeau is in Europe this week to meet with German Chancellor Angela Merkel and to address the European Parliament in Strasbourg. The timing is no accident given the rapid-fire pace with which U.S. President Donald Trump is challenging the integrity of the European Union project and the European Parliament's confident vote this week to adopt the Canada-EU free trade agreement commonly known as CETA.
Trump's ascendency to the White House has been based on a belief in the power of disruption. In fact, one of the side effects of Trump's public display of non-confidence in Europe has been to suddenly make Canada the North American torchbearer and apostle of the trans-Atlantic relationship.
Based on shared values and trust, this relationship has contributed to an uncharacteristically long run of peace, prosperity and security for Europe and North America. Not since World War II has Canada been as important to Europe as it is right now. The prospect of Canadian markets being opened to European business ― and vice versa ― takes on greater relevance and strategic weight than existed before the election of a protectionist U.S. president last November.
Canada is now the North American torchbearer and apostle of the trans-Atlantic relationship.
The Trump administration's open hostility to multilateral trade agreements leads to the logical conclusion that the Transatlantic Trade and Investment Partnership, the proposed U.S.-EU free trade deal, is dead in the water. That leaves CETA standing alone as providing the most advanced two-way free market access between the EU and North America.
Trump has vowed to review all existing U.S. trade agreements, to develop a new trade strategy within his first 200 days in office and, specifically, to renegotiate (or leave) the North American Free Trade Agreement. It is still subject to debate what exactly Trump could do in an area of Congressional authority ― NAFTA is not a treaty but a so-called executive-congressional agreement ― and it is also true that the U.S. has not abrogated a trade deal in which it is a party for over 150 years. Regardless, all three NAFTA parties are already gearing up for these difficult talks in different ways.
Mexico, having been the target of relentless attacks by Trump for a long time, triggered its internal 90-day consultation process with its own business community to prepare for the coming firestorm. Canada is open to renegotiation, but Ottawa has also publicly asserted that it would retaliate against any new U.S. tariffs on Canadian imports. 
Not since World War II has Canada been as important to Europe as it is right now.
Prior to traveling to Europe, Trudeau visited Washington D.C., where Trump praised the economic relationship with Canada and suggested that he would plan to "tweak" NAFTA only. The focus for the U.S. remains clearly on Mexico.
In the event the trilateral NAFTA does not survive a renegotiation, one of the potential scenarios would be, in fact, to replace it with a set of bilateral agreements. In the case of Canada and the United States, there is a unique legal circumstance. While NAFTA superseded the original bilateral Canada-U.S. free trade agreement, which entered into force in 1989, the FTA was never repealed and remains legally suspended while NAFTA is in effect. The bilateral Canada-U.S. FTA could relatively easily be reinvigorated and perhaps updated with some of the principles established in NAFTA or the Trans-Pacific Partnership negotiations that both sides could support.
Unlike the U.S.-Mexican trade relationship, which is at risk of being seriously disrupted by Trump, U.S.-Canada free trade will likely remain in place in any scenario over the coming years. Despite Washington's protectionist rhetoric concerning NAFTA, the fact is that nearly nine million American jobs depend on trade and investment with Canada, which buys more U.S. goods than any other country, including all EU member states combined. Close to $2 billion worth of U.S. goods and services crosses the border into Canada every day. Even Trump cannot easily ignore this economic reality.
Nearly nine million American jobs depend on trade and investment with Canada.
Many European companies have made big bets on Mexico as a low-cost manufacturing location with easy access to the U.S. The fact that Trump has threatened to impose a new border adjustment tax on imports from Mexico or to even leave NAFTA constitutes a major geo-economic risk for these firms, including German global players like Volkswagen or BMW.
In the absence of TTIP, this complex and evolving situation creates an important and unique opportunity for European corporations and investors that is much larger now than it was before Trump won the election. CETA opens the door to a Canadian platform from which European companies can gain access to the U.S. market through either a modified NAFTA or a renewed Canada-U.S. FTA.
Trudeau's visit to Europe this week is thus a timely and important reminder of the risks and potential opportunities ― for both Canada and Europe ― in view of the new protectionist realities in Washington, DC.
Calling all HuffPost superfans!
Sign up for membership to become a founding member and help shape HuffPost's next chapter
BEFORE YOU GO
PHOTO GALLERY
Canada Welcomes Refugees