"Among other things, they make it possible for a person to vote multiple times. Also, who controls them, are they placed in Republican or Democrat areas? They are not Covid sanitized. A big fraud!" he tweeted.
Twitter determined that Trump's tweet violated its rules about civic and election integrity, saying that it made "misleading health claims that could potentially dissuade people from participation in voting."
"You can't share false or misleading information intended to intimidate or dissuade people from participating in an election or other civic process," Twitter said.
The tweet was allowed to remain accessible to the public but will require users to click on the notice in order to view it. Twitter users are also unable to like, reply or retweet it unless it is retweeted with a new comment.
Trump has repeatedly challenged voting by mail, arguing that it will lead to voter fraud, contrary to the conclusions of various studies and leading experts.
In one recent challenge, Trump's campaign filed a lawsuit to block the widespread use of ballot drop boxes in Pennsylvania. A judge earlier this month ordered the campaign to provide evidence to support its claims, but it was unable to do so, The Guardian reported Friday, citing a copy of the court filing.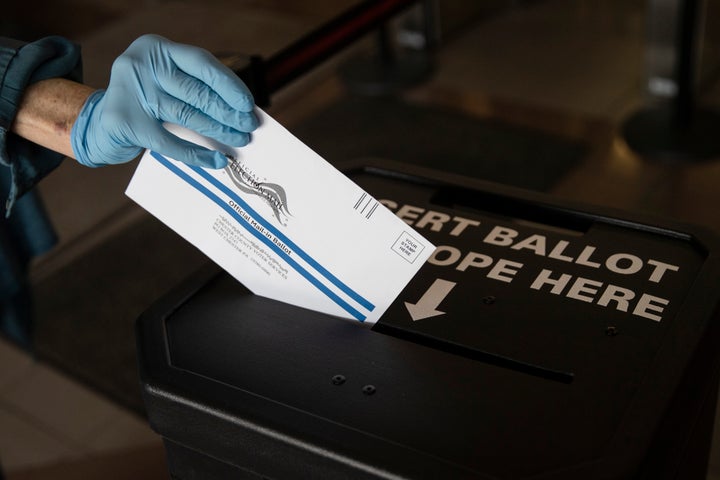 Contrary to Trump's tweet, federal health officials have not flagged mail drop boxes as a potential health risk for voters. But they have issued warnings about voting in person.
Officials also urged those who do vote in person to wear a face mask and frequently wash their hands, as they would in any public location where there is a chance of infection.
"Wash your hands or use alcohol-based hand sanitizer after using the voting equipment," the CDC's website recommended.
The U.S. Postal Service also reminded voters that the virus is believed to spread primarily through airborne respiratory droplets resulting from a sneeze, cough or ordinary speech and not by mail.
"Although the virus can survive for a short period of time on some surfaces, both CDC and the United States Surgeon General have indicated that it is unlikely to be spread from domestic or international mail, products or packaging," the Postal Service said.
Support HuffPost
The Stakes Have Never Been Higher
Popular in the Community