After tweeting praise of the Federal Emergency Management Agency and first responders working during Florence, Trump ranted over a government-commissioned study published last month that reported that nearly 3,000 people died in Puerto Rico as a result of hurricane damage.
In a tweet, Trump noted a Washington Post article that said officials in Puerto Rico told the president last October that 16 people had died in Hurricane Maria.
"This was long AFTER the hurricane took place. Over many months it went to 64 PEOPLE," he wrote. "Then, like magic, '3000 PEOPLE KILLED.'"
"They hired GWU Research to tell them how many people had died in Puerto Rico (how would they not know this?)," Trump added. "FIFTY TIMES LAST ORIGINAL NUMBER - NO WAY!"
The rant about the George Washington University report echoed a tweet from a day earlier in which he accused Democrats of making up the death toll to make him "look as bad as possible," without providing any proof.
Earlier Friday, Trump quoted several of his allies supporting his theory that Puerto Rico's government faked the death count.
One tweet quoted political commentator and frequent Fox News guest Geraldo Rivera as claiming that the reported deaths were "political agenda couched in the nice language of journalism."
A second tweet, shared two hours later, quoted Fox Business Network anchor Lou Dobbs calling Puerto Rico "one of the most corrupt governments in our country."
Trump first denied Puerto Rico's death totals with a pair of tweets on Thursday, prompting Democrats and a few Republicans to denounce his claims.
George Washington University's Milken Institute School of Public Health completed the study for the government of Puerto Rico in order to prepare the island territory for the current hurricane season. In a statement Thursday, the Milken Institute defended its research.
"We stand by the science underlying our study," the statement said. "This study, commissioned by the Government of Puerto Rico, was carried out with complete independence and freedom from any kind of interference."
The institute called Hurricane Maria a "deadly storm" that "affected the entire island but hit the poor and the elderly the hardest."
"We are confident that the number ― 2,975 ― is the most accurate and unbiased estimate of excess mortality to date," the statement continued.
Trump's Puerto Rico tweets were flanked by retweets from FEMA, the National Weather Service and other emergency agencies. Late Friday, the president chimed in once more on Twitter to complain about President Barack Obama and the media.
By Friday night, Florence, which had been downgraded from a hurricane, had dumped nearly 20 inches of rain in parts of North Carolina. Storm surge in Pamlico Sound in the Outer Banks flooded the downtown area. At least 360 people who ignored a mandatory evacuation order in New Bern had to be rescued, according to the Charlotte Observer.
At least five people's deaths in North Carolina are linked to the hurricane, including a mother and baby who were killed when a tree fell on their house in Wilmington.
Support HuffPost
The Stakes Have Never Been Higher
Before You Go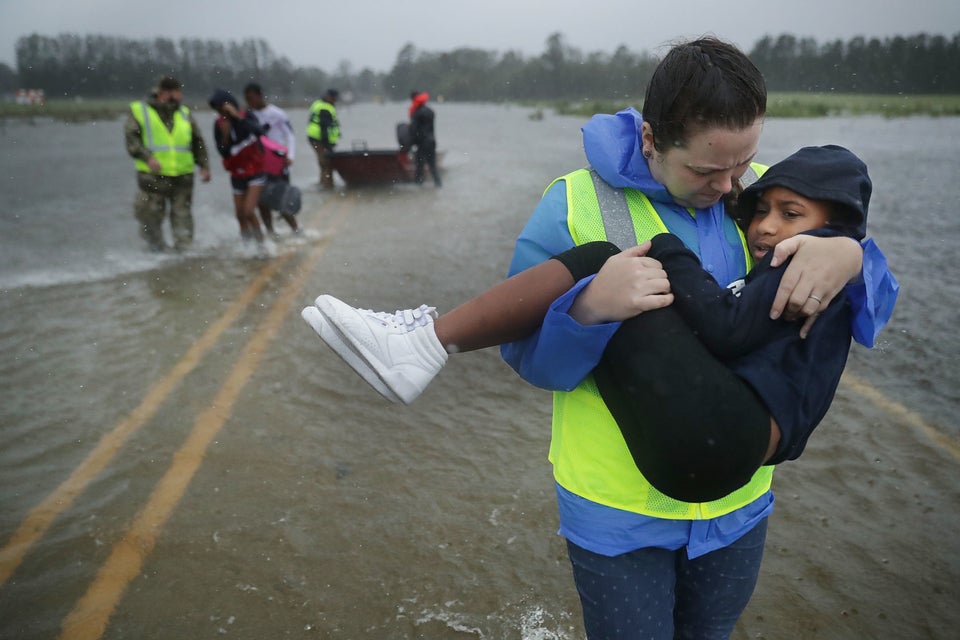 Hurricane Florence Moves Inland
Popular in the Community