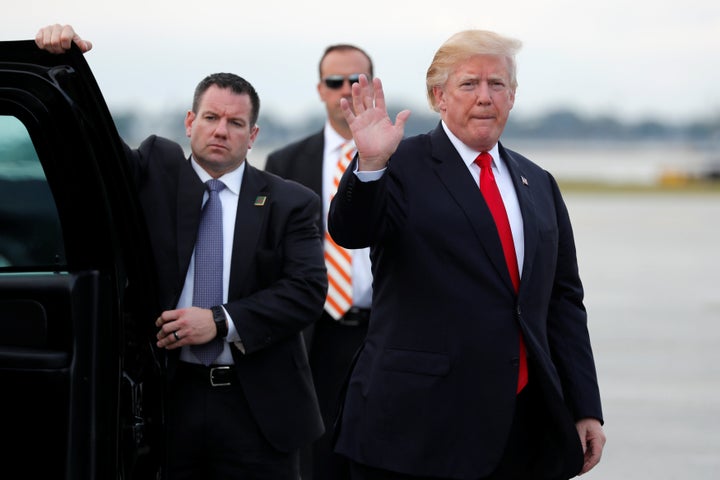 What does it matter, after all, what provocative statement Trump writes about Iran or North Korea if he also, within minutes, makes an outlandish and easily disproven claim with zero basis in reality?
"The sad truth is that other world leaders have long learned to treat President Trump's statements with a grain ― or even a mountain ― of salt," said Ned Price, a former CIA analyst and a spokesman for the National Security Council under President Barack Obama. "This statement will only further undercut this credibility on the global stage."
Richard Nephew, a former State Department Iran expert and now a professor at Columbia University, said Trump has repeatedly undercut his intended messages with his numerous falsehoods. "Candidly, I think that he's given that signal many, many other times than just this morning," Nephew said.
And as has happened repeatedly over Trump's first 11 months in office, his White House staff was left to clean up his false claims and try to head off any lasting damage. On Tuesday, that task fell to deputy press secretary Raj Shah, who said in a statement that Trump had "raised the bar" for aviation safety. Shah cited legislation, supported by Trump, to privatize the air traffic control system. That legislation has stalled, in part because it had been pushed by the sponsoring lawmaker's lobbyist girlfriend.
"The president is pleased there were no commercial airline deaths in 2017, and hopes this remains consistent in 2018 and beyond," Shah said.
Trump's morning statement followed numerous reports about the absence of fatal airline accidents anywhere in the world last year.
"Since taking office I have been very strict on Commercial Aviation. Good news - it was just reported that there were Zero deaths in 2017, the best and safest year on record!" Trump wrote at 9:13 a.m.
But neither Trump nor anyone in the U.S. government has any control over airline flights that do not start or end in the United States. And Trump's influence over domestic aviation in 2017 is dubious at best ― it's not even clear whether he's really interested in it. The Federal Aviation Administration is still being run by Obama appointees. And in any case, there has not been a fatal accident in the United States by a U.S. passenger carrier since February 2009, the first full month of Obama's presidency.
One White House official acknowledged privately that Trump's unsupported claims make it harder to emphasize his remarks about foreign or domestic policy initiatives that someone has actually put thought into. The result is the now-familiar escape hatch: "The president's tweet speaks for itself."
The airline tweet was not the only one where Trump wandered from his White House's ostensible agenda. At 7:48 a.m., Trump used the conspiracy theorist term "deep state" to describe the Justice Department ― which is run by his own appointee, Attorney General Jeff Sessions ― because of its failure to prosecute his political opponents and critics. And at 9:39, Trump sent the first of what would be a pair of tweets attacking The New York Times.
However, those remarks ― while unorthodox by the standards of previous White House occupants ― were matters of opinion. The airline safety claim, on the other hand, was so easily disprovable that it raised questions about Trump's understanding of reality.
And that, in turn, is likely to affect how Trump's foreign policy statements are seen internationally, critics say.
As part of Tuesday morning's string of tweets, Trump weighed in on the protests in Iran ― blaming Obama for supporting the regime there ― and on North Korea, insulting leader Kim Jong Un and speculating about proposed talks between that country and South Korea.
Leaders of other countries, however, have not all internalized that message.
On Monday, shortly after Trump accused Pakistan of accepting "33 billion dollars" in U.S. aid but repaying it with "lies & deceit," Pakistan responded with an emergency security council meeting and a hastily scheduled consultation with the U.S. ambassador in Islamabad.
But the more Trump continues to make false claims, the less others around the world will care about what he says at all, Price said.
"Other leaders cannot ignore his statements, but they will increasingly greet them with rolled eyes," he said, adding that he expects international leaders to start turning more frequently to the "more reliable elements within the Department of State and/or the Department of Defense."
Popular in the Community