WASHINGTON ― For Americans curious about how government-by-Twitter might look in the coming months and years, the Trump White House's adventures with a non-existent voter fraud crisis is likely instructive.
Not long after he won November's election, Donald Trump began claiming Democratic nominee Hillary Clinton's popular vote victory was due to millions of undocumented immigrants who had illegally cast ballots. He returned to the idea Monday night during a meeting with congressional leaders, saying there were 3 million to 5 million illegal votes, giving Clinton her 2.9-million ballot margin.
That led to White House press secretary Sean Spicer explaining at Tuesday's on-camera briefing that Trump has long believed voter fraud was a problem, but there was no real plan or need for a probe.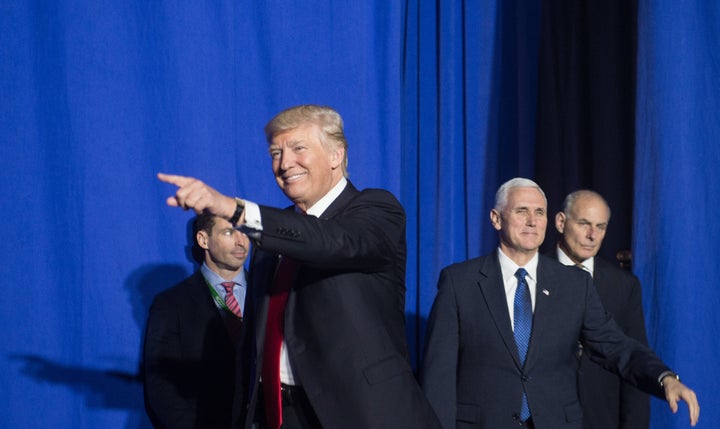 "I think he was having a discussion with some folks and mentioned something in passing, which has been a long-standing belief that he's maintained," Spicer said, adding that while he couldn't rule out a future probe, there was nothing in the works. "There is no investigation. It's a ― I said it was possible. Anything is possible. It was a hypothetical question."
Less than 24 hours later, Spicer was explaining about the investigation.
"And as you saw from his tweet this morning, the president is looking into various options to address voter fraud," he said.
There is no investigation. It's a ― I said it was possible. Anything is possible. It was a hypothetical question.

White House press secretary Sean Spicer, 17 hours before President Donald Trump tweeted that he was ordering a voter fraud investigation
Spicer could not really say ― possibly because Trump's two tweets on the issue meant he was limited to a total of 280 characters (he used 274), and he didn't get into any details:
"I will be asking for a major investigation into VOTER FRAUD, including those registered to vote in two states, those who are illegal and...." and "even, those registered to vote who are dead (and many for a long time). Depending on results, we will strengthen up voting procedures!"
The states' secretaries of state, independent voting experts and even Trump's own campaign lawyers ― while fighting recounts in three key states that Trump won by narrow margins ― agree there is no extensive voter fraud in the United States.
During the campaign, Trump and his staff cited one discredited political science blog post that hypothesized potential illegal voting and a Pew Research report from 2012. That study, though, was not about voter fraud but about the accuracy of the state-maintained voter rolls. It found significant percentages of names who were either dead or registered in more than one state ― a natural consequence of voters who pass away or move. While voting in multiple states is illegal, being registered in more than one state at the same time is not.
In Wednesday's press briefing, Spicer nevertheless referred to dead voters and voters registered in more than one state, and said there was no conflict between what Trump's lawyers were arguing during the recounts and what Trump is claiming now ― because a lot of the voting fraud could have happened in big states that voted heavily for Clinton, such as California and New York.
"I think when you look at where a lot of potential of ― a lot of these issues could have occurred in bigger states, that's where I think we're going to look," Spicer said. "But I think there'll be more on that as the week goes on and we'll be able to examine that further."
Trump agreed during the final weeks of the campaign to cut back on his Twitter habit to avoid creating distractions. But he has resumed his practice of sending out controversial messages, particularly early in the mornings, forcing his staff to deal with the inevitable requests for clarification.
Sign up for the HuffPost Must Reads newsletter. Each Sunday, we will bring you the best original reporting, longform writing and breaking news from The Huffington Post and around the web, plus behind-the-scenes looks at how it's all made. Click here to sign up!
Calling all HuffPost superfans!
Sign up for membership to become a founding member and help shape HuffPost's next chapter
BEFORE YOU GO
PHOTO GALLERY
Donald Trump Over The Years