LONDON ― The British capital came alive Friday, forming a "carnival of resistance" to President Donald Trump's working visit to the United Kingdom.
The protests kicked off around 9:00 a.m. local time. As Trump departed London for a military demonstration at the Royal Military Academy Sandhurst, hundreds of people gathered in Parliament Square to witness one of the most bizarre political stunts ever to grace the skies of London ― a 20-foot blimp, shaped like a baby Trump, that took flight outside the U.K.'s seat of government, alongside statues of political giants like Winston Churchill. It flew for about two hours.
The blimp was intended as a symbol to show the president that "the U.K. sees him as a petulant, vicious, self-obsessed child," Max, one of the activists working to set up the blimp, who referred to themselves as "Trump babysitters," told HuffPost U.K.
Around midday, more people gathered for the "Bring The Noise" protest organized by Women's March London. A chorus sang songs including "We Are Family" and clanged pots and pans as they headed toward Parliament Square. They held signs denouncing misogyny, racism and Islamophobia, among many other themes.
At around 2:00 p.m., tens of thousands more began amassing at Portland Place ― near the BBC's main broadcast studio ― for the primary "Stop Trump" march, which would culminate in a rally at Trafalgar Square. This was the site of gargantuan protests against then-President George W. Bush in 2003.
The march proceeded down Regent Street, normally a busy shopping street, which had been closed off for the protest. It was so crowded that people could barely move. There were sign-making stations, and people sold Trump toilet paper.
Organizers claimed that more than 100,000 protesters made it to the march by 2:40 p.m., the U.K.'s Press Association reported.
"Say it loud, say it clear, Donald Trump's not welcome here," the protesters chanted.
Tens of thousands of people packed Trafalgar Square at the protest rally, and opposition Labour Party leader Jeremy Corbyn addressed the crowd.
"We are asserting our right to demonstrate, our right to free speech," he said to an enthusiastic crowd, according to the Press Association.
On the edge of the crowd, people were busking, dancing and trying to get in view of the various TV crews lined up next to the steps of the National Gallery. There was also a Trump "wall," about five feet high and covered in anti-Trump messages, reported Chris York of HuffPost U.K.
Trump ruffled feathers across Europe this week, starting with a trip to Brussels for a NATO summit. After slamming NATO member states by claiming they're not contributing enough to collective defense spending, he announced in a surprise press conference Thursday that he managed to immediately increase spending commitments ― a claim that other leaders, including French President Emmanuel Macron, later disputed.
Trump then made his way to Britain, where Prime Minister Theresa May welcomed him with a gala at Blenheim Palace, the ancestral home of Winston Churchill. As the leaders dined, The Sun newspaper published a blistering interview with Trump in which he slammed his British counterpart for her handling of "soft" Brexit negotiations.
"If they do a deal like that, we would be dealing with the European Union instead of dealing with the U.K., so it will probably kill the deal," he said.
The president took the opportunity to lambast London Mayor Sadiq Khan for the spate of crime the city has experienced; EU leadership for letting in migrants who are supposedly destroying European culture; and the city of London itself for making him feel "unwelcome" by flying blimps.
At a news conference on Friday, Trump attempted to make nice on his criticism of May by blaming "fake news," and said the relationship between the U.S. and the U.K. "remains close."
"It didn't put what I said about the prime minister," he said, referring to The Sun.
When a reporter pointed out that The Sun did include Trump's positive remarks about May, he said: "Oh, good. If you reported it, that's good." But he complained that it didn't put those remarks in the headline.
Chris York of HuffPost U.K. and Liza Hearon of HuffPost contributed reporting.
This story has been updated throughout. Follow HuffPost U.K.'s live coverage of the protests here.
CORRECTION: An earlier version of this article included a reference to a 6-foot blimp. The blimp in question is 20 feet long, or about 6 meters.
Support HuffPost
The Stakes Have Never Been Higher
Before You Go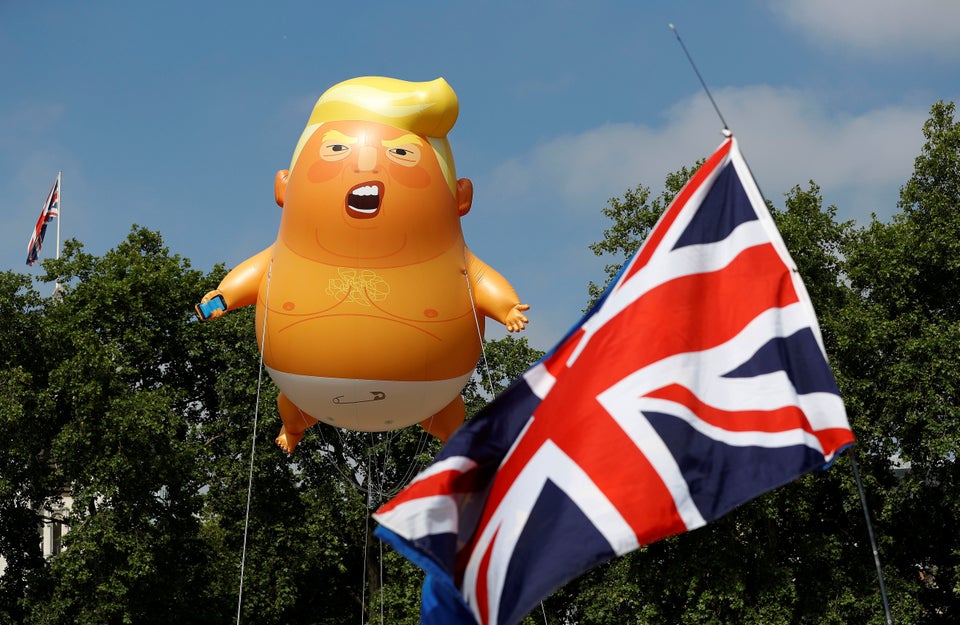 UK Protests Trump's Visit
Popular in the Community