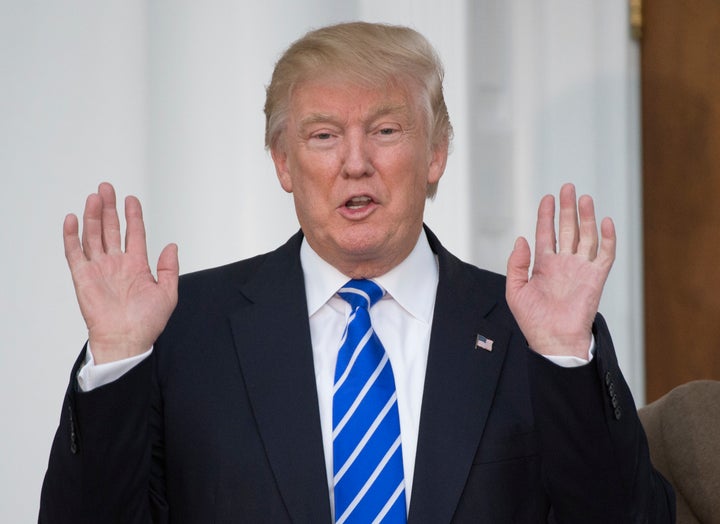 WASHINGTON ― After Donald Trump launched his presidential campaign, his foundation received a generous donation from a Ukrainian oligarch whose donations to the Clinton Foundation sparked accusations that Hillary Clinton engaged in an ethically murky mix of philanthropy and politics.
The information became public on Tuesday, with the publication of the Trump Foundation's 2015 tax documents. The Victor Pinchuk Foundation gave $150,000 to the Trump Foundation in fall 2015 ― the only time it did so, according to Thomas Weihe, head of the Victor Pinchuk Foundation's board.
Pinchuk, a billionaire steel magnate who is a former member of Ukraine's parliament and son-in-law of a former Ukrainian president, has donated far more generously to Clinton's foundation, with gifts of $10 and $25 million. According to The New York Times, Pinchuk let the Clintons borrow his private plane, attended former President Bill Clinton's birthday party in 2011, and met with State Department officials several times while Hillary Clinton ran the agency.
That placed Pinchuk at the center of accusations that the Democratic presidential nominee operated a "pay to play" scheme at the State Department while Clinton was secretary of state. Critics viewed gifts from Pinchuk, who favors closer ties between Ukraine and the European Union, as attempts to steer policy at Foggy Bottom.
"The implication is that Trump, like Clinton, has close ties with international figures ― and unlike Clinton, corporate investments all over the world."
Pinchuk's donation to the Trump Foundation appears to be more of a direct quid-pro-quo. Weihe said it was tied to an agreement that Trump would speak via video link at a an annual conference Pinchuk organized in September 2015.
Pinchuk and Trump met years ago in New York, which led the Ukrainian businessman and philanthropist to invite the presidential candidate to speak at the Yalta European Strategy forum, a gathering of politicians and businessmen. The Washington Post first reported on the donation.
Shortly after Pinchuk's foundation gave $150,000 to Trump's foundation, the then-Republican presidential candidate delivered 20 minutes of remarks, skirting the details of his policy toward Russia and Ukraine and offering only vague words of encouragement to his audience.
"Part of the problem that Ukraine has with the United States," Trump told the room full of Ukrainians, "is that Putin does not respect our president whatsoever."
Trump accused President Barack Obama of paying "lip service" to Ukraine without actively helping the country. But he also suggested Europe should assume more responsibility for Ukraine's security.
"I don't like what's happening with Ukraine. But that's really a problem that affects Europe a lot more than it affects us. And they should be leading some of this charge," he said.
The revelation that the same Ukrainian billionaire who donated to Clinton also donated to Trump in exchange for his appearance at an event undercuts his claims that Clinton was the more morally deficient candidate. For government ethicists, it also raises further doubts about the president-elect's ability to craft future policy uninfluenced by moneyed interests.
"The implication is that Trump, like Clinton, has close ties with international figures ― and unlike Clinton, corporate investments all over the world," Sheila Krumholz, the executive director of the Center for Responsive Politics, said in an interview. "These kinds of cases raise questions about whether, while acting as public officials, people like Trump would be able to discharge their duties without bias in favor of their international ties."
Clinton said her family's nonprofit organization would stop accepting foreign donations if she became president (though some Republicans demanded she shut down her foundation entirely). Trump, however, has hinted strongly that his businesses and foundation will remain operational under his children's control.
Do you work in a federal agency? Email us at scoops@huffingtonpost.com and let us know what you're seeing and hearing, and if you're thinking of staying in government for the next administration.
Popular in the Community