The Better Business Bureau on Tuesday briskly refuted a number of statements that Republican presidential candidate Donald Trump has made about Trump University, the now-defunct real estate seminar provider that many students allege was a scam.
In last Thursday's Republican debate, the candidate defended Trump University despite the multiple lawsuits brought by former students and the state of New York.
Challenged by Fox News moderator Megyn Kelly about Trump University's D-minus rating from the Better Business Bureau, Trump said that "right now it is an A."
During a commercial break, Trump was caught on camera presenting the debate hosts with a piece of paper that he said showed that rating. "The Better Business Bureau just sent it," Trump can be heard telling Fox News moderator Bret Baier. "This just came in, we just got it."
"The BBB did not send a document of any kind to the Republican debate site last Thursday evening," the nonprofit organization said on Tuesday. "The document presented to debate moderators did not come from BBB that night."
As to Trump's basic claim, the watchdog group said, "Trump University does not currently have an A rating with BBB. The BBB Business Review for this company has continually been 'No Rating' since September 2015. Prior to that, it fluctuated between D- and A+."
Following the debate on Thursday, Trump tweeted what he said was the official A rating for the Trump Entrepreneur Initiative, a later name for Trump University.
On Tuesday, the Better Business Bureau said, "The document posted on social media on Thursday night was not a current BBB Business Review of Trump University. It appeared to be part of a Business Review from 2014."
Furthermore, the nonprofit stated, "Trump University has never been a BBB Accredited Business. The document handed to the debate moderators on Thursday night could not have been an actual 'Better Business Bureau accreditation notice' for this business."
Here's the current review of the Trump Entrepreneur Initiative.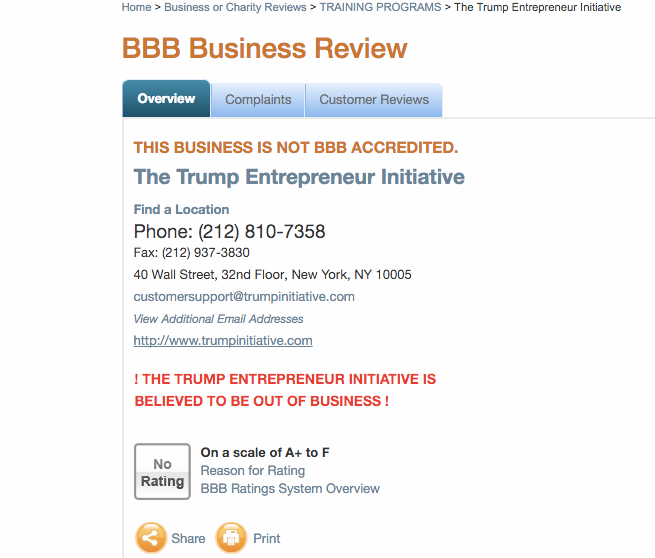 Not only did the Better Business Bureau refute Trump's claims about Trump University's current grade; it also refuted his claim that the enterprise has "a 98 percent approval rating from the people who took the course [because] people like it ... many did tremendously well, and made a lot of money."
Here's how the bureau tells it: "During the period when Trump University appeared to be active in the marketplace, BBB received multiple customer complaints about this business. These complaints affected the Trump University BBB rating, which was as low as D- in 2010."
How did it ever have an A rating?
The company closed in 2011, and after that, the Better Business Bureau said, "no new complaints were reported." Complaints that are more than three years old "automatically rolled off of the Business Review, [and] over time, Trump University's BBB rating went to an A in July 2014 and then to an A+ in January 2015."
Trump, however, claimed the opposite was true. He said the Better Business Bureau simply hadn't had enough information about Trump U, and that's why it received a D-minus. "Before they had the information," the program scored poorly, he said, but "once they had the information ... it is right now an A."
More than 5,000 people are suing Trump and Trump University in California, where a class action suit alleges that many students spent more than $30,000 on what they were told would be a real estate investment mentorship, personally designed and overseen by Trump.
Watch the real estate mogul's promotional video for Trump University:
In fact, the former students allege that Trump played no part in designing the course, choosing the teachers or mentoring students.
A second case brought by New York Attorney General Eric Schneiderman was cleared by an appeals court to move forward last week. This means voters are likely to hear a lot more about Trump University in the coming months.
The candidate tried to play down the seriousness of the allegations on Thursday, yelling, "It's just a minor case! It's a minor case!" over the voices of debate moderators.
On Monday, Trump also released a video (see below) in which he singled out two people who asserted they'd been scammed by his seminar company. He accused them of saying "horrible things" and warned "we're looking" for a third person.
A spokeswoman for Trump's campaign and a lawyer for Trump's business both declined to comment on the Better Business Bureau's statement.
Popular in the Community