Since Donald Trump's election, the stock value for private for-profit "colleges" has taken off. Strayer's is up 35 percent, Grand Canyon almost 30 percent, and DeVry, which agreed to pay a hundred million dollars in debt relief and cash payments to settle a federal law suit for fraudulent advertising last December, more than 40 percent.
While racing to dismantle federal regulations for the environment, banking, and industry, President Tweet also threw a bone to predatory for-profit colleges and universities that have been ripping-off the government and victimizing the poor, veterans, and evangelicals. For-profit "colleges" market aggressively to members of the military enrolling them in online programs while they are still on active duty. A 2014 Senate report found that eight for-profit college companies received about a fourth of all GI Bill benefit educational dollars. The online for-profit "schools" also cost twice as public colleges.
Tweet selected Jerry Falwell Jr., president of Liberty University, to lead a task force that will work to deregulate American higher education and free for-profit pseudo-colleges to cheat the public. Tweet's own Trump University closed in 2010 and agreed to pay $25 million in damages to settle a law suit by former students who charged they were defrauded when promised they would learn the secrets of Trump's real estate success.
This is an industry that desperately needs more regulation, not less. Last year ITT Educational Services closed and filed for bankruptcy when the federal government withdrew its eligibility for student aid. The Consumer Financial Protection Bureau had previously sued the company in 2014 for overstating students' job prospects and potential salaries and the Securities and Exchange Commission is currently suing ITT, charging it with concealing major losses in student loan programs. Corinthian Colleges, another for-profit edu-company was fined $30 million by the federal Department of Education, now overseen by Betsy DeVos, for overstating job placement rates for graduates. That company also filed for bankruptcy.
Falwell made clear his goal was eliminating Obama administration initiates to "give colleges and their accrediting agencies more leeway in governing their affairs," which would allow companies like Trump, ITT, and Corinthian to rip-off a new generation of unsuspecting students, many U.S. military veterans, and American taxpayers who insure student loans.
Falwell and his Liberty University would directly benefit if federal regulation was reduced or suspended. While it is primarily known as a mid-sized residential evangelical Christian college located in Lynchburg, Virginia, it also operates an enormous profit-making online program enrolling 65,000 students. This program generated almost $600 million in revenue in 2013. It is the second largest online "college" in the United States. Most of the tuition dollars for Liberty's online students comes from financial aid programs operated by the federal government's Department of Education, approximately $350 million in 2015. Because it is technically a church-related non-profit institution, Liberty pays no taxes on its earnings.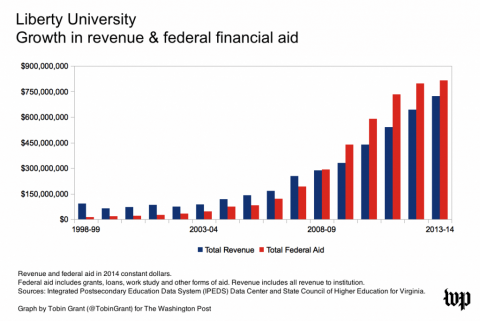 Falwell himself earns over $900,000 a year for managing the business. His so-called college "teaches" students that the Earth is only a few thousand years old and that dinosaurs lived at the same time as people and encourages them to get concealed hand-gun permits so they can protect the country and their college against Islamic terrorists. Liberty University provided a prominent platform for Tweet to reach evangelical Christians during the G.O.P. primary campaign and Falwell endorsed him for President.
Unfortunately many Liberty students are not doing as well Mr. Falwell. About 9 percent default on their loans within three years of graduating, one-third higher than for graduates from other private, not-for-profit colleges. Even those who avoid default are in financial trouble. Over 60 percent of Liberty's borrowers fail to pay off another of their loan principal within three years after graduating. A big part of the problem is that after receiving their quality Liberty education over 40 percent of Liberty graduates earn less than $25,000 per year when they finish college. Earnings-wise, a Liberty degree is worth about the same amount as a high school diploma.
Putting Falwell in charge of President Tweet's task force is like putting the fox in charge of the hen house!
The People's March for Education Justice will take place on Saturday, March 4. Thousands of parents, students, teachers, and community members will march together in seven communities across the state to demand education justice in New York. Marches will take place in Buffalo, Kingston, New York City, Rochester, Schenectady, Syracuse and Wyandanch.
March participants in each location are available for advance interviews. Contact julia@aqeny.org for more information.
WHAT: People's March for Education Justice, a series of community-lead marches in local communities across the state in support of public education in New York. Please visit http://www.aqeny.org/march/ for more information and updates.
WHEN & WHERE: Saturday, March 4, locations statewide:
Buffalo: 12 PM, Erie County Holding Center, 121 W Eagle St
Kingston: 1 PM, Academy Green
New York City: 9:30 AM, Trump International Hotel, 1 Central Park West
Rochester: 2 PM, 1 Liberty Pole Way
Schenectady: 12 PM, Corner of N. Brandywine Ave. & State St.
Syracuse: 12 PM, Hanover Square
Wyandanch: 10 AM, Wyandanch Health Center (awaiting final confirmation)
WHO: Parents, teachers, students, community members around the state. Alliance for Quality Education, Citizen Action of New York, Metro Justice, Long Island Progressive Coalition, New York Communities for Change, Make the Road New York, NYC Coalition for Educational Justice and over 70 other endorsing organizations, including NPE.
Calling all HuffPost superfans!
Sign up for membership to become a founding member and help shape HuffPost's next chapter