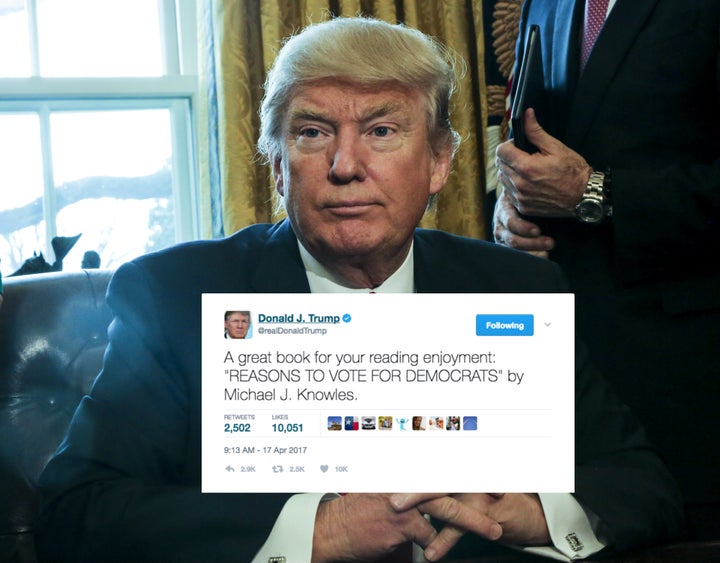 On Monday, at 8:13 a.m., President Donald Trump published a surprising tweet. Surprising for two reasons, in fact: Firstly, it recommended a book of "Reasons to Vote for Democrats" to his followers, and secondly, it recommended a book.
Had the president been hacked? What could account for such an uncharacteristic tweet?
Not to worry ― it all makes complete sense. Reasons to Vote for Democrats: A Comprehensive Guide by Michael J. Knowles is neither pro-Democrat nor, in the traditional sense, a book. It's a 266-page volume filled with empty pages. (Get it? There are no reasons to vote for Democrats!)
Knowles, who brought out Reasons to Vote for Democrats in February, is hardly the first to use this old gag ― even in this election cycle. For example, back in November, Why Trump Deserves Trust, Respect and Admiration by David King became available on Amazon.
"This book is full of blank pages," the description says. "Despite years of research, we could not find anything to say on this subject."
The author includes a helpful hint for what to do with all the clean, unused pages inside: "Please feel free to use this book for notes." Good idea! Here's hoping the trees that were pulped for these joke books were not chopped down in vain.
Reasons to Vote for Democrats, despite being completely free of content, has been a top seller on Amazon for weeks. Thousands of consumers have snapped up $6 paperback copies, and the author, 26-year-old Knowles, was invited on "Fox and Friends" in March to discuss his creation.
Setting aside the president's deliberate trolling of the Democratic Party ― of which a significant percentage of his constituents identify as members ― Trump's ringing endorsement of a book without any words beyond the table of contents struck some as almost too on-the-nose, given his notorious inability to name any books he has read all the way through. 
Knowing what we know about Trump's reading habits, it's little wonder he might define "reading enjoyment" as "not having to read any words" ― now we just have confirmation.
Calling all HuffPost superfans!
Sign up for membership to become a founding member and help shape HuffPost's next chapter
BEFORE YOU GO