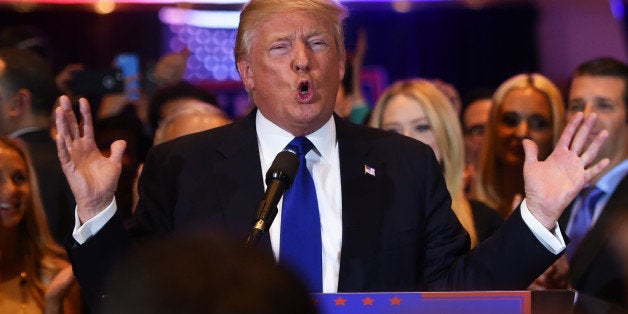 From cancelled rallies to threatening tweets to an urge to "punch a protestor in the face," Republican presidential hopeful Donald Trump has been surrounded by violence. But, Trump inspired violence isn't something that just emerged in recent weeks. And, its effect hasn't just impacted campaign events, Bernie Sanders or news reporters.

The first reported victim of Trump-influenced violence emerged last August. In Boston, Mass., two men attacked a homeless Latino man. One of attackers, who happened to be brothers, explained to the police that he was inspired by Trump's immigration message: Mexicans are criminals and rapists.

After hearing about the violence, you might recall, Trump described his supporters as "very passionate."

While Trump initially targeted Mexicans and Latinos, he has moved on to American Muslims as well as women and those with disabilities.

It wasn't always like this. Trump wasn't always so Islamophobic.

Just last April, for example, he visited with participants from the Council on American Islamic Relations during a Muslim Day at the Capitol event in Iowa.

But, as the Syrian refugee crises worsened, gripping news headlines in the US and Europe last September, the conversation around best responses to the influx quickly devolved into sheer Islamophobia.

At a New Hampshire town hall meeting around that time, a Trump supporter referred to Muslims as the "problem in this country" and espoused the mistaken belief that President Obama is a Muslim (also shared by 43% of Republicans). He asked, "When can we get rid of them?" Trump infamously responded, "We're going to be looking at that and a lot of different things."

Here, Trump and his supporter reduce Muslims to a problem. They aren't necessarily alone.

According The Super Survey, a research report put out by Georgetown's Bridge Initiative (where I work), 1 in 5 Americans hold negative opinions of Muslims. The report also reveals that Americans feel colder towards Muslims than any other religious group.

Since Muslims are seen as the problem, a significant number of Americans favor national security policies that single them out. More than 25% approve of religious profiling, surveillance and even more drastic measures such as special IDs and internment.

And, there's the ambiguity surrounding the question. After all, what is meant by "get rid of them?" Are we talking about mass expulsions, or something even more violent?

Islamophobia intensified in the wake of the Paris terrorist attacks last November, and then again following the mass shooting in San Bernadino. Trump's anti-Muslim rhetoric, often expressed during interviews with the media, reached a fever pitch.

In an MSNBC interview, Trump stated that he would "strongly consider" closing mosques as part of his counter-terrorism strategy. On Fox News, Trump double-downed on his position, explaining that "some bad things are happening and a lot of them are happening in the mosque."

In a Yahoo! News interview, he refused to rule out special IDs, warrantless surveillance and searches and a database for American Muslims. On CNN, Trump explained to Anderson Cooper that "Islam hates us..."

There are so many layers of Islamophobia to peel back.

Recent ISPU research, The American Muslim Poll: Participation, Priorities, and Facing Prejudice in the 2016 Elections, undermines the false assumptions informing Trump's mosque concerns.

It shows that American Muslim mosque goers are more likely to be civically engaged. Radicalization and terrorist recruitment is happening more frequently online and not at the mosque, although law enforcement surveillance tactics might leave one with the wrong impression.

It's also important to note the perhaps accidental role of the news media in the dissemination of Trump's Islamophobia. Trump isn't just spreading Islamophobia to hundreds or thousands of supporters at campaign events. As illustrated above, he's disseminating anti-Muslim bigotry through mainstream media outlets, reaching millions across the country (and around the world).

In fact, research shows that Trump has received the equivalent of $1.9 billion in TV coverage while only having spent 10 million in paid advertising. Since announcing his candidacy last June, he has been the lead news story 36% of the time.

Significantly, as Trump discussed shutting down mosques, anti-Muslim hate crimes (a disproportionate number of which targeted mosques) tripled. Of course, this escalation in violence against Muslims (perceived and real), Muslim organizations, communal and private property was undoubtedly spawned - at least in part - by Paris and San Bernadino.

But, it's important to note that a number of American Muslim community leaders and activists interviewed at the time of each of these attacks also attributed this violence to Trump's mainstreaming of Islamophobia. Some commentators shared their concern.

Whether Trump's words actually incited or caused violence can be difficult to prove but for cases like the homeless Latino man whose attackers cited Trump's statements as their inspiration.

American Muslims' suspicions were confirmed last month. In Kansas City, Khondoher Usama stopped by a Kwik Stop near Wichita State University campus for fuel and snacks together with a friend. That's when they were attacked by a man who shouted, "brown trash," "Trump will win," "We will make America great again," and "Trump, Trump, Trump."

There were two victims at the Kwik Stop that day - an American Muslim and a Latino who was not. The attacker didn't distinguish between them.

Interestingly, neither did the brothers who assaulted the homeless Latino man last August. They had been previously convicted of an anti-Muslim hate crime.

These tragedies highlight the danger in Trump's Islamophobic rhetoric and its already violent effects. While we deeply value freedom of speech as enshrined in the U.S. Constitution, those who aspire to high office should understand the responsibilities that accompany the right to speak our minds.

These bias attacks - in California and Kansas - also show us that bigotry, prejudice and racism is a shared struggle, for Muslims, Catholics and Jews; Latinos, African Americans, South Asians and Arab Americans; women and those with disabilities.

Those who would do us harm don't always draw a distinction between us. Neither should we.


Engy Abdelkader is Assistant Director of Georgetown's Bridge Initiative, a research project that explores Islamophobia in the US and Europe. She also teaches at the Edmund A. Walsh School of Foreign Service.