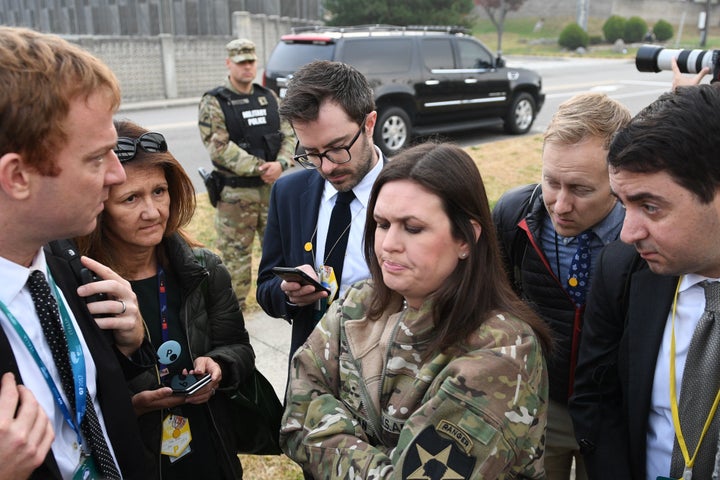 President Donald Trump was set to make a surprise visit to the Demilitarized Zone on Tuesday during his visit to South Korea, but the event was canceled and his helicopter turned around due to bad weather.
White House press secretary Sarah Huckabee Sanders summoned pool reporters traveling with the president earlier than previously scheduled on what was already Wednesday morning in South Korea.
"This is where we're going," Sanders said, holding up a piece of paper on which the letters "DMZ" were written. She said that was the way she had been instructed to alert reporters about their destination.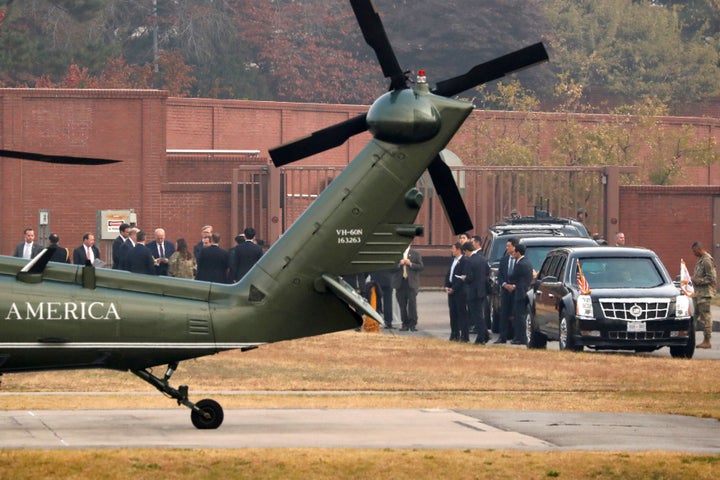 The assembled journalists were told that Trump would make an unannounced visit to the DMZ, the buffer zone between North and South Korea where heavily armed soldiers patrol. He would be joined by South Korean President Moon Jae-in in what Sanders called a "historic moment."
"It's important to note the historic nature of what this would have been," Sanders said after the trip was canceled. "It still, I think, shows the strength of the alliance and the importance of it that they were going to do this together."
The trip was called off in mid-flight because of heavy fog in Seoul, which lies just 35 miles south of the DMZ. Skyscrapers and dense neighborhoods in the city were barely visible through the fog as the journalists were taking off in military helicopters.
U.S. officials had earlier said that Trump would not visit the DMZ, citing "not enough time in the schedule," and that such a visit ― already made this year by Vice President Mike Pence and by Defense Secretary Jim Mattis ― was "becoming a little bit of a cliche."
During his trip to Seoul, the second stop on his 12-day tour of Asia, Trump has dramatically scaled back his antagonistic rhetoric directed at North Korea. In a news conference alongside Moon, Trump said he thought diplomacy was "making a lot of progress."
"I think we're showing great strength. I think they understand we have unparalleled strength," Trump said.