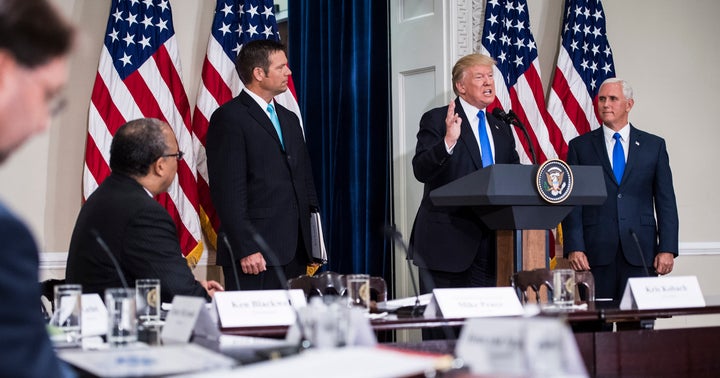 A member of President Donald Trump's voter fraud probe expressed deep frustration Tuesday over the way the commission has been run so far and doubted that the panel would ever meet again.
Even though the Presidential Advisory Commission on Election Integrity was formally created five months ago and has conducted two public meetings, Maine Secretary of State Matthew Dunlap (D) told HuffPost that he still has no idea what it's working on or when it will meet next. He said he plans to raise concerns with Kansas Secretary of State Kris Kobach (R), the commission's vice chair, about how it has operated so far ― if he ever has another chance.
"I think we have to talk about that if we get another opportunity. I don't know that we're ever going to meet again, to tell you the truth. We certainly haven't talked about it," Dunlap said. "I think it is a possibility. We haven't heard about any future meetings. We talked about a meeting in November ― that was back in July. We haven't had anything further about it. ... It wouldn't surprise me if we didn't meet again."
Alan King, another Democratic member of the commission who has expressed frustration, said he hadn't had any recent contact with the panel's leaders either.
"Not a word. Hard to plan ahead when there is zero communication," said King, who is a probate judge in Jefferson County, Alabama.
A spokesman for the commission did not return a request for comment.
During its first public meeting in July, Kobach indicated that the commission would have multiple meetings across the country. Its charter authorizes it to operate until May 11, 2019, or until 30 days after it presents its final report to the president.
Dunlap's remarks are not the first suggestion of dissension on the panel. In a February email, written three months before the panel was formalized but made public last month, Hans von Spakovsky of the conservative Heritage Foundation argued that letting Democrats participate in any voter fraud probe would simply hinder the work. Von Spakovsky now sits on the commision.
In June, Kobach sent out a controversial letter to all 50 states asking them to provide the commission with voter roll information. Numerous elected officials expressed concern, with some refusing to turn over the data or noting they were barred by state law from doing so. Kobach then asked states to hold off due to litigation. Once that was resolved, he sent a second request for information.
Court documents filed by the commission show Kobach privately emailed with von Spakovsky and J. Christian Adams, two former members of the Bush Justice Department, about requesting states' voter data before the latter two were even appointed to the commission.
But Dunlap said the commission as a whole initially discussed the first data request only briefly during a conference call.
"We are not a commission of one. We should be making these requests, and the decisions to make such a request, as a commission," he said.
Dunlap and the other Democrats on the commission have faced calls to resign because some liberal activists argue their presence helps what is, at base, a partisan GOP effort claim to be bipartisan. Dunlap has so far resisted those calls, saying it's better to have a seat at the table to push back on exaggerated claims of voter fraud.
He also harshly criticized von Spakovsky and described what "pissed me off" about that February email.
"Republicans in Maine, they may not like me. They may wish they had someone of their own. But they also go to bed at night knowing that I'm gonna give them a fair shake," Dunlap said. "For Hans von Spakovsky to say that he was offended by the idea of Democrats being on this commission brushes aside everything that I have just described to you as irrelevant because what's important is that I'm a Democrat, not how I conduct myself. To me, that is patently offensive."
Last week, Dunlap told ProPublica that von Spakovsky had a "profound influence" on the commission and wondered whether he was really running the probe "in the shadows."
Asked whether von Spakovsky had contacted him to apologize for the email, Dunlap said, "Hell no."
In response to HuffPost's request for comment, von Spakovsky sent the same statement he provided to reporters after the email was made public. "After my own participation as a member, I'm confident that all the members of the Commission are committed to uncovering the truth about election integrity and the other issues present in our election system and developing recommendations to safeguard and improve the voting process," he said.
Along with Kobach and Adams, von Spakovsky is one of the most controversial members of Trump's voter fraud probe. He has supported restrictive voter ID measures and as an official in the Bush Justice Department worked to get Georgia's voter ID law approved over the objections of other department employees.
"This guy is so invested in a philosophy that he's sort of forgotten that this whole process is about people," Dunlap said.
Before You Go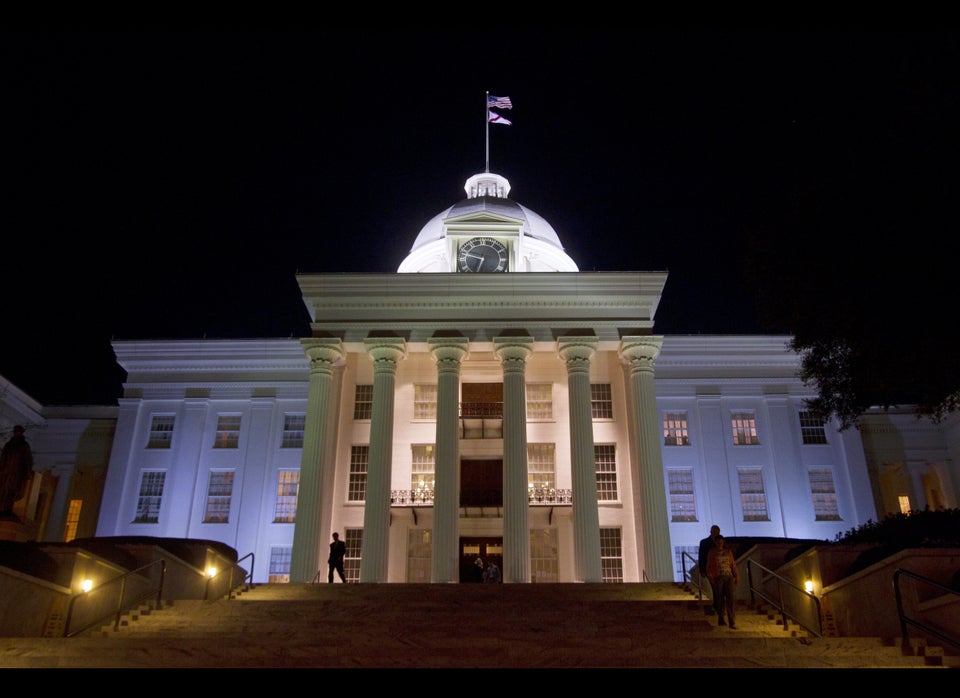 U.S. State Capitol Buildings
Popular in the Community