A member of President Donald Trump's voter fraud commission filed a lawsuit against the panel Thursday in an attempt to obtain more information about its activities.
Maine Secretary of State Matthew Dunlap (D) filed the suit in federal court in Washington, D.C. Dunlap has openly expressed frustration about the lack of information he has received on the commission's activities and even who is staffing it.
"Since the Sept. 12 meeting, I have received no correspondence from the commission other than to acknowledge receipt of my information request," Dunlap said in a statement.
The commission, formally called the Presidential Advisory Commission on Election Integrity, has met publicly twice since Trump created it in May. Its last meeting was on Sept. 12, and the commission has said nothing about what it is working on since then.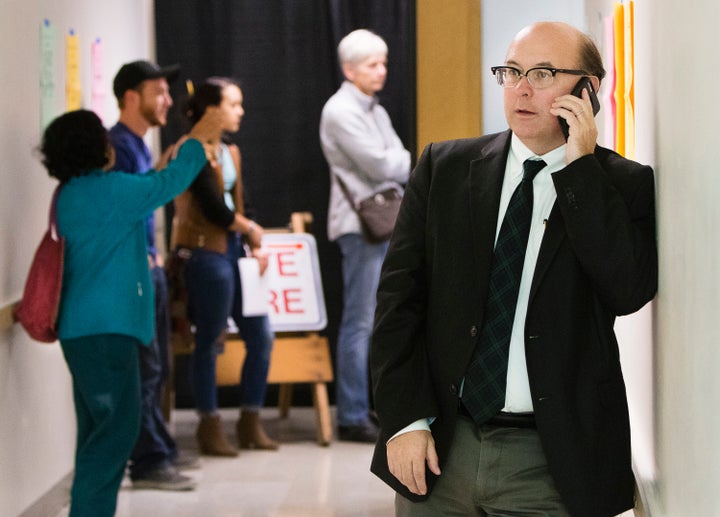 "My goal in filing this lawsuit is to bring the commission into full compliance with FACA, which would allow me and all of my fellow commissioners to fulfill our roles as full, participating members and provide a meaningful report to the President upon concluding our work," Dunlap's statement continued.
Dunlap accuses the commission of violating the Federal Advisory Committee Act, a law that requires federal advisory committees to disclose documents shared among people serving on a panel with the public.
Kansas Secretary of State Kris Kobach (R), the commission's vice chair, dismissed the lawsuit.
"Secretary Dunlap's lawsuit is baseless and paranoid. In it, he complains that he didn't receive any correspondence from the Commission during the five weeks between September 12 and October 17. He assumes that correspondence regarding Commission business was occuring [sic], but not being shared with him. Dunlap's assumption is incorrect. I did not receive any such correspondence either," Kobach said in a statement. 
Kobach continued: "During that period, Commission work was stalled by three things: (1) litigation defending against eight lawsuits filed by groups seeking to stop or delay the Commission's work; (2) the loss of commission staff due to an unrelated arrest of a staff member; and (3) the tragic death of Commissioner David Dunn during heart surgery. It is not at all surprising that Commission staff were very busy during this period. Ironically, Dunlap's lawsuit is only going to increase the workload faced by Commission staff and Department of Justice Attorneys."
This suit adds to a slew of litigation aimed at the commission. Over a half-dozen federal lawsuits have been filed against the commission, accusing it of violating various privacy and transparency laws, including another over its failure to comply with FACA. The Government Accountability Office also recently announced it would investigate the commission.
"Today's lawsuit is unprecedented and underscores the chaotic and dysfunctional nature of this Commission," said Kristen Clarke, the executive director of the Lawyers' Committee for Civil Rights Under Law, which is bringing the other suit against the commission over alleged FACA violations. "That its own members are in the dark on the way that the Commission operates and deliberates makes clear that this Commission is no more than a tool to advance this administration's voter suppression agenda." 
As part of the other suit dealing with FACA obligations, the commission disclosed a log of all its email communications so far. The document showed Kobach communicating privately with Hans von Spakovsky and J. Christian Adams before the panel requested voter information from states. Kobach excluded other commissioners from the exchange even though von Spakovsky and Adams hadn't yet been formally nominated to the commission at that time.
In an email to private individuals earlier this year, von Spakovsky also warned against tapping Democrats to serve on the commission, complaining they would hinder its work. The email was eventually forwarded to an aide to Attorney General Jeff Sessions. In a tweet Thursday, Adams suggested von Spakovsky was right to express an interest in keeping Democrats off the panel.
Von Spakovsky called the lawsuit "meritless" and said it "reads like a press release."
"The complaint was obviously intended to garner publicity and sabotage the commission," he said. "Dunlop [sic] should be sanctioned for filing a frivolous lawsuit and should resign from the commission." 
This story has been updated with more details about lawsuits against the commission, reactions to Dunlap's suit and an email from von Spakovsky.
Calling all HuffPost superfans!
Sign up for membership to become a founding member and help shape HuffPost's next chapter