President Donald Trump signed an executive order Thursday to establish a commission to investigate voter fraud.
The move, which ABC News first reported, comes months after Trump claimed he would have won the popular vote had it not been for voter fraud. He has claimed that between 3 million and 5 million people voted illegally in last year's presidential election. There is no evidence to support his claim. Several investigations, including multiple post-election audits, have found that while voter fraud does sometimes happen, it is extremely rare.
The commission, which will be chaired by Vice President Mike Pence and have Kansas Secretary of State Kris Kobach (R) as its vice chair, will review policies and practices that enhance or undermine the American people's confidence in the integrity of federal elections ― including improper registrations, improper voting, fraudulent registrations, fraudulent voting and voting suppression, according to the White House.
However, the text of the order, which is formally called the Presidential Advisory Commission on Election Integrity, says it will study the "laws, rules, policies, activities, strategies, and practices." It does not specifically mention voter suppression or barriers to voting.
Michael Waldman, president of the Brennan Center for Justice, called the commission a "sham and distraction" in an effort to try and find proof of the president's "absurd" voter fraud claim.
"It tries to pivot from the fact that this week Trump fired the chief law enforcement officer in charge of probing whether his advisors colluded with Russia to influence our elections," Waldman said. "He fired the person investigating a real threat to election integrity, and set up a probe of an imaginary threat."
Common Cause President Karen Hobert Flynn also questioned the timing of the commission launch. "To investigate any election problems at this juncture while denying and ignoring the Russian attack on the presidential election ... is irresponsible and a slap in the face to the American people who want and deserve to know what happened," she said.
While the committee is formally tasked with investigating both voter fraud and suppression, Kobach's appointment sends a clear signal that it will be focused on fraud. The White House has pointed to Kobach to back up its claims of voter fraud before, but the Kansas Secretary of State has stumbled when trying to do so.
Kobach pushed one of the most restrictive voting laws in the country, which requires Kansas residents to show proof of citizenship when they register to vote and photo ID when they go to the polls. If residents could not prove properly provide proof of citizenship, they were placed on a "suspense list" for 90 days and then purged from the voter rolls.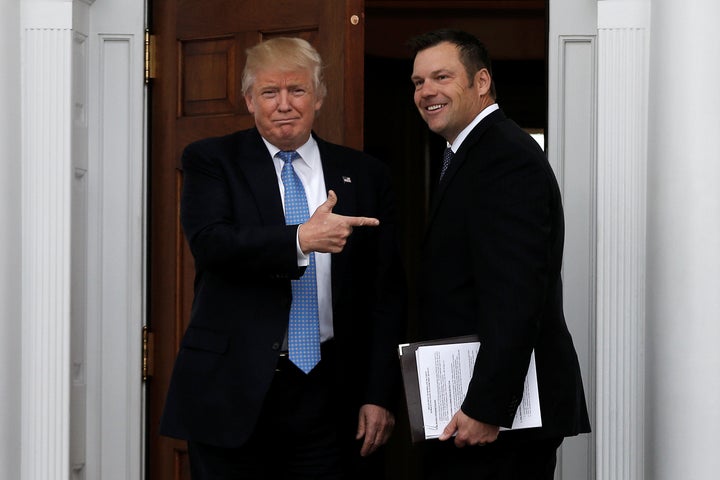 A report by the Kansas Advisory Committee to the U.S. Commission on Civil Rights this year said that the 2011 law "may have been written and implemented with improper, discriminatory intent." In his testimony to the panel, Kobach said the only burden the photo ID requirement could possibly impose was exerting calories when reaching for a wallet to pull out identification.
Kobach is being sued for the proof of citizenship requirement, which critics say creates an unnecessary obstacle to voting and discourages low-income, elderly and minority residents, who might not easily have access to the required documentation, from voting. Last year, a federal appeals court blocked Kansas from implementing the proof of citizenship requirement.
Like Trump, Kobach has suggested there is widespread voter fraud. But despite having the power to prosecute voter fraud since 2011, Kobach has overseen the conviction of just nine people for voter fraud.
Hobert Flynn said it's "insulting that the new commission is headed by two champions of voter suppression ― Mike Pence and Kris Kobach. "It is hard to believe that any 'findings' of this commission headed by those individuals will do anything but condone and seek to justify voter suppression efforts," she said.
Allegra Chapman, director of voting and elections at Common Cause, said having Kobach at the helm was "laughable."
"He has tried time and again to put into place restrictive voting measures in Kansas and more often that not he loses when people file suit," Chapman said. "Once again, this whole move is a charade."
The commission won't be the first federal effort to examine voter fraud. Under then-President George W. Bush, the Department of Justice spent five years looking at voter fraud after similar allegations that it was widespread and found just 120 people had been charged and that 86 had been convicted.
Trump thundered about voter fraud immediately after the election, seemingly stewing over the fact that he lost the popular vote. During his early days in office, he repeatedly said he believed fraud was widespread, but had gone quiet on the topic in recent months.
"To launch an election commission at any time on voter fraud would be throwing away resources in a search for mythical creatures ― problems that don't exist ― while failing to address the real problems in our elections systems: suppressive tactics," Hobert Flynn said.
Chapman said the commission is "akin to launching missile strikes with the hopes of getting popularity points."
"There's just no there there," he added. "But they'll try to put on a big show over a so-called widespread problem that doesn't exist."
Senate Majority Leader Mitch McConnell (R-Ky.) said in February he didn't think federal money should go toward a voter fraud probe. House Speaker Paul Ryan (R-Wis.) said in January that while he had not seen any evidence to support Trump's fraud claims, he thought an investigation was fine.
White House deputy press secretary Sarah Huckabee Sanders on Thursday announced five members of the panel, which she said will eventually have about a dozen members. The members announced Thursday were Indiana Secretary of State Connie Lawson (R), New Hampshire Secretary of State Bill Gardner (D), Maine Secretary of State Matthew Dunlap (D), former Ohio Secretary of State Ken Blackwell (R) and Christy McCormick, a commissioner on the Electoral Assistance Commission.
Sanders said the committee's report is expected to be completed in 2018.
"The experts and officials on this commission will follow the facts where they lead," she said. "Meetings and hearings will be open to the public for comments and input."
This article has been updated with details from the text of the executive order, as well as comment from Chapman, Flynn, Waldman and Sanders.
Before You Go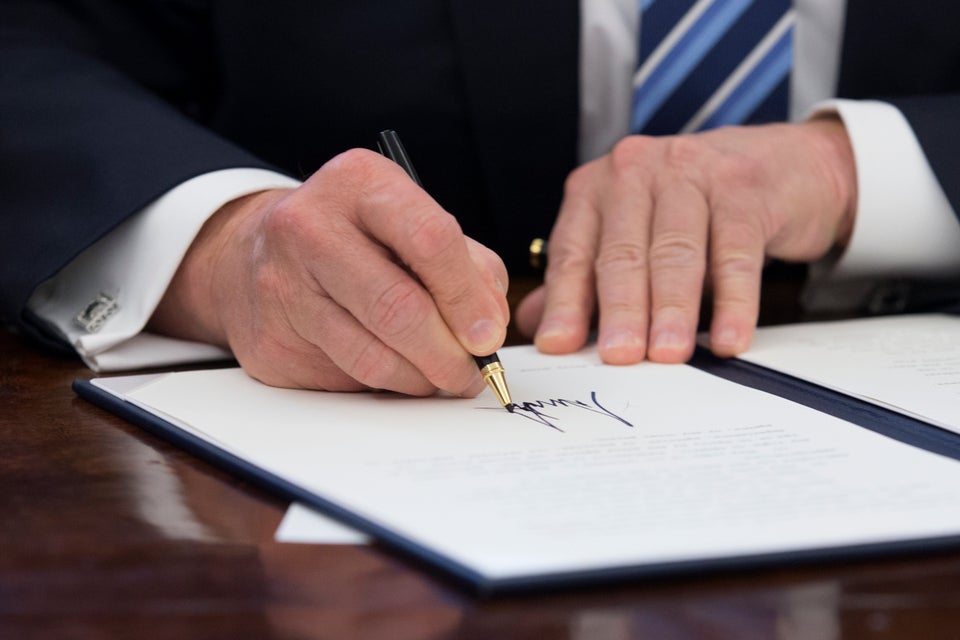 Donald Trump Loves Signing Things
Popular in the Community