WASHINGTON ― President Donald Trump's commission on election integrity is facing significant hurdles, as multiple state election officials have said they will not comply with the panel's request this week for specific, sensitive voter information.
Even some Republican officials have said that they may be opposed to or prohibited from releasing such information or that they're otherwise willing to do only the bare minimum in satisfying the Trump commission's demands.
Kansas Secretary of State Kris Kobach (R), the commission's vice chair who signed the letter sent to the states on Wednesday, told the Kansas City Star that his state would not release the last four digits of voters' Social Security numbers because that information is not publicly available.
The requested information includes the "full first and last names of all registrants, middle names or initials if available, addresses, dates of birth, political party (if recorded in your state), last four digits of social security number if available, voter history (elections voted in) from 2006 onward, active/inactive status, cancelled status, information regarding any felony convictions, information regarding voter registration in another state, information regarding military status, and overseas citizen information."
Critics are fearful that sensitive private data could become public if given to the commission and that investigators will use that information to create an inaccurate picture of voter fraud ― a relatively rare phenomenon in the U.S.
In Alabama, Secretary of State John Merrill (R) said his office wouldn't share any information that wasn't already available to the public. He left open the possibility that his office would decline to provide any data on the state's voters to the commission.
"The Secretary of State's Office will comply with the request if we are convinced that the overall effort will produce the necessary results to accomplish the Commission's stated goal without compromising the integrity of the voter rolls and the elections process in Alabama," Merrill said in a statement to HuffPost.
In North Dakota, elections director John Arnold told HuffPost that state law prohibited releasing that kind of information except to a "few entities, but a presidential voter commission isn't one of them."
Nevada Secretary of State Barbara Cegavske (R) said in a statement that her office would provide publicly available information, but wouldn't release Social Security numbers, driver's license numbers, DMV identification cards or email addresses.
Pennsylvania Gov. Tom Wolf (D) wrote Kobach that his state "cannot share this information," referring to Social Security numbers, birth dates and driver's license numbers. He added that Kobach could purchase the state's voter file "like any citizen" for $20.
Several states said they would disclose only the bare minimum required by public disclosure laws. Lt. Gov. Spencer Cox (R) said Utah would share just publicly available information and not "any protected data." Wisconsin election officials similarly said that they would disclose already public information ― like names, addresses and voting histories ― and that state law prohibited them from releasing more sensitive personal data. North Carolina Gov. Roy Cooper (D) directed the state board of elections not to release information to the commission "beyond what is public record."
Even Indiana Secretary of State Connie Lawson (R), a member of the commission, said she is legally barred from providing all of the information requested.
"Under Indiana public records laws, certain voter info is available to the public, the media and any other person who requested the information for non-commercial purposes. The information publicly available is name, address and congressional district assignment," Lawson said in a statement.
Officials in California, Kentucky, Virginia, New York and Massachusetts have all flatly stated that they won't fulfill the commission's request.
"The central voter registry is not a public record," said Brian McNiff, a spokesman for William Francis Galvin, the secretary of the commonwealth in Massachusetts.
Mississippi Secretary of State Delbert Hosemann (R) said commission members could "go jump in the Gulf of Mexico."
The Minnesota and South Dakota secretaries of state said they would not comply with the commission's request. Tennessee Secretary of State Tre Hargett (R) said he was legally prohibited from providing the data the probe was requesting.
Louisiana Secretary of State Tom Schedler (R) said he would refuse to share voter information with the investigation, citing the way the probe has been politicized.
"The President's Commission has quickly politicized its work by asking states for an incredible amount of voter data that I have, time and time again, refused to release," he said in a statement. "My response to the Commission is, you're not going to play politics with Louisiana's voter data, and if you are, then you can purchase the limited public information available by law, to any candidate running for office. That's it."
An administrator from the Maryland state board of elections also declined to provide voters' information, saying in a letter to Kobach that his request "may be prohibited under State and/or federal law."
Some states have said they will comply with the data request. But even in those cases, they are unlikely to satisfy all of the commission's objectives.
The Georgia secretary of state's office, for example, said it would hand over a voter list. But an official said that list does not contain driver's license numbers, Social Security numbers, months and days of birth, sites of voter registration, phone numbers or email addresses.
Bryan Dean, a spokesman for Oklahoma's election board, said that his state's office likewise would supply the commission with "publicly available voter roll data under the laws of our state." But Dean noted that Social Security numbers are not available. Iowa Secretary of State Paul Pate (R) said in a statement that his office would comply with the request, but that Iowa law prohibits releasing personal information like Social Security numbers.
The Texas secretary of state's office announced that it would provide the commission with public voter information, which includes names, addresses and dates of birth, but not the last four digits of Social Security numbers.
"As always, my office will continue to exercise the utmost care whenever sensitive voter information is required to be released by state or federal law," Texas Secretary of State Rolando Pablos (R) said in a statement.
During an MSNBC interview on Friday, Kobach defended the information request.
"The commission is only requesting what any person on the street in California can walk into a county election office and get," he said. "So if a Social Security number is not publicly available ― and it is not publicly available in most states ― then we aren't requesting it. If it is publicly available, if the public can get it, then the commission would like it too."
Citing a February 2012 Pew study, Kobach said there could be some 1.8 million deceased voters on state rolls.
"We could actually find out what the real number is if we take the voter rolls of the states and we match them with the Social Security Administration's list of people who have died," he said. "Let's find out what the real number is. And then if you have the voter history, you can say how many of these names appear to have voted after the date of death."
HuffPost contacted all 50 states in an attempt to get a fuller picture of what type of compliance the Trump administration could expect. Numerous officials said they were still reviewing the request. But regardless of what they decide, the commission seems likely to end up with an incomplete and inconsistent data set.
This article has been updated to include Mississippi, Tennessee, South Dakota, Minnesota, Texas, Louisiana and Maryland.
Before You Go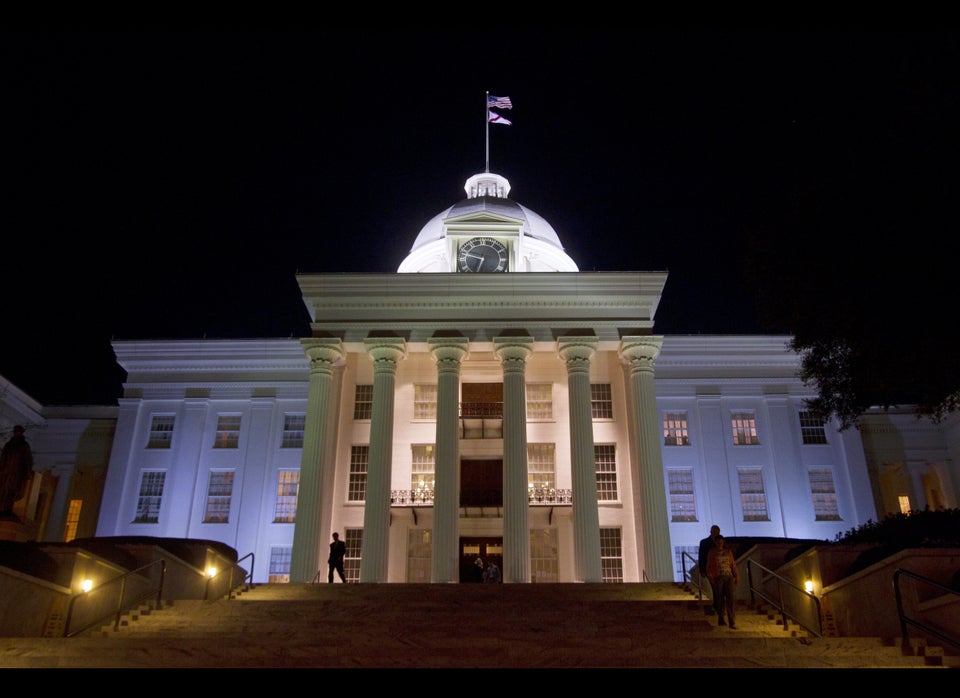 U.S. State Capitol Buildings
Popular in the Community