President Donald Trump's commission on election integrity has told states to temporarily hold off on transmitting the data it requested about voters due to an ongoing lawsuit accusing the panel of violating federal law.
The Electronic Privacy Information Center is seeking a temporary restraining order to block the commission from collecting data, alleging that the panel is violating the 2002 E-Government Act by not undertaking a required privacy impact assessment. A judge in Washington, D.C., federal court is currently considering EPIC's request.
White House officials have said the commission is not bound by the law because it is not a federal agency as defined by the law. The White House did not immediately respond to a request for comment on this story.
Andrew Kossack, the designated federal officer for the commission, on Monday wrote to election officials and asked them not to transmit voter data until a judge ruled on the temporary restraining order.
"Until the Judge rules on the [Temporary Restraining Order], we request that you hold on submitting any data," he wrote. "We will follow up with you with further instructions once the Judge issues her ruling."
There has been bipartisan backlash from state election officials after Kansas Secretary of State Kris Kobach (R), the vice chair of the commission, sent a letter to all 50 states on June 28 asking for all publicly available voter information. The commission said in a filing last week that Arkansas was the only state that had turned over the requested information so far.
The commission has contradicted itself on what kind of information would be released to the public and how it should be transmitted from states. Kobach said in his letter that all "documents" turned over to the committee would be made public, but in the filing he said sensitive voter information would not be. In the letter, he also said states could use email or a secure file exchange to turn over data, but in court documents he said he only intended for non-sensitive information to be transmitted over email.
The EPIC lawsuit is one of a few legal challenges the commission is facing. On Monday, the American Civil Liberties Union and the Lawyers' Committee for Civil Rights Under Law filed lawsuits accusing the commission of violating its public disclosure obligations under the Federal Advisory Commission Act. The Lawyers' Committee has also accused Kobach of violating the Hatch Act and using his position on the commission to advance his political career. Kobach has denied the accusation.
Before You Go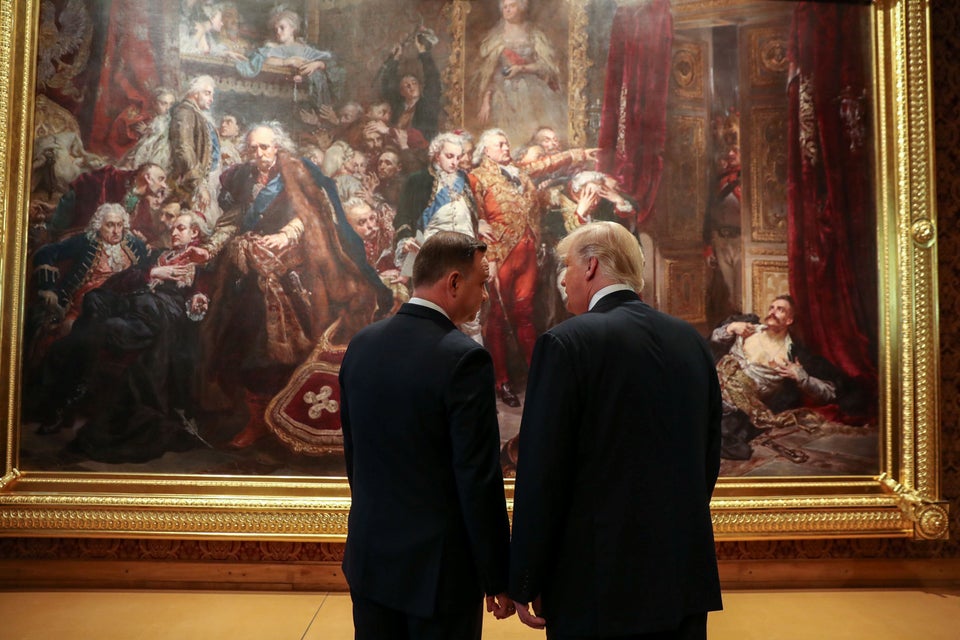 Trump's Poland Visit
Popular in the Community