President Donald Trump's commission to investigate voter fraud is set to meet publicly for the second time on Tuesday amid continued controversy and lingering questions about its goals and objectives.
Since its creation in May, critics have argued the panel is a way for Trump to justify his unsubstantiated claim that he would have won the popular vote in the presidential election last year had it not been for millions of illegal votes. Critics have expressed considerable alarm at the presence of certain panelists, particularly Kansas Secretary of State Kris Kobach (R), former Ohio Secretary of State Ken Blackwell (R), as well as former Justice Department officials Hans von Spakovsky and J. Christian Adams, because all four have a history of pushing more restrictive voting measures.
An email made public as part of a separate ongoing lawsuit against Kobach shows he was writing a draft of an amendment to federal voting law to make it permissible for states to impose a proof of citizenship requirement to register to vote.
The Tuesday meeting in Manchester, New Hampshire, will be divided into three panels focusing on voter turnout, public confidence in elections and electronic voting systems, respectively. Some of the scheduled presentations look to paint a picture of an American election system that is ripe for voter fraud, even though several studies and investigations have shown it is not a widespread problem.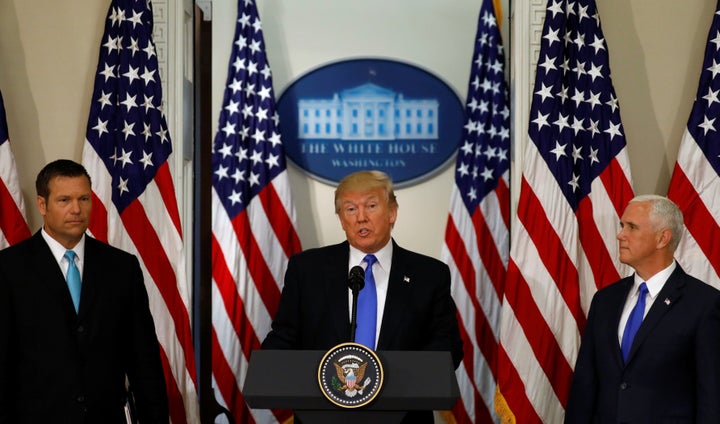 One presentation submitted to the commission around 8,500 likely duplicate votes across 21 states. Unable to access data from all 50 states, the researchers extrapolate their findings to estimate that there are at least 45,000 instances of double voting across the country, a number still considerably short of the three to five million people Trump has alleged voted illegally last year. Those conducting the analysis compared voters' first names, last names, dates of birth and the first five digits of their social security numbers, but other studies have also shown it's extremely easy to get false positives when comparing voter data.
Michael McDonald, a professor at the University of Florida, is leading an effort to replicate and verify that study. He cautioned not to jump to any conclusions and that many instances in the report that appear to be double voting could in fact turn out to be administrative errors.
"These are all allegations at this point, none of this has been substantiated by election officials or law enforcement doing additional follow up," he said in an interview. "The allegations are one thing, but then when you actually start investigating, you find something different. We have to be clear to distinguish allegations and there hasn't been verification of the allegations in the report at this point."
Von Spakovsky, a member of the commission, also submitted a database from the conservative Heritage Foundation claiming to contain nearly 1,100 of instances of voter fraud. The Brennan Center for Justice released its own analysis of the report Friday, debunking many of the instances of alleged fraud. John Lott, a controversial gun researcher whose work has been questioned, submitted a presentation to the committee saying people who don't have photo ID ― which several states require to vote ― can get it if they're motivated enough. But minorities, the poor and the elderly often face systematic barriers to getting photo identification and critics say that voter ID laws make it more difficult for them to cast a ballot.
The Lawyers' Committee for Civil Rights, which is suing the commission over its practice for disclosing documents, criticized the list of speakers.
"By stacking the deck with an all-white and male cast of panelists, the Commission has created an echo chamber to support Kris Kobach's baseless claims of voter fraud," the group's president said in a statement.
""By stacking the deck with an all-white and male cast of panelists, the Commission has created an echo chamber to support Kris Kobach's baseless claims of voter fraud.""
Kobach caused widespread backlash when he sent a letter to officials in all 50 states asking them to disclose sensitive voter information. But since it's first meeting on July 19, it's been unclear what the panel has been working on. Several commissioners on the probe said they're hoping to learn more about that too.
"I mean that's the first thing of research, right? Know what it is you're looking for," Maine Secretary of State Matt Dunlap (D), a commission member, said in an interview with HuffPost. "I think if we could come out with a clearer path of what it is we're trying to answer for questions, I think that would be very productive." Despite being on the commission, Dunlap has refused to turn over voter data from his state.
David Dunn, a former Arkansas state lawmaker and Democratic commission member, said he hasn't had very much communication with other members of the commission and wants Kobach and other members who allege widespread voter fraud to present concrete evidence. Two other Democrats on the commission, Mark Rhodes, a the county clerk in Wood County, West Virginia, and Alan King, an Alabama probate judge, won't attend Tuesday's meeting in person because of scheduling conflicts.
King, who informed the commission he had a scheduling conflict on Sept. 12 before Tuesday, meeting was scheduled, wrote a forceful statement for the meeting in which he laid out 10 recommendations for the panel to consider. Those suggestions include focusing "every available American resource" on allegations of Russian hacking ― a topic relatively untouched by the commission ― and enacting federal laws making it a crime to suppress votes. King also criticized efforts to aggressively purge voters from the rolls. Conceding there may be a few isolated instances of voter fraud, King wrote "thousands upon thousands more people are stricken from voter rolls without justifiable cause or have their vote suppressed."
"Officials in government should [not] 'game the system' to deprive the less affluent from voting, simply because they may have moved from one election to another only to be stricken from the active voter list."
"The reality is that the less affluent in our society are more prone to move and more prone to have an economic position in life, just to survive. But that does not mean officials in government should 'game the system' to deprive the less affluent from voting, simply because they may have moved from one election to another only to be stricken from the active voter list," he wrote. "To move voters from active to inactive based on a flawed system is unconscionable."
Kobach stirred controversy ahead of the meeting when he authored an extremely misleading op-ed in Breitbart, a far-right website, claiming there was proof of widespread voter fraud in New Hampshire. Kobach argued it was clear there was fraud because thousands of the people who used same-day registration using an out of state driver's license had failed to obtain a New Hampshire license by the end of August. The state, however, sets different qualifications for those who can vote and those who can obtain a driver's licenses, and election officials continue to say there's no evidence of widespread voter fraud in the state. The data Kobach used to claim proof of voter fraud was submitted to the commission ahead of the Tuesday meeting.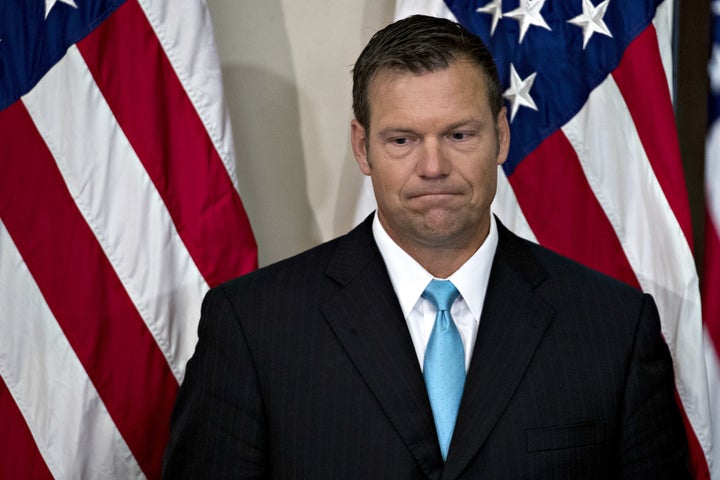 Kobach's claim prompted New Hampshire's two Democratic senators, Maggie Hassan and Jeanne Shaheen, to call on New Hampshire Secretary of State Bill Gardner (D), a commissioner who helped arrange the meeting, to step down from the panel. Gardner has refused.
The panel has also faced at least seven lawsuits over its transparency requirements and obligations for undergoing administrative review before collecting massive amounts of voter data. While a D.C. federal judge denied several requests in those lawsuits to block the committee from meeting, the litigation is ongoing. Department of Justice lawyers recently apologized in court for failing to disclose meeting materials ahead of its meeting in July, saying the panel had gotten off to a "chaotic start."
There are also lingering questions about how the commission plans to secure all of the voter data it plans to collect. After initially saying voter data would be stored on a military server, Kobach changed course and told state election officials it would be stored at the White House. Kobach has said the data will be deleted once the committee's work has been completed.
Before You Go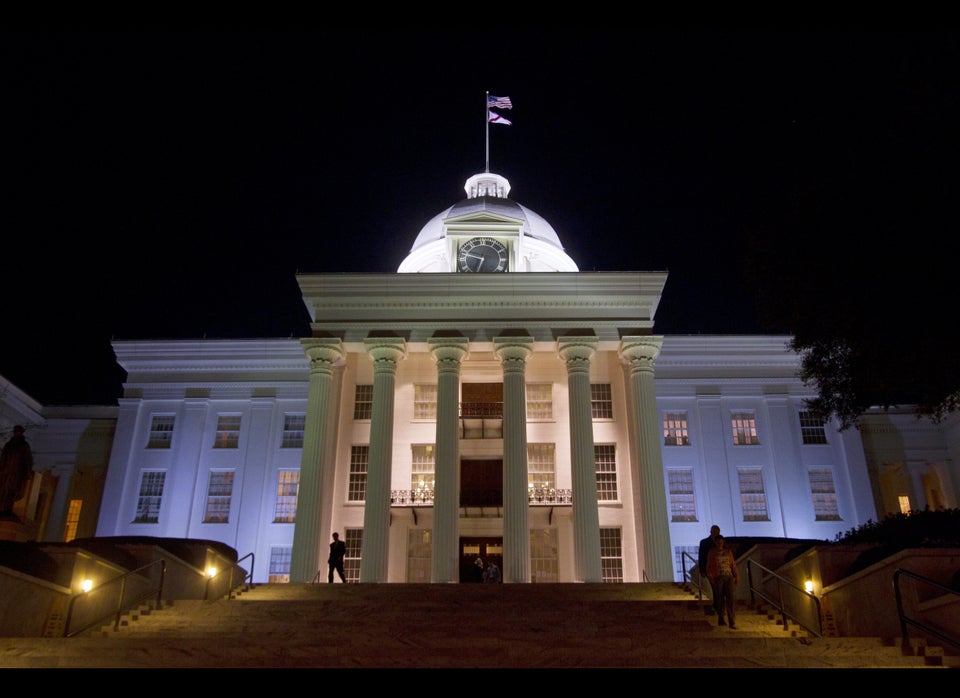 U.S. State Capitol Buildings
Popular in the Community