President Donald Trump announced Wednesday that he was ending a panel convened in May to investigate voter fraud.
The White House's announcement came as a surprise. Kansas Secretary of State Kris Kobach (R), the panel's vice chair, said last week that it would meet in January.
"Despite substantial evidence of voter fraud, many states have refused to provide the Presidential Advisory Commission on Election Integrity with basic information relevant to its inquiry," the White House said in a statement. "Rather than engage in endless legal battles at taxpayer expense, today I signed an executive order to dissolve the Commission, and have asked the Department of Homeland Security to review these issues and determine next courses of action."
Tyler Houlton, a DHS spokesman, said the agency would continue to work with states on election security and integrity, but said Kobach was not providing advice to the agency.
"At the President's direction, the Department continues to work in support of state governments who are responsible for administering elections, with efforts focused on securing elections against those who seek to undermine the election system or its integrity. Mr. Kobach is not advising the Department on this matter," he said in a statement.
Alan King, a Democrat on the commission, told HuffPost he was surprised to learn from a reporter that the commission had dissolved Wednesday evening.
"As someone who has handled 43 elections and who knows election officials across the United States, this is good news," he said. "I don't believe there is a conspiracy of voter fraud throughout this nation and never have believed that there was. I was willing to serve on this commission and have an open mind, but I never believed that this commission would be able to produce evidence or testimony to support the claim of a widespread conspiracy of voter fraud in the United States."
Asked what he hoped the commission's legacy would be, King said, "For future issues that a presidential commission might be impaneled, that more advanced forethought would be put into the decision to study an issue before spending taxpayer money."
The panel had been closely watched and criticized by voting rights advocates, who said it was an effort to substantiate Trump's claims that there was widespread voter fraud in the 2016 election. Even though several studies and investigations have shown voter fraud is not a widespread issue, critics said the panel would try to stir up uncertainty about fraud in hopes of passing more restrictive voting laws.
From the start, the panel faced controversy. Several states refused to comply with a June request from Kobach for voter data from all 50 states. The request sparked widespread privacy concerns, and even Republican election officials said they could not turn over all the information the commission was asking for. As of October, about 20 states had turned over voter information to the commission.
White House officials indicated that the panel planned to use the voter data it collected against federal databases to try to identify people illegally on the voting rolls.
In one lawsuit, the Brennan Center for Justice sued to get records of commission communications with other federal agencies, such as the Department of Homeland Security, which administers a database of non-citizens and the Department of Justice. The request for those records is still pending. It's unclear now if those records will become public.
Senate Minority Leader Chuck Schumer (D-N.Y.) said Wednesday that the panel was never intended to uncover fraud.
The commission met twice publicly, once in July and once in September, but it was never clear what exactly it was working on. The commission had failed to find, or present any evidence, to substantiate Trump's claim that 3 million to 5 million people voted illegally in the 2016 presidential election.
Democrats on the commission began to raise questions about what exactly the scope of the commission's activities would be and expressed open frustration about not receiving any information about the commission's activities between meetings or when meetings would be scheduled.
It was sued by Maine Secretary of State Matthew Dunlap, a Democratic commissioner on the panel, who said he was being excluded from communication and planning that kept him from fully participating as a commissioner. A federal judge ruled in December the commission had to turn over documents to Dunlap.
American Oversight, the watchdog group that represented Dunlap in his suit, said it would continue to fight for the panel's communications.
"It's no coincidence that the president dissolved the commission once it became clear it wouldn't be permitted to operate in the shadows. Secretary Dunlap deserves our gratitude for stepping into the breach to take on adversaries of democracy. We intend to continue to fight for his right to access to the commission's secret communications. President Trump can dissolve the commission, but the law doesn't allow him or the commission to slink away from view and avoid accountability," Austin Evers, the group's executive director said in a statement.
Two other suits against the commission were recently dismissed, but there were a handful still pending. Lawyers for the Department of Justice, which is defending the commission, filed notices Wednesday in the pending cases, noting that the panel had been dissolved and that the lawyers needed to confer on how to proceed.
"If they think we're not entitled to the information that I requested because they dissolved the commission, I think they're wrong," Dunlap told HuffPost in an interview. "I do intend to pursue it with probably greater vigor than before." While Dunlap said he wasn't entirely surprised by Trump's decision to end the commission after the judge ruled in his favor in December, he said those celebrating should be wary of his decision to designate voter fraud issues to the Department of Homeland Security. The agency, he said, has wide latitude in what it can do to exert control over elections, particularly given that the agency now classifies elections as "critical infrastructure."
Kristen Clarke, president and executive director of the Lawyers' Committee for Civil Rights Under Law, one of the groups that sued the commission, said in a statement: "The President's Election Integrity Commission was a vehicle launched for the sole purpose of laying the groundwork to promote voter suppression policies on a national scale. This unprecedented effort demonstrated this administration's clear hostility to voting rights. We mounted successful litigation against the administration that exposed its failure to abide by federal transparency requirements and vowed to keep fighting until the Commission was terminated."
Kobach, who did not return an interview request Wednesday, blamed the lawsuits for the dissolution of the commission. He told The Kansas City Star he would work with DHS as it began to investigate voter fraud. "This is a tactical shift by the president who remains very committed to finding the scope of voter fraud," he told the newspaper. "In a perfect world, the commission would've moved swiftly and there wouldn't be any lawsuits."
"The Democrats, both on and off the commission, made very clear that they were not interested in determining the scope and extent of voter fraud and, indeed, they were trying to stop the commission in its tracks," Kobach said. "The Democrats lost their opportunity, lost their seat at the table, by stonewalling."
Dunlap, however, responded, "All I was asking to do was participate. I doubt Secretary Kobach can eliminate public scrutiny of his work by hiding it even deeper."
King echoed Dunlap's concerns, saying Kobach had become "delusional."
"These people have absolutely no concept of how elections are organized, implemented and conducted. Their ideology has blinded them to truth. They want to suppress the vote so strongly that they have become delusional," King said. "They are so addicted to the concept of power and the quest for power that they have abandoned all that is fair, right and decent."
J. Christian Adams and Hans von Spakovsky, two conservative members of the commission who were Kobach allies, accused Democrats and other groups of obstructing the panel's work.
"Unfortunately, there are plenty of well-funded groups, activist academics and individuals who are not credible who sought to undermine and sabotage the Commission's work. They may delight today in the dissolution of the Commission, but before long they'll realize that advocates of election integrity have more stamina, support and perseverance than they realize," Adams, who told HuffPost in December he was confident the panel would meet again, said in a statement.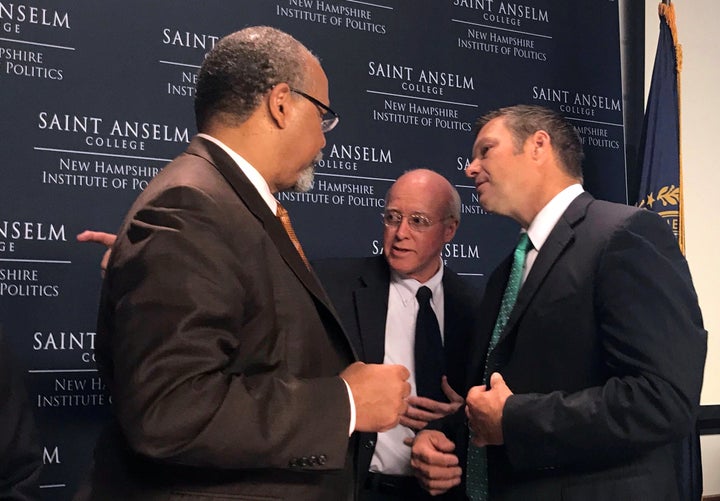 The White House also began to distance itself from the commission's work on Wednesday. A White House official told Politico the panel had been an idea of Steve Bannon's and "not a good one." CNN quoted a White House official as describing the panel as a "shitshow" and said there was concern the commission's request for voter information may have been illegal.
The sudden dissolution of the panel is a victory for voting rights advocates, who relentlessly attacked the panel and the officials on it who had a history of exaggerating voter fraud.
"President Trump created his sham voting commission to substantiate a lie he told about voter fraud in the 2016 election," Jason Kander, founder of Let America Vote, said in a statement. "When he couldn't come up with any fake evidence ... he had no choice but to disband his un-American commission. President Trump won't stop lying about voter fraud, or end his assault on voting rights, but today is a good day for democracy. Good riddance."
"This commission was a sham from the start and everyone recognized it. We have real problems when it comes to elections: low voter turnout, unnecessary barriers to participation, outdated and insecure machines, and possible foreign interference," said Dale Ho, director of the Voting Rights Project at the ACLU, another group that sued the commission. "But rather than address these real threats to election integrity, the commission engaged in a wild-goose chase for voter fraud, demonizing the very American voters whom we should all be helping to participate — with the not-so-secret goal of making voting harder with unnecessary barriers."
This article has been updated with comment from Adams and Spakovsky, as well as from Houlton.
Popular in the Community