In the days before President Donald Trump's commission on voter fraud met for the first time, thousands of Americans wrote to the panel ― often using blunt and colorful language ― to criticize its decision to seek people's personal voter information.
But if you want to know what Americans had to say about the panel's first meeting, which took place July 19 and included appearances from Trump and Vice President Mike Pence, you'd be hard-pressed to find people's feedback. That's because the White House appears to have stopped posting public comments submitted to the commission, a move that critics say undermines the panel's professed commitment to transparency.
The commission had received criticism for posting unredacted messages it received from the public between June 29 and July 12. Some of those messages contained people's phone numbers and email addresses, prompting a letter from Democratic senators to the White House asking about its disclosure policy for personal information. Many of the comments criticized the commission's work.
The commission, which received more than 30,000 public comments ahead of its first meeting, did not appear to have a legal obligation to redact personal details, and it had warned commenters that their information could become public. But the disclosure of personal information turned into an embarrassing episode for a commission that has promised to protect sensitive voter data.
The White House did not respond to several requests for comment.
The panel, formally called the Presidential Advisory Commission on Election Integrity, has pledged to be fully transparent in its work. Last month, a federal judge ruled that the commission would be adhering to its transparency obligations as long as it made all of its documents publicly available ahead of its first meeting, which members of the public could only watch via a livestream.
Trump spoke briefly at the start of the meeting, again making the unsubstantiated suggestion that widespread voter fraud is a problem (several studies have shown it isn't). He also suggested that states refusing to hand over voter information are hiding something. Pence is the chair of the commission, although Kansas Secretary of State Kris Kobach (R), the panel's vice chair, has taken a more active role in directing its work.
In a July 13 court filing, Andrew Kossack, a designated federal officer working for the commission, said the panel "has always intended to publish to a public webpage all documents which were made available to or prepared by the commission" in accordance with federal law.
"The Commission has received more than 30,000 public comments in just the previous two weeks, and uploading such a significant number of comments to the public webpage will take significant staff time and information technology support services," Kossack said in the filing. "However the Commission will post all such documents publicly as soon as possible."
But Ezra Rosenberg, co-director of the Voting Rights Project and the Lawyers' Committee for Civil Rights Under Law, which is suing the commission, said the panel still hasn't gone far enough to disclose the public's reaction to its work.
"We don't understand why the Commission hasn't posted any public comments since July 12, as it's likely that it has received such comments," Rosenberg said in an email. "We've asked the Court to set a schedule for expedited discovery on these issues."
Rosenberg added that in addition to public comments, he believes the commission has failed to make public numerous other documents, including responses from election officials to its request for voter information. Rosenberg accused the commission of "cherry-picking" responses from election officials to obscure the degree to which its request for voter information has met resistance. The commission has only posted a handful of the responses from state election officials, but many say they cannot fully provide all of the voter information the panel expressed an interest in.
Stephen Spaulding, chief of strategy and external affairs for Common Cause, a progressive watchdog group also suing the commission, said it's "bizarre" the commission hasn't made more comments public. People submitted thousands of comments to the commission after July 12 through Common Cause alone, he said.
"It's important to show that Americans are really outraged by what this commission is doing, what it's purporting to do. They're making their views heard, they're making their views known and the commission has an obligation to operate transparently," Spaulding told HuffPost. "They've been dragging their feet to fulfill their obligations to transparency and operating aboveboard, and it shouldn't be this difficult to get the commission to operate in the sunlight."
Before You Go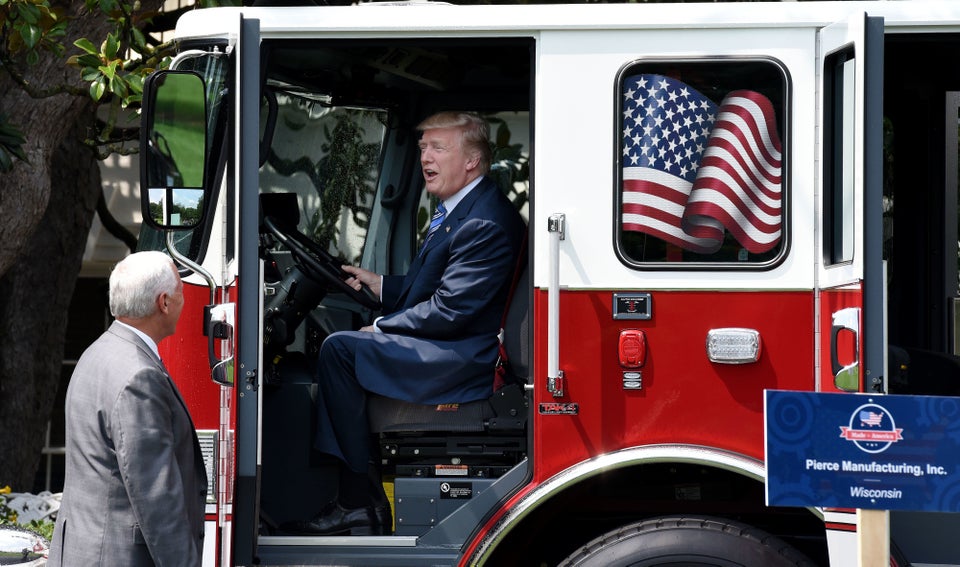 Trump's 'Made In America' Week
Popular in the Community